How To Play 'JINGLE BELLS' on the Violin? (playful pizz and bow version)
Easy version for beginner violinists…
Practicing Jingle Bells…
Hi there, this is Zlata Brouwer and you are watching a special Christmas edition on Violin Lounge TV, where you learn how to improve your violin or viola playing with joy. In this episode I am going to give you something to play around the Christmas tree: a special version of jingle bells. It is not very difficult, it is all first position if you play with all four fingers then you can easily follow this video.
Press and release your bow
I see a lot of violin players playing Jingle Bells too smoothly. Try to make it a little more swingy by pressing and releasing your bow. You use the weight of your arm on your bow and then 'pfiew' release it. At first it will sound a bit scratchy perhaps, but you'll learn to dose and time it as you play with it. These little pinches give a swing to the song.
Left hand pizzicato
We use some left hand pizzicato and that is not as difficult as it sounds. Just try to pizz the A and E string with your pinky. It's a fun effect to add to this tune.
Watch the video, follow along and have fun!
Love,
Zlata
PS: Do you want to see YOUR question answered in a Violin Lounge TV episode? Post a comment below!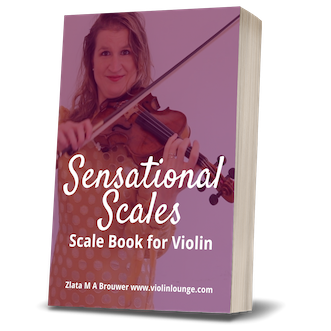 Sensational Scales is a 85 page violin scale book that goes from simple beginner scales with finger charts all the way to all three octave scales and arpeggios