Hi, I'm Zlata!
the Bowing Coach©
Classical violinist helping you play the violin with feeling by teaching you all about bow technique
My violin students:
Get that beautiful sound in their heads out of their violins, because they've learned the mechanics behind tone production
Know exactly what bowing to use in their orchestra and don't trip over the bow technique
Learn new repertoire quickly, because their bow technique is ready and flexible
Express their thoughts and feelings in music without technical barriers
Do you want that?
"Your video instructions are very clear, concise and easily understood. I see a huge improvement in intonation, bowing accuracy and a lovely volume as the bow passes over the strings. You've taught me how to make beautiful music with confidence." -Linda
Students in 50+ Countries
iClassical Academy Teacher
Graduated Classical Violinist
I've got 25+ years experience in violin playing and performing (including professional orchestra work, chamber music concerts and recordings) and 15+ years of experience in teaching (mainly specialized in bow technique). Which all proves I'm… old?
Mama
Mother to five young children, amongst them two sets of twins
Chocolate addict
I'm out of control with Belgian pralines nearby
Dutch
I live in the beautiful village of Huizen, the Netherlands
Introvert
Gave up my performing work and violin studio to work 100% online
A lot of people ask me:
How on earth did you become a bowing coach when you grew up?
Well, we have to go all back to 1992 when in a small town in Holland a shy 7 year old girl made her first steps into a music school… and she came home crying.
After being bullied in school, in dance class, actually everywhere I went, I was bullied here again… this time for my small pinky when I played on my plastic recorder (oh man, who invented those plastic recorders… I still get headache thinking about them) But my parents paid for the whole year, so I had to go back to the music lessons every week.
One day two shy girls came in and I was fascinated by the instruments they brought: the elegant shape of the soundbox, just four strings and the beautiful pearl inlay of the frog of the bow. Wow!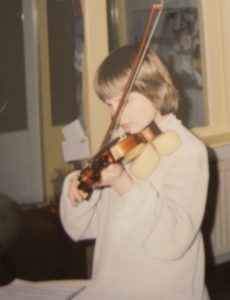 So, after surviving the year of being bullied for my pinky, I FINALLY went to my first violin lesson together with one other girl, who was just as shy and nerdy as I was, because that was cheaper.
In the picture you see me practicing with a yellow bath sponge as a shoulder rest and my sheet music on the dinner table, because a music stand was something for my next birthday.
My teacher looked like an angel with her long hair and sweet voice. When she started playing the violin, the earth just stopped turning for a moment. I never heard something that beautiful. Since then I'm fascinated by learned how 'that works' and teaching it to others.
I went the traditional route and took decades of hardcore classical training to get my violin major. In Holland there's no distinction between a performance and education degree, so here I was in a class of girls who all thought they would be the next famous soloist, while I just wanted to teach others the magic I experienced and had horrible stage fright.
In a conservatory you find two types of students: the extreme talents to whom everything comes naturally (often awful teachers) and the ones who get there through extremely hard work: they have to break everything down before they can learn it. I definitely was of the last category.
If you want to lose your passion for music, the conservatory can be the place to go. I had teachers who treated music like a sport, hitting the right virtuosic notes at a tremendous speed with no room for inspiration and creativity. It makes students play robotic and clinical.
This fueled my passion to become a teacher who encourages students to be create and passionate in their playing and teach them the tools to achieve that. My interest was already in bow technique and my thesis on bow hold earned a 9 at my graduation.
To pay myself through conservatory I started taking on my first students and selling violins. This ended up in a violin studio with four teachers and a brick and mortar violin shop, with which I earned the award Entrepreneur of the Year 2011 from the Dutch Chamber of Commerce.
Doing this work for over twelve years I became more and more the go-to place for bow technique and passionate playing.
I discovered that teaching online, my students could access materials and request feedback 24/7 while I can focus on research and development of the best bowing curriculum out there.
In June 2019 my (then) unborn twins inspired me to go for the work that was truly meaningful to me. I closed my successful brick and mortar violin shop, got my teachers and students great spots at the local music school, quit my position as a 1st violinist in a professional orchestra and became a full-time Bowing Coach © and recording chamber musician.
That brings me to today and to you reading this.
Do you ever miss the feels in your playing?
When you're listening to your favorite performer, you wish you could just sound like him/her?
That's all bowing technique and tone creation and I'm more than happy to help you with that.
Some more things people always like to know about me…
What kind of students do you teach?
The internet made it possible for me to teach students over the whole world: USA, Europe, Canada, Australia and more. Their levels are very different:
beginners who want to learn bow hold and smooth bowing correctly right from the start
violin teachers who want a structured system and a variety of exercises to teach their own students those skills that to a talented professional perhaps came naturally
amateurs who want clarity and ease in their orchestral bowing
intermediate violinists who miss the feels and are lost in the technique
advanced violinists who want to create their own original interpretation instead of copying their teacher
Actually every type of violin player who struggles with bowing in whatever way 😀
My violin students:
Get that beautiful sound in their heads out of their violins, because they've learned the mechanics behind tone production
Know exactly what bowing to use in their orchestra and don't trip over the bow technique
Learn new repertoire quickly, because their bow technique is ready and flexible
Express their thoughts and feelings in music without technical barriers
"I've just been so blessed by your lessons. You've given me back my joy in playing violin.
At Christmas time I played a hymn for our church's annual Christmas program. Normally, when I'm in front of people my hand and wrist tighten up from nervousness and the violin sounds horrible. Well, I'd been doing some of your exercises and my arm and wrist were all relaxed~ and when I played violin in front of everyone…it went great! I was able to have good tone!" -Rachel
"My luthier said, what a great teacher I must have to play like that after only 8 months. And when I told him, that I get online lessons he would not believe me!! 😂 He thought an instrument like the violin could never be taught online!! Impossible!! 😂 well, I think we corrected his world today 😂😂😂" -Sabine
What violin and bow do you use?
Read here the very special story about how my precious German violin made in 1840 came into my life. I combine this antique violin with a high tech carbon fiber bow: the Arcus S9. It's amazing and several orchestra colleagues already bought the same. I use Pirastro Evah Pirazzi Gold strings, which give a powerful and warm sound. The matching rosin convinced me that rosin actually makes a difference.
What music do you like to play?
Although I did a lot of orchestra work, I like the intimate setting of chamber music most. Currently I'm a duo with the amazing Japanese pianist Mari de Vries, with whom I make music videos on a regular basis. Our favorites at the moment? Sonatas by Mozart, Mendelssohn, Debussy and we're discovering a relatively unknown Dutch composer van Eijken.
On my music stand you'll always find a big concerto I'm working on to hone my skills. Now it's Brahms together with the exercises Ševčík wrote especially for that concerto.
To hone my technique I bully myself with Paganini caprices… oh, and as a bowing nerd I'm playing Ševčík's school of bowing and 40 variations almost daily.
Coming home for me are Bach's sonatas and partitas. Currently I'm working to perform the second partita and discovering the third sonata, which is the only one I didn't study thoroughly yet.
How did you get over your performance anxiety?
To be clear: I didn't get over it. I learned to cope with it. During my conservatory years I applied shock therapy to myself by giving loads of concerts in home of the elderly together with my pianist. That changed my perspective on performing: people aren't waiting for you to make a mistake. Those beautiful souls were sometimes alone for weeks, got to go out of their room, chat with each other and enjoy music that brought back precious memories.
Later I was 1st violinist in a professional orchestra for over 8 years, did a tour in Italy with my string trio, recorded a CD and played Mozart on TV with my pianist.
How much do you practice?
Listen, don't be obsessed with hours of practice. There were times in the conservatory that I practiced for five hours a day and my playing only got worse. Now sometimes I'm extremely busy and practice for half an hour tackling that hard run and achieving much more.
I think my average is two hours a day not counting teaching, rehearsals and recordings. The 'violin under the chin' time is more. If that sounds a lot to you, focus on getting a daily routine. Practicing consistently and effectively is much more important than practicing long hours.
But hey, wait a second…
Why have you read this far?
Something in this story touched you: your desire to express your feelings in music and play the violin passionately.
I'd love to help you.
Whatever your level, I'm happy to teach you.
Wherever in the world you live, technology allows it for me to teach you.
See you soon?