About online violin teacher Zlata Brouwer
Professional bowing technique and tone creation on the violin are learnable skills. My passion is to teach YOU exactly how, step by step.
Zlata Brouwer
Zlata M A Brouwer MSc BMus is a classically trained, conservatory graduated violinist and well known violin teacher living in the Netherlands.
I currently play and perform as a first violinist in a string quartet and a professional string orchestra.  I have been in a professional violin-piano duo and string trio for years including a CD recording and TV appearance.
I have a special interest in teaching. I own a violin studio with four teachers and a violin shop. I have created many method books and video courses for Violin Lounge TV and the Violin Lounge Academy.
I graduated at the Schumann Akademie in Holland as a violinist and teacher (BMus) and earned the highest possible grade in violin methodology at the Utrecht Conservatory.
Borrow my 10.000 hours of practicing and performing on the violin! I offer you my professional education as a violinist and teacher, over 20 years of private lessons, over 10 years experience in teaching and share everything I did to develop myself, my violin playing and my teaching in Violin Lounge TV and the Violin Lounge Academy.
My violin teaching style…
In my violin lessons I seamlessly combine heart-centered musicality with hard-core technique, specializing in creating a beautiful tone on the violin and bowing technique, making things simple and doable, with clear explanations, step by step.
I love to analyze your playing and give you tailored feedback and clear practice instructions, so you know exactly how to improve your playing.
I demystify classical violin technique using modern technique. The seamless and strong combination of online courses with video, e-books etc, online community, live online lessons, personal practice plans and video exchange can boost you to the next level in your violin playing.
You have 24/7 constant guidance and structure and learn in different ways simultaneously.
My goal is that you enjoy happy practicing and beautiful playing.
Free violin lessons by violinist Zlata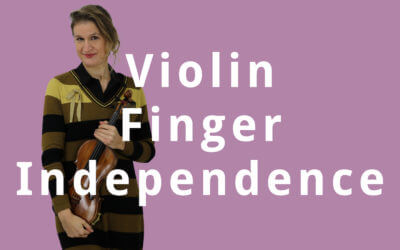 Train your left hand, finger flexibility, play in tune and play fast runs easily with these finger independence exercises: