Are You Guilty of 'Smoesjes' for Not Playing the Violin or Viola?
'Smoesjes' is a strange Dutch word for 'excuses'.
Over the years I have seen people holding themselves back from playing the violin or viola for the wrong reasons.
This is a pity, because those people could get so much pleasure and fulfillment of playing the instrument of their dreams: the violin or the viola.
In this video I talk about 6 common 'smoesjes' people use to hold themselves back from the pleasure of playing the violin or viola (and they are all not true and void):
1) I (think I) don't have talent or feeling
2) I am too old (to start)
3) I don't have enough time
4) I can't find a teacher
5) I can't pay to play
6) I am left-handed
I hope you will finally get past these 'smoesjes' and that you will start to enjoy playing the violin and viola and everything you can learn and get from that.
Is this video useful to you? Please let me know in the comments!
Love,
Zlata
PS: Do you have questions for me on violin or viola playing? Post a comment below or send an e-mail to info@violinlounge.com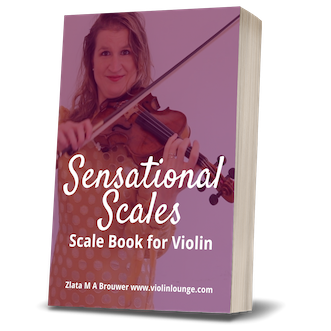 Sensational Scales is a 85 page violin scale book that goes from simple beginner scales with finger charts all the way to all three octave scales and arpeggios