32 Checks to Buy a Violin
You might see a beautiful violin for sale for a good price, but how do you choose the right one for you?
Don't miss these checks when buying a violin!
Most important when buying a violin: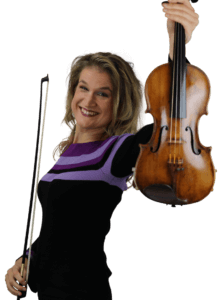 Some violin players dive in right into origin, wood types, makers and all kinds of details. The information online can be very overwhelming and I write this article for you to make the best choise. The most important checks are:
1) How does the violin for sale sound to YOU?
2) How does the violin for sale play when YOU play on it?
Forgive me if this sounds like 'kicking in an open door' (as we say here in Holland). You might think you know this already, but so many people get lost in the details or fool themselves by making the wrong choices in brands, materials and other specifics without listening and playing.
Your hands and ears are your most important resources when buying a violin
Why do I emphasize YOU? Some players just want to please their teacher. Your teacher is not only an expert, but also a living and breathing human being with personal taste. Your taste can differ from your teacher's. That's ok. Just make sure you buy a violin for YOU, not for your teacher. Ask advice, but be confident enough NOT to follow it when it's not right for you.
Always keep in mind that the dozens of checks in this article are there to make you find the violin that you love to play on and helps you develop your playing and sound quality.
With all that in mind, let's dive in!
Sound quality
1) General impression
Play a piece you are very familiar with to get a general impression of the violin. How is your first impression of the character of the instrument? Does it feel right instantly or do you feel there are a lot of possibilities, but you don't really know what?
2) Balance over the strings
Play a piece or scale where you play on all four strings. How does the sound quality compare? Does the violin have one character? Or is it very mellow on the G string and bright on the E string? When you cross strings, does the sound match or do you suddenly get a completely different sound?
Always keep in mind that a violin has a so called 'soprano break'. The E string will always sound a lot brighter than the G, D and A string. This is normal. In the Russian school they sometimes compensate this a bit by putting a steel A string on their violin, making it sound a bit more like the E string.
3) Response
Maybe you like the sound, but you have to work very hard to 'get it' there. Does the violin speak instantly when you play? Or is there a delay in the response?
4) High positions
Some cheaper violins tend to have a good sound in the first position, but sound a bit dull in higher positions. When you are a beginner violinist buying a student violin for a low price, this can be ok. You can upgrade later. However, when you're looking to buy a violin for the rest of your life or your already playing in high positions, test this on the violin.
How do you like the sound quality and response in high positions? What is the difference in sound vs the lower positions? Is it a smooth transition when you move up and down a scale? Test it all!
5) Volume
Is it a loud or soft sounding violin? What do you prefer? Do you want to stand out in a loud fiddle band or do you want to blend in the second violin section of your orchestra?
6) Dynamics
Can you play loud and soft on the violin? How is the response? Do you have to work hard to play forte? Can you easily play piano without the violin sounding superficial?
7) Future
This is a hard one to decide on yourself, so you might ask your teacher. You might like a very soft and mellow violin right now, if you're a beginner violinist. However, in the future you might want to have a bit more power as you learn vibrato and make progress in your tone production. How long do you want to play on this violin? Will you still like it in a couple of years?
8) How does the violin sound under your ear?
After running my own violin shop for 12 years, I noticed a lot of violin players are too shy to play in the shop or just trust their teacher to demonstrate it. It's important that the violin makes YOU happy in the practice room when YOU play on it.
Maybe your vibrato and tone production skills aren't that far developed as your teacher's. Is the violin forgiving to you? Or does everything need to be right before the violin sounds good? Try it out yourself. You're not giving a concert. You're just trying out if the violin fits YOU as a person and as a player.
9) How does the violin sound to the audience?
Playing and listening yourself is important, but you want others to hear that beautiful sound as well. Did you know a violin can sound VERY different under your ear as from a distance? Have someone else play on the violin in the violin shop. Ask the shop owner or sales person, take along your teacher or a friend from your orchestra.
10) How does the violin sound in different rooms?
At least listen to the violin oustide the violin shop, maybe at home or in a concert hall. How does the violin react to different acoustics? Does it fill a big space? Do you want it to?
11) For what setting is this sound suitable?
When buying a violin it's SO important that you keep in mind what you use the violin for. It can be very interesting to play on a very solistic instrument, but if you use it only to blend into the second violin section of your local orchestra it can be not such a good idea.
12) For what music styles is the sound suitable?
What music do you play most? Does it sound beautiful with this violin? It's important to have some repertoire with you when going to the violin shop, whether it's between your ears or in your sheet music bag. Lots of people forget to bring sheet music and forget everything they learned by heart once they enter the shop.
Violin quality and set up
13) General feel
How do you like playing on this violin? Does it feel right? It is easy to press the strings to the fingerboard? Is it easy to hit the right notes? Does the violin feel slim or a bit chunky? What's the difference with your current violin? This is already a good indicator of a proper adjustment.
14) Wood
What's the age of the wood? What class of tonewood is the soundbox made of? Is there a nice flame? Where does the wood come from?
15) Maker
Who made the violin? Is it a factory violin, a workshop violin or is it made by an individual violin maker? Did he win prizes? Can you find something about the maker?
16) Origine
Where does the violin come from? Is it made in China or Europe? What kind of workshop built the violin?
17) Varnish
There are many secrets to lacquering the violin. Some say it's why the Stradivarius violins are so beautiful. Main thing to look for is that the violin is hand varnished with for example spirit varnish. You don't want the varnish to be similar to your car's and just as shiny. It's important that the varnish is like a skin: it should move along with the wood and allow the instrument to 'breathe' and resonate.
18) Pegs
It should be easy to tune the violin, even without finetuners. The pegs should fit into the peg box. They shouldn't stick out, but they should fill the holes to stop the pegs from slipping. The pegs should be made of good quality ebony or another type of hard wood.
19) Bridge
The bridge should stand up straight and be hand cut to fit. This makes it easy to play the violin as the height of the strings above the fingerboard should be right.
20) Tailpiece
As a beginner violinist you might want four finetuners, so it's easier for you to tune. The Wittner tailpieces are the best for this purpose.
Did you know the tailpiece influences the sound? If you're a little more advanced and can tune with the pegs, get a wooden tailpiece with one or two integrated finetuners. Click here to get the tailpiece I use and think sounds best.
21) Soundbox
Is the violin nicely flamed? Are there no cracks and holes? Are the soundboards firmly attached to the edges without openings?
22) Soundpost
The soundpost should stand up straight on the inside of the violin right behind the treble foot of the bridge. It's hard to judge the soundpost if you're not a violin maker, therefore it's important that you buy your violin in a reliable shop.
23) Neck
The neck of the violin should feel smooth. The transition to the fingerboard must be seamless. Feel how you like the shape and width. Are you looking for some thickness or do you have small hands and want a slim neck.
24) Endpin and wire
Important is that the endpin fits well and the wire is in a good state, so not an old gut wire that can snap when it dries out too much.
25) Strings!
Yes, strings are very important and they influece the sound and playability (feeling under your fingertips). Some people almost buy a violin thinking they can correct (what they don't like about) the sound with strings afterwards. Don't do it, because you'll search forever. You MUST love the sound of the violin you're about to buy. Yes, you can color the sound a bit and make it even more beautiful by experimenting with strings. This is a bonus.
Click here to learn all about gut strings vs normal strings and click here for my top 3 warm sounding strings.
Don't select a violin based on the strings that are on it. If you don't like the strings, you can always ask the shop owner to replace them with the strings you do like.
26) Chinrest and shoulder rest
Your new violin must be comfortable to you! It's easy to replace a chinrest and shoulder rest, so pick what fits YOU! Read here what chinrest and shoulder rest I personally use.
27) Straight?
For a general check on adjustment, look at the violin with the scroll against your cheek and check if the line of the tailpiece, bridge, strings and peg box is straight. Don't be surprised if the bridge is lower at the side of the E string: this is normal!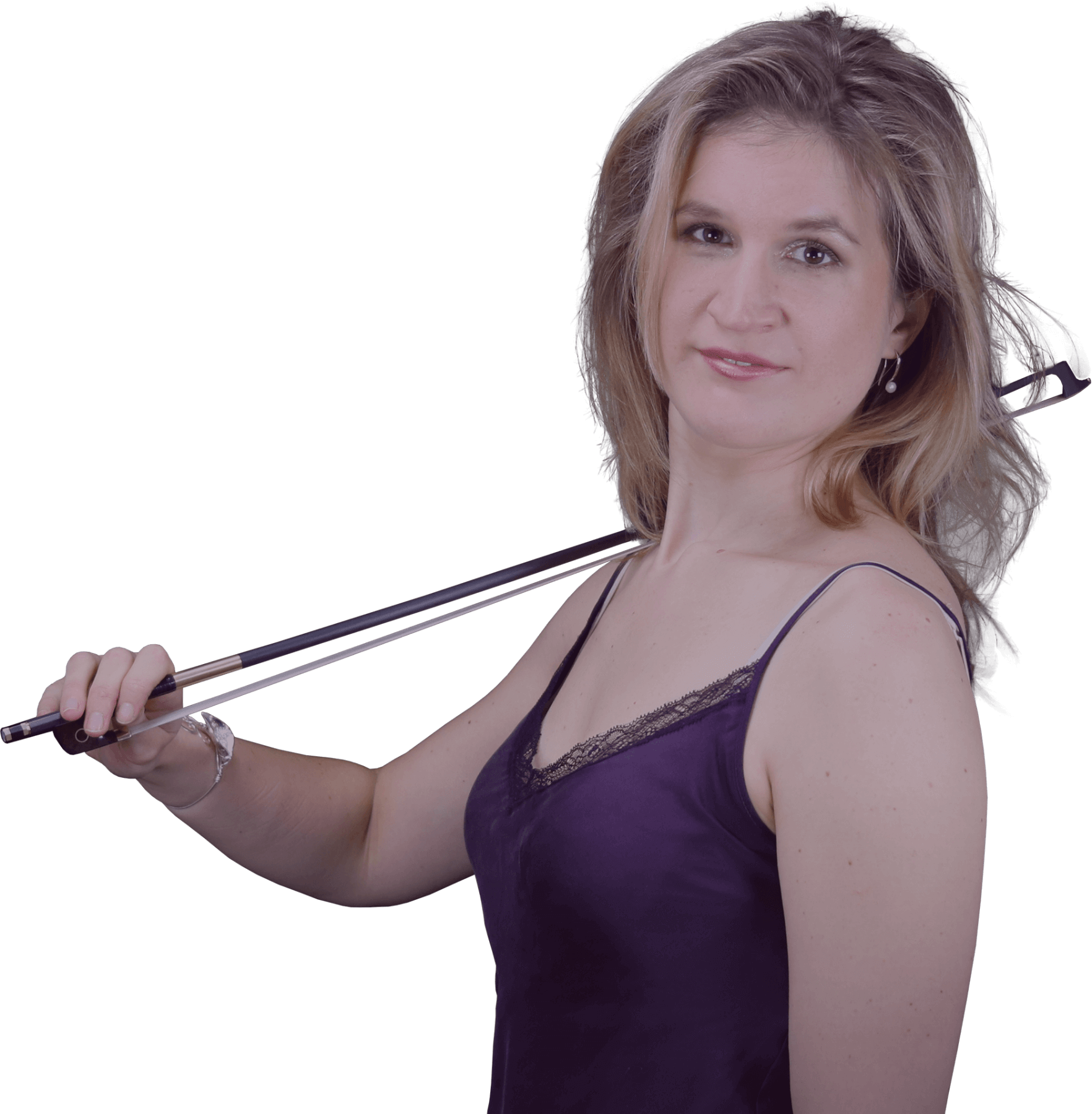 Let me help you find a great bow for your violin, so you can improve your bowing technique and sound quality: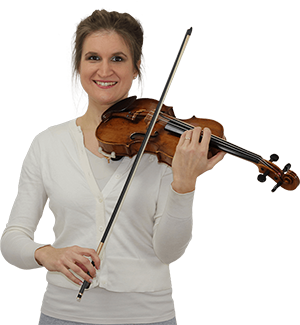 Hi! I'm Zlata
Classical violinist helping you overcome technical struggles and play with feeling by improving your bow technique.
Where should you buy a violin?
No matter if you buy your violin offline or online, chose a place where they love and know violins. General music stores sometimes sell violins 'on the side' and can't offer you the quality and service you need. A specialized violin shop doesn't have to be more expensive, but can deliver you a better instrument.
Some checks for the place you buy your instrument:
28) Service and guarantee
What if something is broken or not working properly? Can they fix things quickly for you? Can you reach the shop by e-mail or phone and do they answer your questions?
29) Returns
If you buy your violin and you don't like it, is there a possibility to return it or swap it for something else? Do they offer refunds?
30) Swapping in general
When you're more advanced, you might want to upgrade to a better violin. Is there a possibility to trade in the violin you bought for a better one in the future? What are the conditions?
31) Certificate
Does the violin come with a certificate or value indication you might need for your insurance or for selling it in the future?
32) Reviews and recommendations
Of course buying a violin is very personal. You have a different taste, desire and budget than someone else. However, it's really useful to check out Google reviews, Facebook reviews and recommendations from other players and your teacher to see if the violin shop you're about to buy from is legid.
But… How to (and can you?) buy a violin online?
You might have noticed that you can't do all of these checks when buying online. First of all you probably don't have the expertise for it except if you're an experienced well trained violin maker. Second you don't see all of these things on the pictures in a webshop.
Before running Violin Lounge fulltime, I've owned a violin shop in Holland for almost twelve years. I've traded violin worldwide and have vast experience in matching beginner to professional players to the violin and bow they love.
I'm asked a lot by you guys where to buy a violin and I can warmly recommend Fiddlershop.com. The BIG difference they make is that they have trained luthiers working for them who set up the instruments. Even their beginner violins below $ 200 are of such surprising good quality I can recommend them to you as a professional and teacher.
I'd love to here your violin love story! Share in the comments below what kind of violin YOU have and where you bought it.
Click here to read all about the old German violin I play and how we found each other.