Do the Work you Love and Make Money as a Violinist
How I make a living as a musician, do the work I love and feel inspired to, service people worldwide, all working from home as a stay at home mother to be
Sounds to good to be true, doesn't it?
After 25 years of violin playing and 12 years of running my own business I finally achieved this point and I love sharing how I did it
I mostly share practical violin lessons and articles on this website, but I hope you love reading my personal story and get inspired by it
Let's start with how I fell in love with the violin …
At the age of seven I attended general music education at the music school in Hoorn, the small town in Holland where I'm born. I was bullied in the music group, just like at school. The plastic flutes still hurt my ears. It was terrible… until one day two girls, a bit shy and with straight hair like myself, came to demonstrate the violin. What a beautiful instrument! I was fascinated by the shape of the violin, how it would work and the mother-of-pearl in the bow. I fell in love immediately.
On my eighth birthday I had my first real violin lesson with another girl
I didn't need to attend that terrible group anymore, I met girls similar to me and finally got to learn to play this beautiful instrument. My teacher played so beautifully, it was like magic! My teacher had long blonde hair and combined with her beautiful violin playing, she looked like an angel. I also wanted to become a violin teacher, I thought.
Becoming a violinist did not occur to me. I came from a teachers' nest and standing on a stage seemed nothing to me. At home I preferred to draw, write and play violin on my own. No, I wanted to pass on this magic of playing the violin to others.
When my violin teacher asked me at the end of high school if I wanted to go to the music conservatory, I didn't think that was a good idea. You can't earn a living with that violin, can you?
Do I have to sit full-time in an orchestra pit? Orchestra playing didn't really appeal to me in general. Or teach at a music school all week? That would bore me.
Unfortunately, back then had the mindset that you have to look for a steady job and I didn't think about the possibility of having my own business in music
After high school, I started a very difficult process at Nyenrode University, because business economics seemed like a profession that had a future in it. Moreover, economics was my favorite subject in high school.
The violin kept calling me. I always just wanted to play, but couldn't
I had a busy job and a master's degree to complete, but it tickled. Because of all the obligations I had very little time to play. I spent a lot of spare time playing the violin. During the weekend I played many hours a day and in the evenings as much as possible.
Towards the end of my studies, I started a pre-conservatory program. I was sure I'll never be able to live from my music, but getting my teaching qualification and teaching a few students might be possible.
During my music training, my first violin students quickly presented themselves
I thought teaching was great… passing this magic on to others. I found violin methodology to be more interesting than playing itself. I did discover a problem with students: it was almost impossible to get good quality affordable violins. For violin makers, violins were often good, but expensive. In web shops, violins were cheap, but poorly finished and sometimes even unplayable. This inspired me to trade in violins… purely to solve a practical problem for my students. The idea that other violinists might also have that problem immediately came to me.
With a bottle of wine behind the computer, the domain www.vioolspelen.nl was registered and a simple webshop was created
When an IT friend visited me, he said, "you should have a webshop for those violins." The same evening my violin shop went "in the air". My first baby steps as an entrepreneur. I started advertising more, optimizing the website and buying more violins. In January 2008 my first sea container arrived from China. Yes, that actually went pretty fast.
A room in my house was set up as an extremely low budget violin store
I had an Ikea Billy bookcase with a horrible motif, because it was on sale. I thought it was about the violins and it didn't matter what my store, or actually my spare room in my house, looked like. Outside of this little violin room you stumbled across the violins, violas, cellos and double basses all over my house.
Later I had a beautifully decorated shop and violin studio, so I hardly dare to share this with you.
However, I think you should see it, how I started small and how you might also put something beautiful in the world: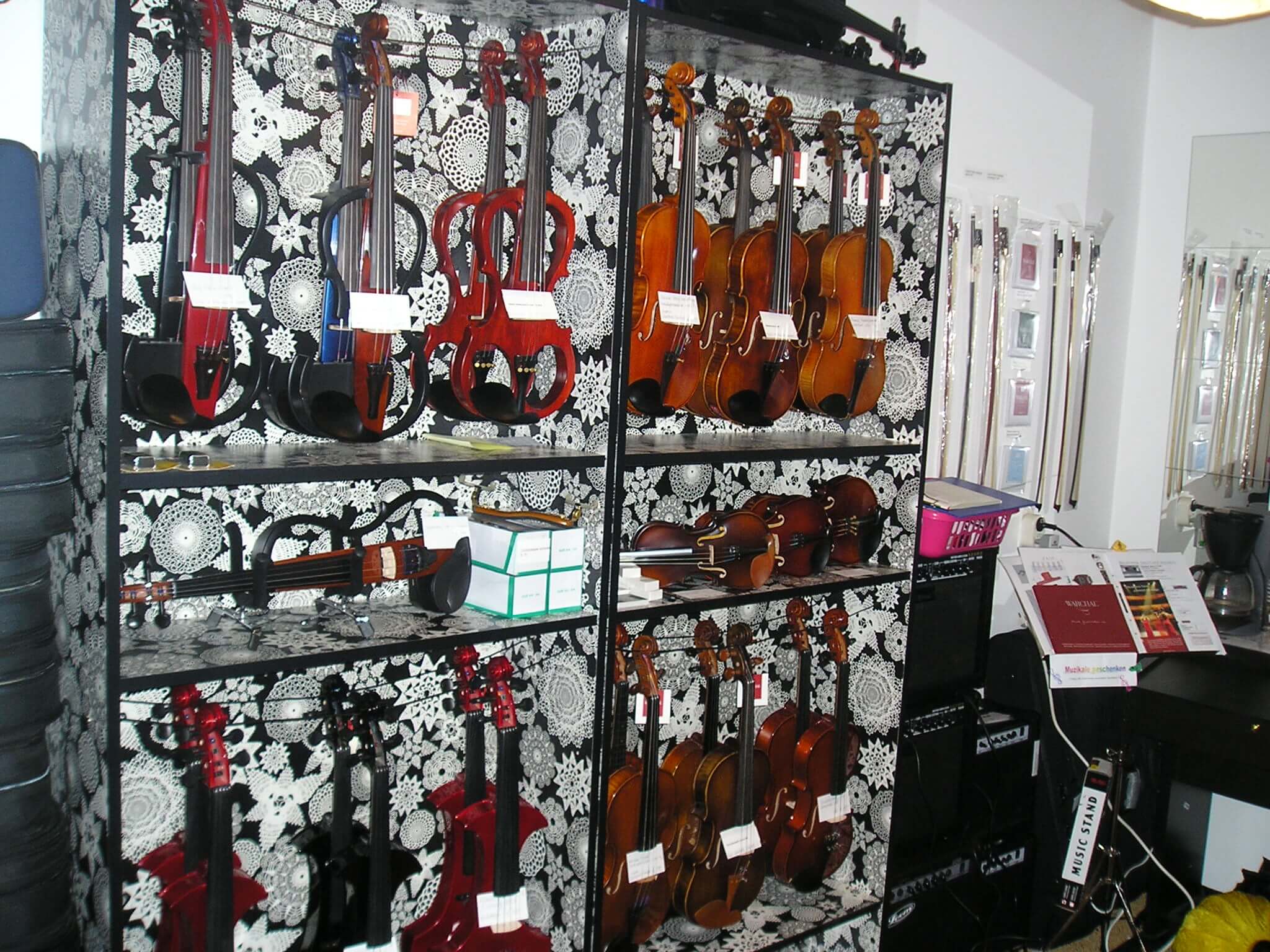 Soon my violin business was impossible to combine with my job and studies
More students presented themselves, I imported more and more violins and my violin shop started to become well known
The great violin dream that someday I could make ends meet from my teaching practice and the violin trade started to become reality
I often calculated whether I could live off my violin income (almost), but the combination with my job and studies was almost impossible to handle. I was burned out.
The story came to an ultimatum: I had to quit my violin shop or take a leap of faith and quit my job. I saved some money and decided to take the leap.
My friends and family thought I wasted my talents on "that weird fuss with those fiddles"
I had a good education at Nyenrode University and a good job. I was a so-called "high potential". Before I was 30 I would become CFO of a large company. Why did I decide to lose all that just to trade a little in violins from my hobby room? My environment was not very understanding. They thought it was a lack of ambition… just hobbying around with fiddles. Others thought it was a ridiculous decision to live off the violin. That is not possible at all!
At that time I did not know that people would project their missed opportunities, their hidden dreams and their fears onto me
Once I was able to focus 100% on my company, it grew exponentially
A few months after leaving my job, I made it to the finals of the Student Entrepreneur Award. This has accelerated everything. Soon I was able to rent my very own shop in Hilversum, the village in Holland where I still live now.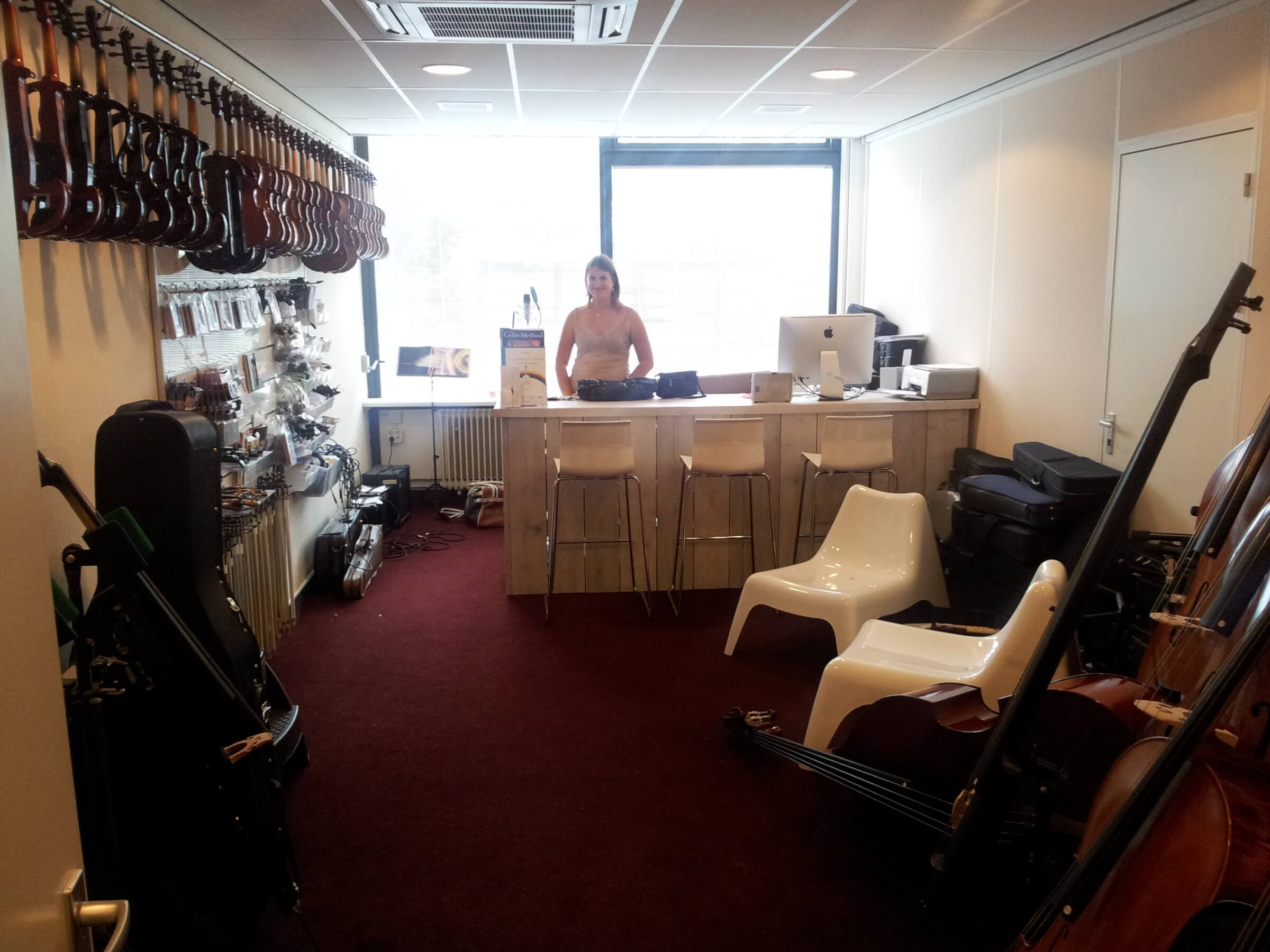 The Dutch Chamber of Commerce named me Entrepreneur of the Year 2011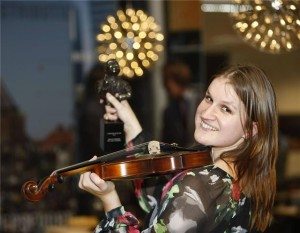 Quality instruments, far-reaching service, expert advice and all of it was affordable and accessible through many free articles and videos on the internet, this in combination with a real shop… it proved to be a successful formula, with which I gained my place in the closed violin market.
I opened the world of the violin to a larger audience.
This did not go unnoticed outside of the music world. As an entrepreneur I was often mentioned in the media and in January 2012 I was named Entrepreneur of the Year by the Dutch Chamber of Commerce.
Shortly thereafter I almost went bankrupt…
The company grew too fast. Growth requires money and I had no investors. I had trouble purchasing stock. Nowhere near enough instruments could be bought to supply the many tenants. It was very busy. I hired an office manager to take care of the hassle. She was a student and I barely had time to guide her.
If I had to choose between doing administration and helping a customer, I would help a customer
At a certain point the "back office" caught up with me. The tax returns were incorrect, which meant that I had to pay huge amounts of money. Suddenly many rental instruments returned, of which I had to pay back the deposit. The number of customers declined, also because I could hardly buy instruments and had little choice in my shop. My assistant had incorrectly archived thousands of euros in invoices, so they were not paid. In the summer of 2013 all the bad things suddenly came together. I looked at a huge backlog that was almost impossible to catch up with.
Did I have to close my beautiful violin shop and look for a 'real job' again?
It would have been safer to stop. I worked my way around everything, everything seemed to be going against me and the situation was hopeless. No, it just doesn't work. All those people were right all the time: it was a stupid idea to make money with the violin. Or was there still a small possibility?
With no budget I started a new business: Violin Lounge
Yup, the thing you're looking at right now ;).
To make up for all the misery, I needed extra income, but I didn't have the money to invest in a new project. In the summer of 2013 I found the power to record more than 100 video lessons for the violin in my best English (which wasn't that good, you can tell if you watch my older videos, haha!). My YouTube channel and this website (a very old verison I tinkered myself) were launched.
I read everything about online business and online courses that I could read. Fortunately, a lot of free information is available on the internet. I even acquired the technical skills to build an entire online learning environment and started selling video courses. Fortunately I had the dream of starting an international online business for years and this emergency forced me to do so.
After hard work and a frugal life, I crawled back up
Everything started to rise. Suddenly it flowed again. In 2015 I finished my violin studies the conservatory that I always attended alongside my many activities. My teaching practice grew so fast that I hired three teachers that same year. It was a wonderful team!
In the years after, everything was in a healthy, thoughtful growth
I learned a lot from the bad years. I built a wonderful team of support in the form of my teachers, an accountant, a designer, a technical virtual assistant, administrative virtual assistants and a phone service. Everyone has their specialty and the various tasks are under control. The company was too big to do everything myself. My website was getting better, I used the latest marketing knowledge, and the articles and videos about violin playing increased in number and quality. All processes are streamlined and the assortment and supply were well thought out. Everything was becoming more and more professional, which means that I could serve my customers better and better and that way I put my mission in the world better and better. My brick and mortar violin shop, my violin studio and Violin Lounge grew, but in an organic and thoughtful way. Everything was under control again, also on the background.
I celebrated the 10 year birthday of my violin shop
Only 4% of business are still running after 10 years. This was a very special day for me: my business was meant to last! Here's how it looked like back then in 2018: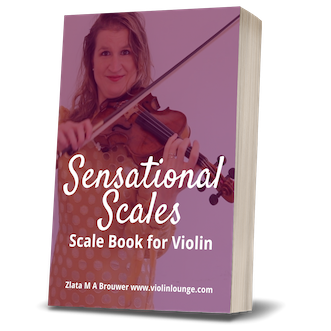 Sensational Scales is a 85 page violin scale book that goes from simple beginner scales with finger charts all the way to all three octave scales and arpeggios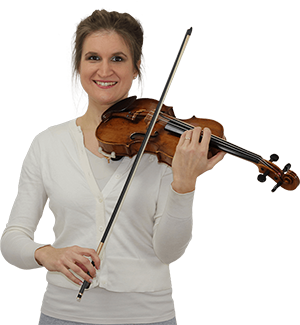 Hi! I'm Zlata
Classical violinist helping you overcome technical struggles and play with feeling by improving your bow technique.
Bow like a Pro, the course that REALLY changed my life…
What I noticed in those 10 years from the hundreds (perhaps thousands) of clients and students I helped and taught is that they often lose themselves in the technique of playing the violin and miss the feels
They do progress and play increasingly difficult pieces, but they don't really enjoy their own playing and are often ashamed of it. This is because bowing technique, vibrato and creating a beautiful sound on the violin are underexposed topics. In many practice sessions and lessons it's mainly about hitting the right notes in the right rhythm. That's very logical, but the bow technique and tone creation, or expression and making music in general, are left behind. There were almost no teachers teaching these topics in a structured way. They either ignored it or demonstrated and said 'do like I do'. I saw lots of violin players struggle with this and I wanted to find a solution.
In January 2018, after a year of research, testing in my violin studio and work, I launched my online program Bow like a Pro, in which I teach violinists of all levels everything about bowing technique, tone production, vibrato and musical expression. It starts with how you hold the bow and ends with advanced bowing techniques in the big concerto's with examples of top soloists. It teaches everything in between step by step.
I found my mission in life: helping violin players, who are lost in the technique, to express themselves in beautiful music. I firmly believe it's a set of learnable skills and my work is to teach them step by step…
So… that's the happy end? Not yet…
To be very fair I didn't like the work in my violin shop. It was a lot of the same and a lot of paperwork. I dreamt of doing Violin Lounge fulltime, having the focus on helping violin players worldwide play the music they love beautifully. Working was all I did. I had absolutely no personal life and felt depleated. I was only of service to others, being busy, had nothing to fuel myself.
A magical chain of events started when I visisted a church in Amsterdam for a lecture
I was diving into the source of beautiful things: the violin, classical music, architecture, painting and more. What is the source of this? It seems impossible that 'simple human beings' make such refined things and in the Western culture this is developed to a level that's known nowhere else.
The books 'Real Presences' by George Steiner and 'Scholastic Metafysics' by Edward Feser brought be closer to this source and to causality in general.
On this resarch I started attending lectures, catachesis and Mass every Sunday and made new friends. Back then I had no idea that one of them would be my husband half a year later.
Everything felt good, went smooth without even thinking and in February 2019 I converted to catholisism and married. Shortly after I was pregnant with twins… a boy and a girl.
The courage of three souls in my body inspired me to follow my path
On my own I never could have made the choice to shut down my succesfull violin studio and violin shop. I knew it wasn't my path anymore for years, but I couldn't take the leap. The idea of putting my newborn babies in a daycare and keep working in my shop and studio like crazy, gave me the chills. Why would I leave my kids in the hands of a stranger to do work that I don't want to do?
I was affraid I wouldn't earn enough money, but I had been in that situation before and I knew that everything you focus on grows, so I decided to quit my violin shop and violin studio to focus my work fully on Violin Lounge. Since I made that decision, so many beautiful opportunities for Violin Lounge and it's audience started coming in to my life. When you keep following me, you'll discover what they are and how they can benefit your violin playing and musical expression. And the money? I discovered I didn't have the numbers right and Bow like a Pro was already making enough money for a good living for months already… Yup, your fears and doubts can really blur your vision.
While I'm writing this it's just a couple of days before the close of my brick and mortar violin shop. The babies are kicking happily in my belly. I'm there for them to give them the best care, while doing the work I love from home as a stay at home mom with a laptop lifestyle and a succesful business. All this while serving violin players worldwide with my free weekly video lessons and my online program Bow like a Pro. I'm curious to what magic will follow on my path…
And what about the violin?
This all started when I, as a seven-year-old girl, got hold of a violin for the first time. That magic of discovery. I still play for hours a day and perform in various settings. I also study concerto's, Bach sonatas and partitas, Paganini caprices and I regularly visit my teacher to keep improving. I play together with a wonderful pianist and make recordings of beautiful pieces. Five years ago I was lucky enough to bump into a beautiful German 19th-century violin and this is my musical friend. Two years ago I bought a wonderful Arcus S9 round violin bow, with which I have developed my bowing technique and expression even more.
With this story I hope to inspire you and change the way we think about 'work' and 'business'
I want you to hear what I should have heard back then. You don't have to follow the beaten track. You can create your own work and lifestyle. Yes, it's hard work. No, it's not always fun. You'll go through deep lows and you'll have to deal with your own limitations. This is not the easy path. You'll be critized. People project their own fears and uncertainties on you and don't want to see you succeed where they failed. This can come form a good intention: perhaps they want to protect your from danger. Make sure that you prove them wrong. Do whatever it takes. There's no right timing and no right circumstances. You have to do it despite of everything. There will ALWAYS be reasons (excuses) to smother your dreams.
The best marketing is used for things that are bad for us: distracting technology, pounding superficial music, fast food, the most horrible perversity and meaningless trends in fashion and lifestyle
I am committed to be the best possible marketeer… for the violin, for classical music, for Western culture, for beauty and good.
Do you want to support me in my mission and make a good living for yourself in music (even if you're an amateur), perhaps you're interested in becoming a Violin Lounge Ambassador.
Do you think this article can inspire others? Please share it with the world and leave a comment what changes YOU are inspired to make!