How Many Hours a Day should you Practice the Violin?
What progress and level of violin playing can you expect at 10 mins, 1 hour or 5 hours a day?
Read all about it and discover how much YOU should practice
After teaching hundreds of students offline and online, it's easy to see that students who practiced most got the fastest progress.
These days talent is overestimated and practice is underestimated
Yup, that nine year old virtuoso you see on YouTube, probably practiced for thousands of hours already.
When you practice enough, you get good progress, get motivated, join fun ensembles and orchestra's, enjoy your own playing and you just can't stop playing anymore.
If you're practicing starts to slack, you feel frustrated when playing, you don't see the progress you want, you can't get in that orchestra you like and you feel like giving up.
Practicing daily is more important than practicing a marathon
The students who get good results in the long run are consistent. For your brain and hands to remember what you learn, daily repetition is very important.
It's way better to have a short practice session every day when you're fresh and focussed than that you leave your violin in it's case for days and have practice marathon. You'll lose your skill in between those marathons and will not build up your technique.
Whatever practice length you choose, pick something that you can manage to do daily. Yes, you can always practice longer, but this daily routine is most important.
Here's the violin progress you can expect related to your daily practice time
10 to 20 minutes
Not so fast progress… 20 minute daily practice time would be suitable to very young (5-8 years) beginning students or adults in the very beginning.
When 10 to 20 minutes feels like 'enough' to you, consider carving out time in your schedule for a second practice session in each day.
Of course there are days that you're busy or tired. If you don't have time, just put the violin under your chin for 10 minutes and at least you keep up with the so important daily routine.
20 to 40 minutes
Great for young or beginning students. You can split up the 40 minutes in two 20 minute sessions with a break in between or at the beginning and end of each day.
In my violin studio I've noticed that 'over 30 minutes' makes a big difference
Here you can already make a practice schedule like the one Itzhak Perlman recommends: 10 minutes of scales, 10 minutes of etude or exercise and 10 minutes of pieces.
1 hour a day
This is really the minimum you need when you want to maintain your current level and want to improve in the long run.
Very young children or adults with some physical challenges should practice less or divide up the hour into two or three chunks divided over the day.
1,5 to 2 hours a day
Great to get good progress on your instrument. You can do scales, exercises and etudes and have enough time to work on your repertoire and orchestra scores.
Serious teenagers who prepare for a professional career, but are still in school, can practice something like this.
Lots of great concert violinists, like Janine Jansen don't practice more than 2 hours a day, but please note that they probably don't count concert and rehearsals as 'practice time'. Their 'play time' is probably longer.
"Practice with your fingers and you need all day. Practice with your mind and you will do as much in 1 1/2 hours." – Leopold Auer
Auer was the teacher of Milstein, Heifetz and more great violin soloists. Yup, that's a big disclaimer that practice time only 'counts' when it's quality focussed practice and your brain is fresh enough to correct yourself and learn.
Mindless practice can even make your playing worse
Don't just count hours and don't feel guilty if you had a short, but super intense, practice session.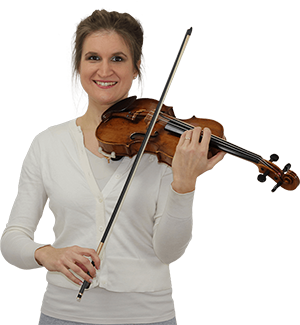 Hi! I'm Zlata
Classical violinist helping you overcome technical struggles and play with feeling by improving your bow technique.
3 to 4 hours a day
Heifetz, probably the best violinist who ever lived, practiced no more than 3 hours a day and said excessive practice is just as bad as practicing too little.
Perlman, one of the best violinists of our time, advices a 3 hour practice schedule and advices against practicing more than 5 hours.
Average conservatory students practice 2 to 4 hours a day. Often they say they practice more of course ;).
When you're practicing as long as this, it's even more important to:
Take breaks so you refresh your brain and body to learn faster
Have a good practice schedule, where your scales, etudes and repertoire are related to each other
You're fresh enough to analyze your mistakes, correct yourself and be creative in the ways you practice something. Not only endless mindless repetitions that will just make your mistakes more permanent. Be your own teacher!
You're not hurting your body! In conservatory I sometimes practiced so long that things just got worse, because my brain and body were exhausted.
As soon as you notice you're not improving things, but getting stuck or worse, just stop. Maybe it's enough for the day or maybe you can continue after some stretching and a cup of cofffee.
Over 5 hours a day
Just let the quotes from Auer, Heifetz and Perlman above sink in and probably you'll see you'll have to work on the quality of your practice over the quantity.
Practicing longer doesn't mean you're working harder
You can do an extremely intense two hours session, where you thoroughly analyse your problems, make specific exercises for yourself and are super focussed on what you're doing. You might be completely tired after those two hours.
You can also mindlessly repeat stuff you know without a clear purpose for five hours, post a picture of your horribly looking finger tips on Instagram and celebrate how 'productive' you've been.
Is your practice really focussed? Are you really stopping and correcting yourself while practicing?

When you have more time to spend, you can also listen to recordings with the sheet music at hand and work on your interpretation without your violin at hand.
What do you count as practice time?
Sometimes I have a day where I do my practice routine in the morning of two hours, have a three hour orchestra rehearsal in the afternoon and a two hour concert in the evening. Have I practiced for seven hours that day? No, I just count the two hours.
Of course you gain important experience in orchestra rehearsals and concerts, but you're not really improving your own technique. You're actually applying what you've learned in your practice sessions.
How much do YOU practice?
Share in the comments below how much you currently practice every day! Is something going to change after reading this article?