Click on the CC button to get English subtitles!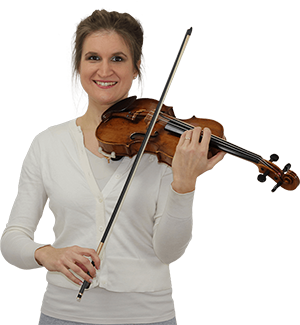 Hi! I'm Zlata
Classical violinist helping you overcome technical struggles and play with feeling by improving your bow technique.
One afternoon I got a call to play on national television the next day
I was instantly nervous: how could I ever manage to play alone on a stage recorded by national television without accompaniment and without preparation.
I decided to do it despite of the fear. That's how I also graduated as a violinist: I was terrified for the final exam and was afraid that my performance anxiety would ruin my performance despite of all the hard work, practice and preparation.
 A lot of musicians, amateurs and professionals, suffer from stage fright
Unfortunately it's still a taboo and I conquered my fear to tell people about this on television. I don't mind that people know that I take beta blockers for a solo performance.
When I started to play violin at the age of eight, I just wanted to teach
Becoming a concert violinist was never my dream. I was bullied a lot in school and I didn't want to be on stage. I had a talent and passion for education. My teachers were examples for me.
Luckily in my conservatory days I overcame my stage fright and sometimes I even liked performing
My focus will always be on teaching, on sharing this beautiful skill and preserving it for future generations.
Do you get nervous playing for others? Share your experiences in the comments!