Why does your violin suddenly sound out of tune when you are playing together?
You have practiced very hard on a piece and have had great results…
This week I received a question from one of my students who noticed that her violin suddenly sounds out of tune after playing together with someone else.
Do you recognize this? Don't worry! In this article I'll explain the two main reasons why this happens.
Reason 1: Possible tension of playing together
Even when you have practiced and know your piece very well, you often play your violin best when you are alone, in comfort of your own study room and when no one is watching. When someone else is listening to your play or is playing too, it is very normal that you may feel some tension or pressure that could affect your play.
However, don't worry, this happens to everyone in the beginning and it is a very easy thing to overcome. The good news is that you can easily reduce this possible tension by just practicing and playing together with other people a lot.
And also just remember to see a rehearsal just as a rehearsal; it's a time to practice and make mistakes, but also just to have fun. Whether this is on your own or with someone else should not change that.
Reason 2: Playing notes together makes false notes more noticeable
A second reason why your violin can suddenly sound out of tune when playing music with someone else, is that you simply hear this much better when multiple tones are played together.
If you play alone, you hear the notes after each other (unless you play double stops, but this is generally not the case). This makes that you can correct your tunes based on your intonation, because you can compare the notes you play after each other with, each other. However, if you hear two notes at the same time, which happens if you play together, you can compare both tunes with each other and notice even better when a note is out of tune. Therefore, if you hear your music while simultaneously hearing someone else's, your play could suddenly sound out of tune.
Practice, practice, practice
Just like the issue of having a possible tension when playing with someone else, playing out of tune when making music with others can be solved by just practicing this. If you do this regularly, you will notice very soon that your both pieces, that you have rehearsed very well on your own, will sound beautifully together and become one piece.
I hope that these tips will be helpful to. Like always, please don't forget to let me know how your practice goes in the comments and feel free to send me any question you may have in the comments.
Enjoy practicing your music together!
Love,
Zlata
'PS: Do you want to see YOUR question answered in a Violin Lounge TV episode? Post a comment below!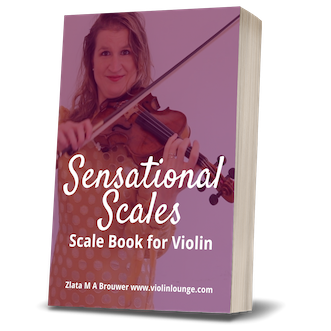 Sensational Scales is a 85 page violin scale book that goes from simple beginner scales with finger charts all the way to all three octave scales and arpeggios