Which Notes can you Play on the Violin? | Violin Lounge TV #334
Learn the exact spots of all possible notes on the violin fingerboard and play in tune with this video and FREE fingering chart:
So which notes can you play on the violin?
Well you'll notice when you look at a violin it's empty. There aren't any keys like on a piano or frets on a guitar, so you actually have to find your notes
First we need to know how the violin fingerboard works…
The shorter the string length, the higher the note, so the higher up the string, the smaller the distances
In the middle of the string you find one octave higher. Half way up that distance left is another octave. and so on and so on until you reach the end of the violin fingerboard to the highest A on the violin. Note that the range of the violin is about 4 octaves and starts relatively high compared to a range of a piano or a cello.
Follow the link on the right to download my FREE Violin Poster which indicates the exact spots of the notes from the lowest to the highest and how to play in tune!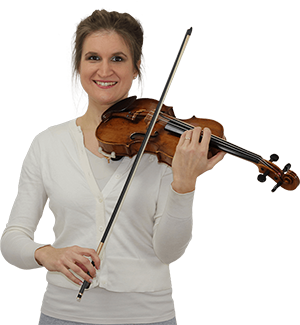 Hi! I'm Zlata
Classical violinist helping you overcome technical struggles and play with feeling by improving your bow technique.
I hope this video helps you understand the violin fingerboard and how to find the notes on the violin! 
Let me know in the comments below if you have any questions!