How to Cross Strings without Noise
Dear violin teacher,

I would like to learn how to switch violin bow from string E to string D, and vice versa without generating any noise. Does the bow actually touch the string A during the transition? The skill is needed in playing Suzuki Violin Book 1 No.14 Bach Minuet 2.

Thanks you so much for your help!

Qi
How to cross strings without hearing it?
You are all very welcome to send me your question so I will be able to answer it. Today I got another question from Qi: Dear violin teacher, I would like to learn how to switch violin bow from string E to string D, and vice versa without generating any noise. Does the bow actually touch the string A during the transition? The skill is needed in playing Suzuki Violin Book 1 No.14 Bach Minuet 2.Thanks you so much for your help!
I do not have the Suzuki Violin Book at hand, but I think the principle is the same so I will go through it. I hope to answer this question in a useful way to you. I have two tips for you. 
Tip 1
First watch my previous video about crossing strings in general. In that video I stress that it is important if you cross strings, to make the movement of string crossing and the movement of bowing separate. So that you do not do this with your example from the D string to the E string. Because then your are bowing and string crossing at the same time. So that is tip number 1 and you can see this very detailed in my previous video about crossing strings. Then I will come to answer your question:
Does your bow stay on the string or does it go of the string?
Tip 2
That depends on what kind of bowing you are using. If you use jumping bowing or a bowing where your bow leaves the string, like spiccato, then also this string crossing will be in the air. Because it is between upbow and downbow and when you are between upbow and downbow in spiccato your bow leaves the string. But if you use détaché bowing and you don't leave the string, then you also don't leave the string when you are crossing strings. That is a little bit more difficult. I will show you both. For example if I use a bowing where the bow leaves the string, [plays] then I just jump when I am in the air [plays]. I did just upbow, then I am in the air, I am doing it very exaggerated you don't need to do the bow like this. But then I will go jump over the E string [plays] and this is quite small, this is not a giant leap or anything [plays] something like that. If you are playing the same thing in the piece you mentioned and you are playing with a bow stroke that doesn't leave the string, then also don't leave the string if you are crossing strings.
Practice
And there might be a bigger risk in how the E string will sound but to avoid that you probably need to practice putting your bow on the string, relax and going over the string without bowing. Without sound. Because that is the movement you make and you make it in between downbow and upbow or upbow and downbow. So if we play the same [plays] then you just change strings like you used to, you just skip the A string like it is not there. So that is how you do it. Practice it very slowly like I just did and then speed it up. It is a little more difficult than having a string crossing without the string in between it. So it is a little bit more difficult but I hope these tips will help you to improve that.
I would like to thank you for your question and I think this answer will be useful for a lot of other people. Thank you for watching ViolinLounge TV!
Love,
Zlata
PS: Do you want to see YOUR question answered in a Violin Lounge TV episode? Post a comment below!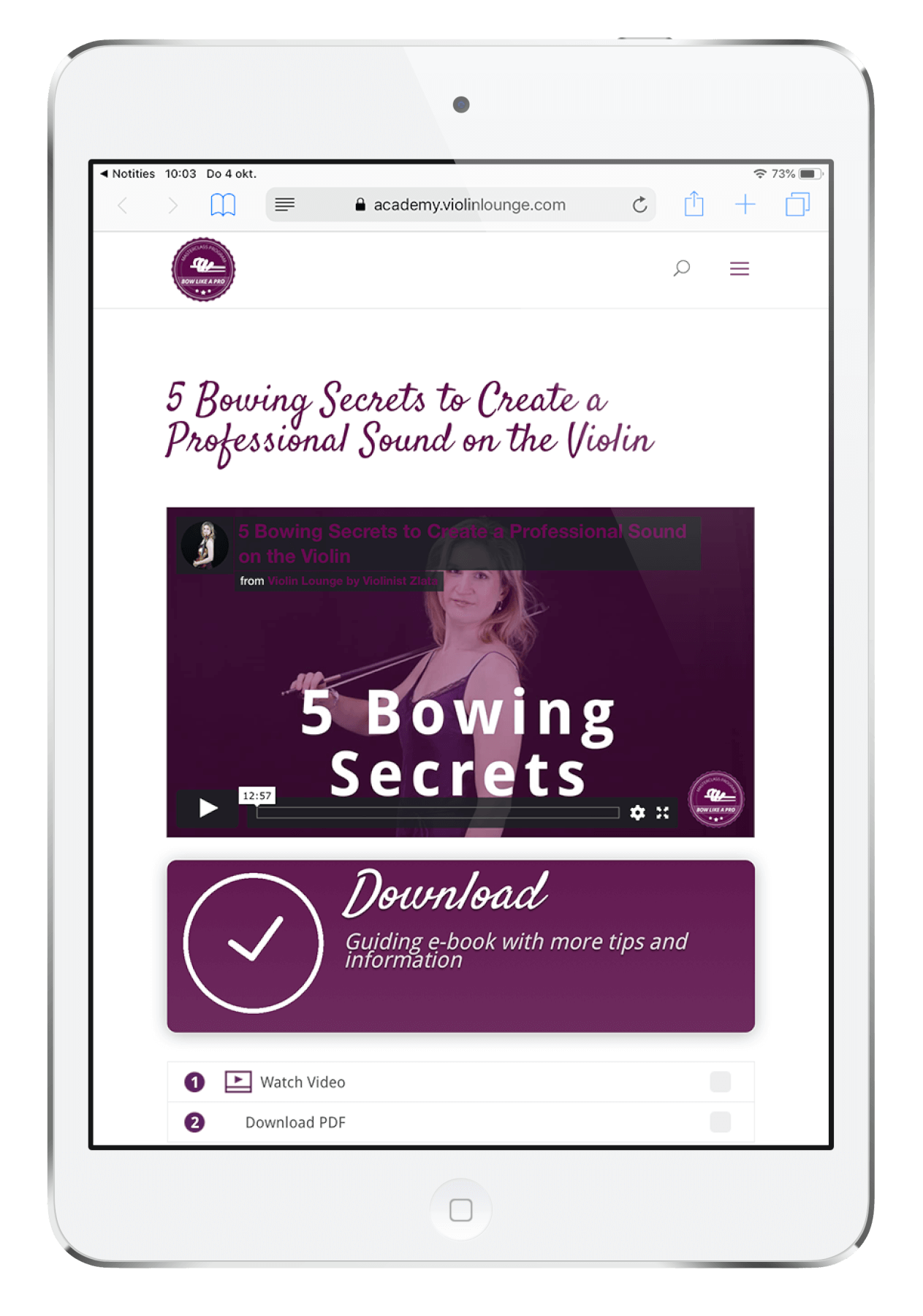 Enjoy my FREE mini Masterclass 5 Bowing Secrets to Create a Professional Sound on the Violin