How long does it take to learn the violin | Violin Lounge TV #484
How hard is it to learn to play the violin?
What pieces can you expect to play after the first year? What's normal violin progress?
In this video I'll give you the exact timeline of average violin progress with examples of pieces you'll be able to play.
Whether you're considering to start playing the violin or have been playing for a while and just wonder if your violin progress is 'normal', you'll find this helpful.
Video Content
01:25 How to make fast progress on the violin
06:08 1 Month
07:31 2 Months
09:01 3-6 Months
09:45 7-12 Months (First Year)
10:29 13-18 Months
12:01 19-24 Months (2 Years)
14:53 3 Years
16:04 4 Years
18:07 5 Years
Timeline how long it takes to learn violin
Remember that this is only a rough guideline, so please don't worry if you find yourself ahead or behind these suggestions.
Month One
Welcome to the violin world! In your first month of learning to play the violin, you should be getting familiar with the parts of the instrument, how to take care of it, how to hold the bow and the violin, and how to tune the violin. You may also be learning how to draw long, sustained bows on open strings. You may be discovering that the instrument is a lot more challenging than you think (who knew it took so much effort and knowledge to be able to maintain a perfectly straight bow?!) If you're also learning how to read music for the first time, you're getting familiar with the basics such as note values, key signatures, and time signatures.
Sample pieces: open string practice
Recommended practice time: 20-30 minutes per day.
Month Two
In month two, you have a clear idea of proper posture, but you most likely will still find yourself adjusting frequently (why won't our pinkies just stay curved?!) You're learning how to play on two strings (most likely A and E strings), learning how to switch between those strings, and learning how to use fingers one, two, and three, with a half step in between your second and third fingers. You're also learning to read the notes of the tunes that you're playing.
Sample pieces: Twinkle Twinkle Little Star, Three Blind Mice, Hot Cross Buns
Recommended practice time: 20-30 minutes per day.
Months Three through Six
In months three through six, you will learn how to play on all four strings, how to use your fourth finger, and work on slurs. You'll expand your note-reading knowledge by learning where all of the notes in first position lie on the staff, but it might still take you a minute to figure out what each note is. At this point, you should be relatively comfortable with holding the bow, and may even start to work on loosening your bow hand up. You should be able to maintain a straight bow and solid contact point, thus producing a solid, pleasing sound.
Sample pieces: Amazing Grace, Ode to Joy, Happy Birthday
Recommended practice time: 30-45 minutes per day.
Months Seven through Twelve
You will be learning a lot of new finger positions, including the low second finger, low first finger, low fourth finger, and high third finger. These finger positions will allow you to play a much wider range of pieces. You may begin to learn about resonant intonation and start to peel away those finger tapes (if you were using them in the first place). At the end of month twelve, you should feel comfortable reading all of the notes in first position at sight, as well as all the basic rhythms such as quarter notes, half notes, whole notes, eighth notes, sixteenth notes, and their corresponding rests.
Sample pieces: Minuets 1, 2, 3, Canon in D
Recommended practice time: 45 minutes per day.
Months Thirteen through Eighteen
At this point, you are more than likely so pleased with the progress you've made in just a year. You remember thinking you'd never be able to sound decent, and now you're discovering that not only is it possible, but you've done it! At this point, you feel comfortable playing and reading music in first position, and you may begin working with more complicated rhythms, such as dotted notes, ties, and syncopations. You will be working a lot on bow technique; specifically how to create dynamics, different bow strokes such as up-bow staccato, and lifting the bow off of the string.
Sample pieces: Boccherini Minuet, Swan Lake
Recommended practice time: 45 minutes-1 hour per day.
Months Nineteen to Twenty-Four
Now comes the fun part-shifting! When you begin learning this technique, you are officially out of the beginner stage and into the intermediate. Shifting can be a bit of a mind-bender as you'll learn that you can play the same note in a couple of different ways on the violin. You'll also discover that the spacing of the fingers is different in third position, so you'll have to retrain your fingers to sit a little closer together than you're used to. You'll be getting used to reading notes in third position as well.
Sample pieces: Rieding Violin Concerto in B Minor, Kuchler Violin Concerto in G Major
Recommended practice time: 1 to 1.5 hours per day.
Year Three
In the first few months of year three, you'll more than likely be learning vibrato. In my opinion, it only takes a few months to cultivate a basic vibrato but up to two years to develop a vibrato you love (so trust the process). You'll be getting more comfortable with shifting and using it more frequently within your pieces. You'll also be diving into double stops and chords, as well as beginning to learn three-octave scales. At this point, your note reading should be fluent through first and third positions, and you should begin familiarizing yourself with notes up through sixth position.
Sample pieces: Seitz Concerto in D Major, Vivaldi Concerto in A Minor, Bach Double
Recommended practice time: 1.5 hours per day
Year Four
Now the real fun begins! You've developed all of the foundational techniques you need, and now you'll continue to refine them and dive into more advanced techniques. You'll become comfortable with using vibrato in your pieces, work on off the string bow strokes such as spiccato and sautille, and learn to read notes higher than third position more fluently.
Sample pieces: Czardas, Schindler's List
Recommended practice time: 1.5-2 hours per day
Year Five and beyond
Now that you have several years of experience under your belt, you can focus less on technique and more on artistry. You will begin to play major violin concertos, vary your vibrato to aid in expression, and hopefully perform with others.
Sample pieces: Accolay Violin Concerto, Mozart Violin Concerto, Beethoven Spring Sonata
Recommended practice time: 2+ hours per day
Was this helpful? 
Support my work by sharing it on Twitter: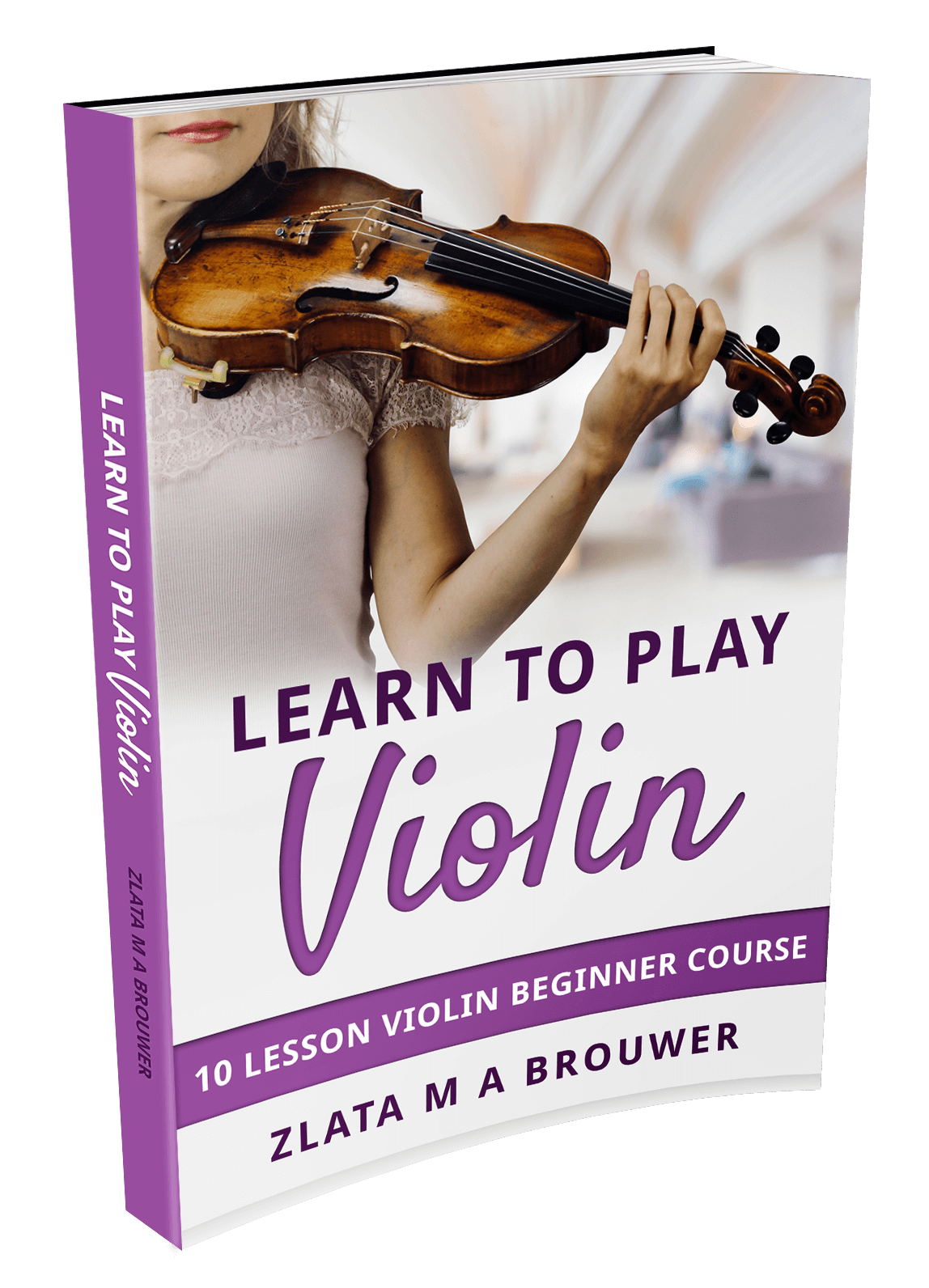 I take you from scratch step by step to your first violin concerto including 40 videos, sheet music and violin tabs.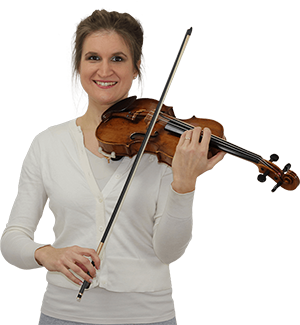 Hi! I'm Zlata
Classical violinist helping you overcome technical struggles and play with feeling by improving your bow technique.
More resources:
Are you a complete beginner and do you want to learn up to the Küchler and Rieding concertos I demonstrated in the video? Check out my free violin beginner course including video lessons and sheet music.
Looking for some great violin repertoire to play at your level? Check out my list with 107 student concertos and concertinos including free sheet music downloads.
Don't worry!
It takes a lot of practice to learn to play the violin beautifully. Learning the violin can be frustrating sometimes. It might even be hard to practice on a regular basis.
Know that progress will come: it's hard for all of us. Learning goes with ups and downs. Run your own race. If you're not following the exact timeline of this article, perhaps it just means you're very self-critical and you play relatively easy pieces with great quality of technique and musicality.
What violin piece are you practicing at the moment?
Let me know in the comments below.