5 Most Beautiful Intermediate Violin Concertos (free sheet music!)
Just learned the third position and looking for some beautiful student concertos to play?
Here's my top 5 as a violin teacher with free sheet music downloads
Scroll down to see my full list of over 60 student violin concertos
If you haven't learned the third position yet or you have no idea what I'm talking about, check out these easy student concertino's you can play as a beginner violinist.
In case you already played your first concertino's and are looking for more challenging repertoire with position play and faster notes, keep reading!
The sequence is more in terms of difficulty level (easy to harder). I'll leave the sequence in terms of beauty to your personal taste :).
#1: Küchler op 15 Concertino in the style of Vivaldi
A good preparation for your first Vivaldi concerto!
With the terraced dynamics, typical for the baroque era, and the fast runs, you get some good practice to quickly move to your first 'real' Vivaldi concert.
You might be wondering what on earth are terraced dynamics? It's playing forte and piano without smooth transitions. Really exaggerate: you always have the idea that you're doing more than your audience actually hears.
In the first movement there is plenty of third position practice, fast runs and string crossings. Your left hand technique as well as your bow technique are up to a challenge :).
After a mini second movement where you can catch some breath, we're moving to the 3/8 rhythm of the third movement. Here you can practice some more fast runs, spiccato and in the last bit some fast string crossings.
Now why are some pieces called concertino and others concerto?
A violin concerto consists of three movements: the first movement, usually a slower second movement and a fast finale. A concertino is a student piece made to prepare you for more advanced concertos. They are shorter, more like one concert piece, and don't have three full movements. Like this Küchler concertino they do have three segments with the musical message of the traditional three movements.
Can't wait to play this piece? Download the sheet music right here!
The first step to prepare to play this piece is to listen to the recording a couple of times:
#2: Vivaldi RV310 Concert in G Major
Now here's the first Vivaldi concerto I promised. Very fun to play a 'real' concerto by one of the biggest composers. At the same time it's way easier than for example the four seasons.
You'll quickly notice that if you've studied the Küchler concertino above, it will be really doable to study this Vivaldi concerto.
Click here to download the sheet music!
Besides this one, you could consider studying Vivaldi's concerto in A minor RV 356. You can also start Vivaldi's concerto for two violins if you have someone to play together with.
#3: Rieding op 21 Concertino in Hungarian style
My students LOVE this piece. It's a classical concertino, but it has the gypsy sound that reminds you of Vittorio Monti's Czardas.
It's great to study position shifting (only first and third) and work with rhythmical patterns that are very different from the pieces mentioned above.
Click here to download the sheet music with my fingering and bowing notes!
Click here to join the Violin Lounge Academy for extensive tutorial videos on this piece.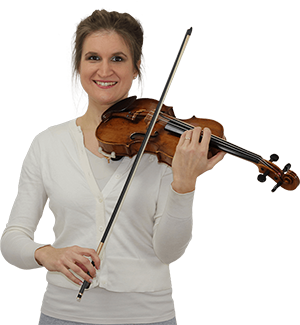 Hi! I'm Zlata
Classical violinist helping you overcome technical struggles and play with feeling by improving your bow technique.
#4: Seitz Op 15 Student concerto nr 4
Seitz has composed a lot of student concertos and I can recommend them all. They have beautiful melodies and lots of opportunities to develop your violin technique and learn new stuff. Also… good spiccato practice!
Fun thing is that they sound a LOT more difficult than they are, so you can really impress your audience with them. For example in this piece the harmonics, double stops and left hand pizzicato's are fairly easy, but give you virtuoso sound.
Enjoy the beautiful romantic melodies and this piece and a completely different style than the pieces above.
Mind that this concerto is quite a bit more difficult than the pieces above, so make sure you can play them easily before you study this one.
#5: Accolay Concerto in a minor
When you can play the fifth position as well, this concerto is a great challenge for you. Just as the Seitz concertos it already gives you a bit of the feel and sound of the romantic violin concertos.
Funny thing is that it's called a concerto although there's just one movement. This makes it not too long and a little more doable for you.
Let me know in the comments below which of these pieces you're going to study first!
33 Student violin concertos in the 1st to 3rd position
Click on the links below to download the free sheet music:
10 Student violin concertos in the 1st to 5th position
Click on the links below to download the free sheet music:
25 Student violin concertos in the 1st to 7th position
Click on the links below to download the free sheet music: