Best Violin Shoulder Rest in 2023: Complete Buying Guide
The BEST violin shoulder rest for you is very personal
It depends on your playing style, your violin hold, the length of your neck and the shape of your shoulder.
As a violin teacher I present the best violin shoulder rest for each body type and each problem below
There's no cookie cutter solution that works for everyone, but from teaching hundreds of students and hearing the opinions of my colleague professional violinists and teachers there are definitely some of the best violin shoulder rests for particular demands.
Instead of just pointing out the most popular rests you can buy today, I will present:
best all round violin shoulder rest
most popular violin shoulder rest amongst professionals
best priced violin shoulder rest
best violin shoulder rest for children
best violin shoulder rest for if your violin slips off your shoulder all the time
best violin shoulder rest if you have a short neck
best violin shoulder rest if you have long neck
most expensive violin shoulder rest
best sounding violin shoulder rest
carbon fiber violin shoulder rest
NO violin shoulder rest (and the advantages of playing without)
Best all round violin shoulder rest
Wolf Forte Secundo
Weight: 68 grams (average), Price: $ 31
This shoulder rest is most recommended by violin teachers world wide. It's around for quite a while, but it's definitely still the violin shoulder rest to look at first. Here's why:
It extremely durable: some use it for decades
Your can bend and tilt the metal base and shape it to fit your collar bone
It doesn't fall off the violin easily, because the feet grab the edge of the violin nicely and you can adjust the rubber if necessary
You can adjust it in width and height. If you have a long neck you can even use the extra tubes on the feet screws to make it even higher.
For children it's available in all fractional sizes and in attractive colors (amongst which sparkly pink)
There is a small con to this violin shoulder rest, which is that because it's so adjustable, it might also take some time to really fit it well. A violin teacher can definitely help with that as they most of the times have a lot of experience with this particular rest. If you're self-learning, definitely take some time to try out different set ups of this rest until you're absolutely comfortable.
Violin shoulder rest used most by professionals
Kun Collapsable
Weight: 68 grams (average), Price: $ 29
Kun is the go-to brand of violin shoulder rests used by professionals and the Kun Collapsable is the most popular type.
The Kun Collapsable can… (you guessed it) collapse, so you can easily fit it in your violin case. At the same time it's very sturdy. You adjust the width not with a system that slides, but by screwing the feet in another whole. In this way it keeps it set up very well. For example the Wolf shoulder rest above needs to be adjusted from time to time.
The Kun is also adjustable in height. If you have a long neck, you can buy feet with extra long screws, so you can adjust it even higher than it normally goes.
The pad of the shoulder rest is not adjustable like the Wolf, but for most people the shape is very comfortable and fitting.
For the young fiddlers this model is available in fractional sizes and different colors.
Best priced violin shoulder rest
Fiddlerman Wood
Weight: 58 grams, Price: $ 20
If you're on a small budget, get the Fiddlerman Wood shoulder rest. It's about the best bang for your buck.
Usually cheap violin shoulder rests, that are not from the major brands, are not as comfortable and don't last as long. They can even damage your violin as they fall apart. Here's the exception!
Just as the Kun the Fiddlerman Wood shoulder rest has collapsible feet, is adjustable in height and width and has comfortable foam padding. The base of the shoulder rest is made out of wood, which gives a warm resonance.
Best violin shoulder rest for your child
Everest
Weight depends on size, Price: $ 18
As a mom of five I know all about that on one side you want the absolute best for your child, but you also don't want to break the bank as violin lessons are expensive enough as they are, aren't they? It must also be sturdy, because kids… Oh, and is your daughter as obsessed about pink as mine is? Well…
Here comes the Everest shoulder rest. It's sturdy and durable. It's adjustable in width and height, it has a comfortable shaped pad and it comes in 10 (!) colors. Plus: as it costs just $ 18 as I'm writing this article it absolutely doesn't break the bank.
Side note: for very small children's sizes like 1/8 and 1/16 Kun still makes the best rests. Get an Original or Collapsable mini. For these small sizes all the brands make rests, but often they are a bit too chunky for those short necks. For very young fiddlers, a simple cushion or cloth wrapped around the violin is sometimes most comfortable.
Best violin shoulder rest for if your violin slips off your shoulder all the time
BonMusica
Weight: 136 grams (relatively heavy), $ 60
This is definitely not the cheapest shoulder rest, but it's advantage is that it has a 'hook' that goes over your shoulder. This is THE solution if your violin slips off your shoulder all the time. If you have a long neck and a slim body type, this might be the best violin shoulder rest for you.
The con of the BonMusica is that the shoulder rest is quite large in it's construction (because of that handy hook), so it doesn't fit in most violin cases. However you might have a sheet music bag anyway, in which you can carry this rest.
Best violin shoulder rest if you have a short neck
Playonair Deluxe
Weight: 68 grams, Price: $ 33
Do you feel that shoulder rests don't fit between your chin and collar bone? Do you wish you could make your shoulder rest lower?
Consider a comfortable cushion like this inflatable Playonair. This is lower that regular shoulder rests at their lowest. Also you can inflate it a bit more or let some air out to adjust it. You are also very flexible in how you position it on your violin.
Why do I recommend the Deluxe version and not the Crescent? The last covers only a part of the violin, so for a lot of players they then have the hard violin right on their collar bone. The Deluxe covers a bit more of the violin, so is comfortable for more players.
Best shoulder rest if you have a long neck
Consider this: the higher you make your shoulder rest, the higher your violin will be positioned. This means that you have to lift your arms more, which can cause you to be uncomfortable or worse: injure yourself.
Yes, for the Wolf en Kun rests you can get accessories to make the feet higher (for the Wolf these are tubes and for the Kun you can buy new feet with longer screws). Note that for the Wolf the tubes are most of the times included when you buy your rest. Just experiment with them! This can help, but it's best to…
Get a higher chinrest! (or an adjustable one)
If you have a higher chinrest, you have a fitting set up for a long neck and at the same time your violin can be on a comfortable height (which is ON your collar bone).
Lots of common chinrest models can be bought in different heights, like this extra tall Guarneri chinrest. To get to the right size, adjust the shoulder rest so that the violin (almost) rests on your collar bone and then measure the distance from the violin to your chin.
An alternative is a fully adjustable chinrest like the Kreddle, which you can adjust in height.
Most expensive violin shoulder rest
Pirastro Korfker
Weight: 32 grams (very light), Price: $ 384
Would you buy a shoulder rest of over $ 300? And over $ 1,000? Well, if it's truly a difference in how you sound and how comfortable you are while playing the violin and the violin is very important in your life (as a professional or amateur)… it might just be worth it.
The advantages of this rest are that it's made out of bendable tone wood and gets your violin a great resonance (some shoulder rests mute the sound with the feet and other parts). It is extremely light (38 grams). You can bend it and very precisely adjust the height, width, position and tilt.
The Cradle variant is over $ 1,000 and is said to get an even better sound.
Best sounding violin shoulder rest
(Pirastro Korfker alternative)
VLM Augustin Diamond
Price: $ 60
I personally use and recommend this rest as a professional violinist
A cheaper alternative to the Pirastro Korfker rest is the VLM Augustin Diamond. The base is made out of maple (used for violin making) and the feet barely touch the violin. Although the rest doesn't slip off, it still leaves enough space for the violin to resonate. It's adjustable in width and height. Also this rest is light weight. The feet are collapsible to facilitate storage, and it's patented 360 degree circular lateral adjustment gives you some extra possibility to adjust it to your body. It looks different than the Korfker rest, so I wouldn't say that it's similar. Also you can't bend the base.
I use this rest myself for quite some years and highly recommend it!
Carbon fiber violin shoulder rest
Fiddlerman light carbon fiber
Weight: 59 grams, Price: $ 12
Just as we have carbon fiber violin bows, also shoulder rests are sometimes made out of carbon fiber. The advantages for shoulder rests are that they are light, durable and let the violin resonate well. Compared to good quality wood, carbon fiber can be cheaper.
This is why the Fiddlerman light carbon fiber violin shoulder rest is such a great deal. You can choose for a hip carbon fiber look, but it's also available with a more traditional wood look. Note that this rest is affordable, because it's made out of carbon/polymer composite and the carbon fiber pattern is just a look.
I've tested this shoulder rest in this video against the more expensive carbon fiber Kun Voce, which seems to be discontinued.
Playing the violin without a shoulder rest
This is a HOT discussion in the violin world, so I hope not to burn my fingers here. Thing is: the shoulder rest isn't that old. The violin exists almost 500 years and the shoulder rest just came in the last (about) 50 years.
For centuries violinists have played without a shoulder rest
Sometimes pro-shoulder-rest-fanatics (is that a thing?) say 'yeah, but that was before we started shifting so much'. Well… Paganini played without a shoulder rest. He let the violin rest in his left hand. Most virtuoso violin pieces we play today have been composed and performed in a time when there were no shoulder rests. Still today, amazing virtuoso players like Anne-Sophie Mutter play without a shoulder rest. They can definitely shift and do vibrato!
The advantages of playing without a shoulder rest are:
Your violin can resonate fully
You are forced to have good contact between the left hand and the violin, often resulting in a stable intonation and less strain on the neck
You are forced to find a good balance and not depend on the shoulder rest
Your shoulder rest can't fall off during a performance (nightmare!)
This doesn't mean that you should ditch your shoulder rest! It just means that you should find a solution that is most comfortable for you and with which you can play the best.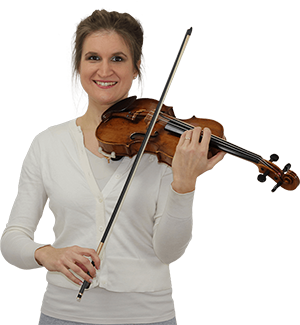 Hi! I'm Zlata
Classical violinist helping you overcome technical struggles and play with feeling by improving your bow technique.
We don't all wear the same type and size of shoes (or go barefoot), so we don't all use the some (or no) shoulder rest on the violin
I hope I've pointed out which violin shoulder rest is best to buy when, so you can start your quest to your ideal shoulder rest.
Still it will always be a very personal choice. Don't let people tell you that you should use this or that rest simply because they are comfortable with it themselves.
It might cost some time before you're truly happy with your violin shoulder rest and it can change after a while.
Go for what works best for you!
Now I'm curious…
What do you think is the best violin shoulder rest?
Leave a comment! I'd love to read your experiences, tips and opinions.