6 Tips to make online music lessons work
Because your music teacher wants to hoard toilet paper too…
Here's what I learned from teaching violin online for over seven years:
You might be totally new to teaching or learning via Skype or Zoom and I've been doing that for many years. so I'd like to share my experience with music students and teachers.
#1 Build a digital sheet music library
You must be thinking 'wow, I don't have time for that'. Well, here's how to do this in an easy way:
Ask your students to send their sheet music in PDF before the lesson starts. In this way you also have the notes (fingering and bowing) that you made for your student.
If you haven't discovered the Petrucci Music Library yet (can't imagine), use it to get digital versions of your dead tree sheet music.
Using paper sheet music anyway?
Use a cook book stand to have your sheet music in sight on your desk or get a fancy table-top music stand.
#2 Use the split screen function to see sheet music and your student or teacher at the same time
You'll be juggling with your instrument behind your desk anyway, so don't juggle with a music stand at the same time.
#3 Use an external microphone
The sound can really be an issue via Skype, certainly if you want to work on tone production and intonation. Some people tend to use headphones or earbuds, but again… the juggling with wires (except if you have Airpods of course). Also if you teach a lot you don't want stuff in your ears for hours.
A USB microphone on a stand I find works best when working with a laptop or desktop.
When working with a tablet or smartphone, I recommend this little affordable microphone with great audio quality.
#4 Face a window
Good natural lighting will make it way easier for your student or teacher to see what you're doing. Make sure that the light comes from the direction of your camera. If you don't have a window, place a lamp behind or next to your computer screen.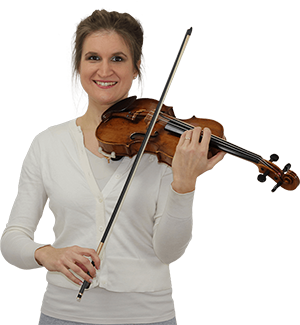 Hi! I'm Zlata
Classical violinist helping you overcome technical struggles and play with feeling by improving your bow technique.
#5 Close the curtain behind you
If you have a window behind you, the natural light works against you. Either move your desk or close the curtain. And see tip 4 ;).
#6 Use an instrument stand
It's great to be able to easily grab your instrument by having a wall mount or violin stand.
Alternative: video exchange
If your internet connection doesn't allow for good quality live online lessons, you can exchange videos with your student. Simply record yourself with your phone or whatever, upload it to YouTube, publish it as 'unlisted' and send your student the link. You can also have your student send you videos and reply by e-mail, phone or a feedback video.
In my program Bow like a Pro this is at the moment the only way I work one on one with students. I found it to work better than Skype or Zoom lessons. You're not dependent on the time zone and internet connection of yourself and your student. Scheduling weekly 30 or 60 minute lessons as a routine is sometimes too much and sometimes too little. Also students tend to get lost in between lessons. With video exchange you can be more flexible and give your students what they need exactly when they need it.
Did you have online lessons as a student or teacher? Love it or hate it? Share your experience in the comments!