What to Play at a Solo Violin Gig?
When you are asked to play the violin at a party, wedding or birthday… solo… do you know what to play?
Watch this video and learn what I play when I have a solo gig and how YOU can learn to give a successful solo performance too!
UPDATED: Click here to see my personal selection of over 20 violin gig books you can use.
What to play at a solo violin gig?
I got a question from Li: In your opinion, which violin pieces sound good for playing violin solo without a complement? Besides of course the stuff especially written for violin solo like the Bach partitas and Paganini. For example sonatas for violin and piano do not work well if you just play the violin part without a piano. It sound like something is missing. What other violin pieces with a complement can be played just solo by violin and still sound good? Perhaps show pieces, anything with a strong melody line?
In your question Li, you already answer some part of it. Of course you can use
Bach partitas and sonatas
Paganini caprices
Pieces of Kreisler because the piano has not so much to do in them and they will also sound good without a piano complement.
If you have a gig, like I have lots of times like a party or a diner or a wedding or whatever, and there is not enough money to hire you with a quartet or a trio or with your pianist and you have to play alone.  What are you going to play? It can also be a family party, this is not only for professional players. It is also for amateurs that get asked to play something! Do you want to play something on my birthday or whatever? What can you play? Li already mentioned Bach and Kreisler, but for some people this is difficult and they will get to nervous to perform them. I will give you some tips.
Playing background music
You don't want it to be too heavy, you don't want to be playing all the virtuoso stuff all the time. They won't want to listen to three hours of Paganini or Bach even how beautiful it is and how much you love to play it. Of course you can take them and just play little pieces out of them and mix it with some different things. I would recommend to play some:
Classical pieces that we already mentioned
Some gipsy music, there are a lot of books you can chose from. I like for example the gipsy fiddle collection.
I would recommend some jazzy pieces. I really like the music of Edward Huws Jones. He has made arrangements of pieces in different styles for violin: from Bosnian folk music, celtic, whatever you want. This is the Jazz, Blues & Ragtime.
Some tango music. There are a lot of tango books also from Edward Huws Jones: tango varieties. They are all with CD or piano complement too but you can play them solo as well.
Play some waltzes if people are dancing. This is the Viennese Fiddler.
Consider some show or movie tunes. This series is very nice for that: see link in my personal selection.
Tips for performing
It is very important now you know the repertoire that
It must not be too difficult to play for an audience because you must feel very comfortable playing it and it must really sound well.
You practice them anyway even if they are easy. Play them at home first.
If you want some compliment anyway, you can take a stereo and play along! There are some nice Suzuki books with little dances of Bach and Mozart you can use them too.
Make sure the repertoire that you choose fits the occasion.
Here you can find my own personal list of over 20 books at Amazon. These are the books that I personally use when I have a solo gig.
Is this video useful to you? Please let me know in the comments!
Love,
Zlata
PS: Do you want to see YOUR question answered in a Violin Lounge TV episode? Post a comment below!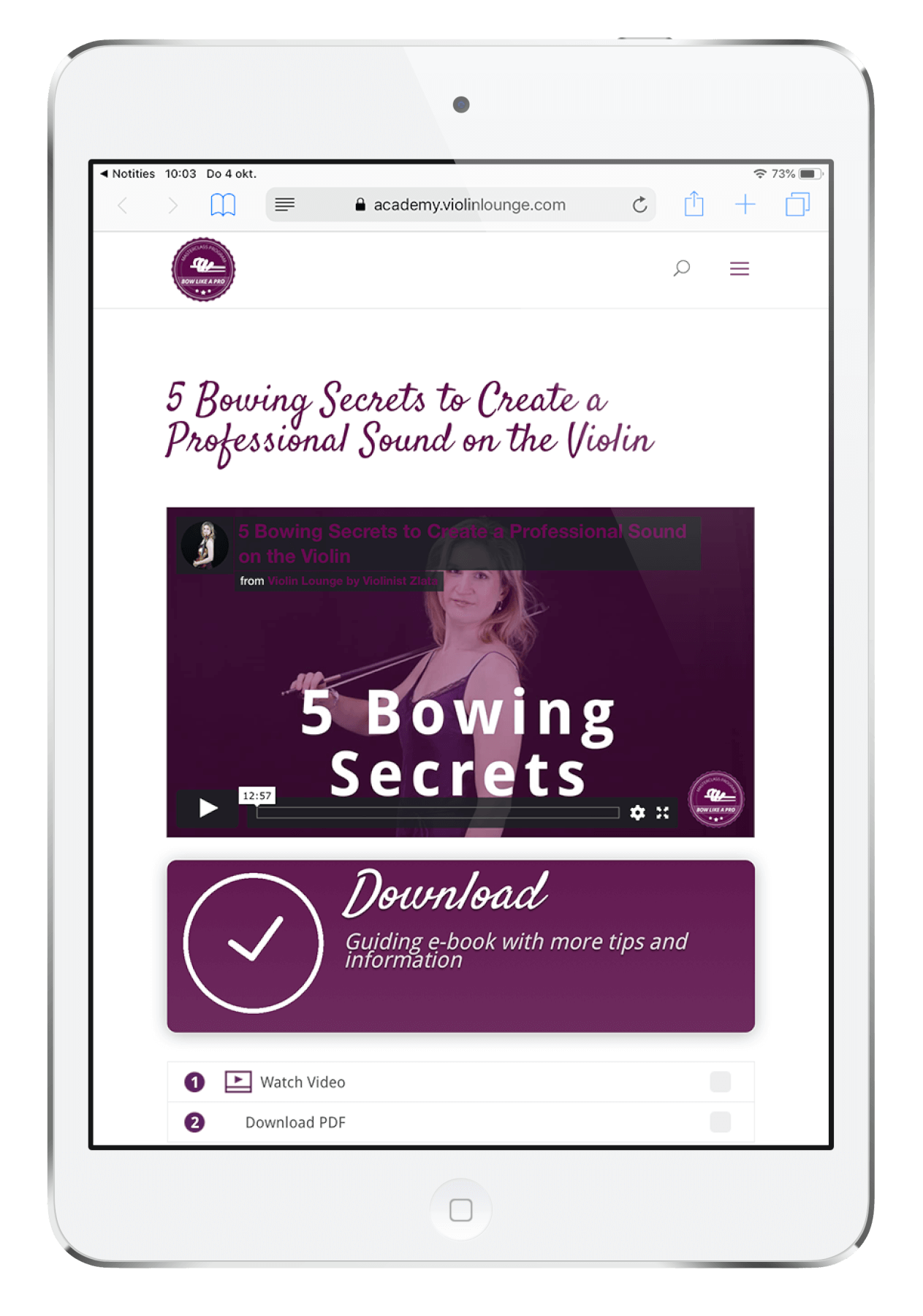 Enjoy my FREE mini Masterclass 5 Bowing Secrets to Create a Professional Sound on the Violin