Sound Great in High Positions on the Violin E String | Violin Lounge TV #417
Do you find it hard to get a beautiful resonant sound high up the E string?
Or do you struggle with squeaks and scratchy sounds as soon as you shift to a high position?
This video lesson will help!
Here are tips and tricks to sound beautifully high up the E string:
#1 Contact point
The higher you move up the string, the shorter the vibrating string length, which mean the point of contact should be near the bridge. Experiment which point of contact, so the place on the string where the bow hair touches the string, sounds best.
#2 Bow speed
When your bow speed is to low, so you're bowing to slowly, you can get squeaks. When the bow speed is too high, you can get a glassy superficial sound. Experiment which bow speed gives you the best sound on your violin.
#3 Weight
On the E string you should use just a little bit or no weight on the bow. This can even mean that you should have the feeling of lifting the bow to get a good sound. The E string responds differently than the other strings on your violin.
Support my work by sharing this on Twitter: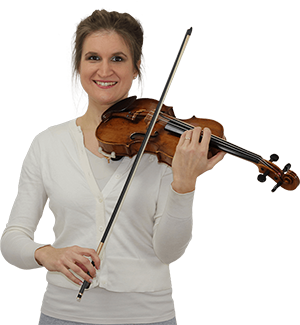 Hi! I'm Zlata
Classical violinist helping you overcome technical struggles and play with feeling by improving your bow technique.
#4 Tilt the bow
By tilting the bow in the direction of the scroll, you'll use less hair and get a softer sound. This can just get you the right sound high op the E string where the string is very tight. Experiment with tilting the bow.
#5 Rosin
With too much rosin on the bow, the E string can become very scratchy. With too little rosin, the violin won't speak. Check if you're using the right amount of rosin and experiment with less or more.
#6 Bow division
When playing the violin, you should be aware of where on the bow you play something all the time. The place on the bow, so lower half or upper half, can make a big difference. When you bow close to the frog, it can be quite a challenge to get a good sound in high positions on the E string.
Looking for general tips to sound good on the violin E string?
Experiment with all these elements and let me know in the comments which one was most helpful to you: