How to Stop Surface Noise on the Violin and Create a Deep Sound | Violin Lounge TV #367
This video gives you some tips to stop that superficial sound on the violin and create a beautiful full tone instead:
Before applying the tips in this video in your playing, identify what your problem really is
The cause of surface noise or a whistling sound is usually too little weight and too high bow speed.
The cause of scratching and squeaking is usually too much weight and too little bow speed. I show you the difference in the video.
If scratching or squeaking is the problem, watch this video on how to make the E string sound good and this video on scratching and squeaking in general.
You have to apply the right proportions of speed and weight.
Lots of violin players get a superficial sound by trying to avoid squeaks and scratches
Besides weight and speed, it's also important to know how much hair you use ideally.
By tilting the bow towards the scroll, you play with less hair and that sounds softer. This should be applied deliberately and not be a habit. It can also sound superficial.
You need to know where on the bow you play something.
Near the frog you have more power and near the tip you'll automatically sound softer.
Bowing with an even consistent sound means bowing with uneven weight!
Thought you were done? Nope, there's contact point!
This is the place on the string. Near the bridge you get a bright sound and near the fingerboard (or above the fingerboard) you get a softer muffled sound.
Is this interesting? Help me by sharing this on Twitter: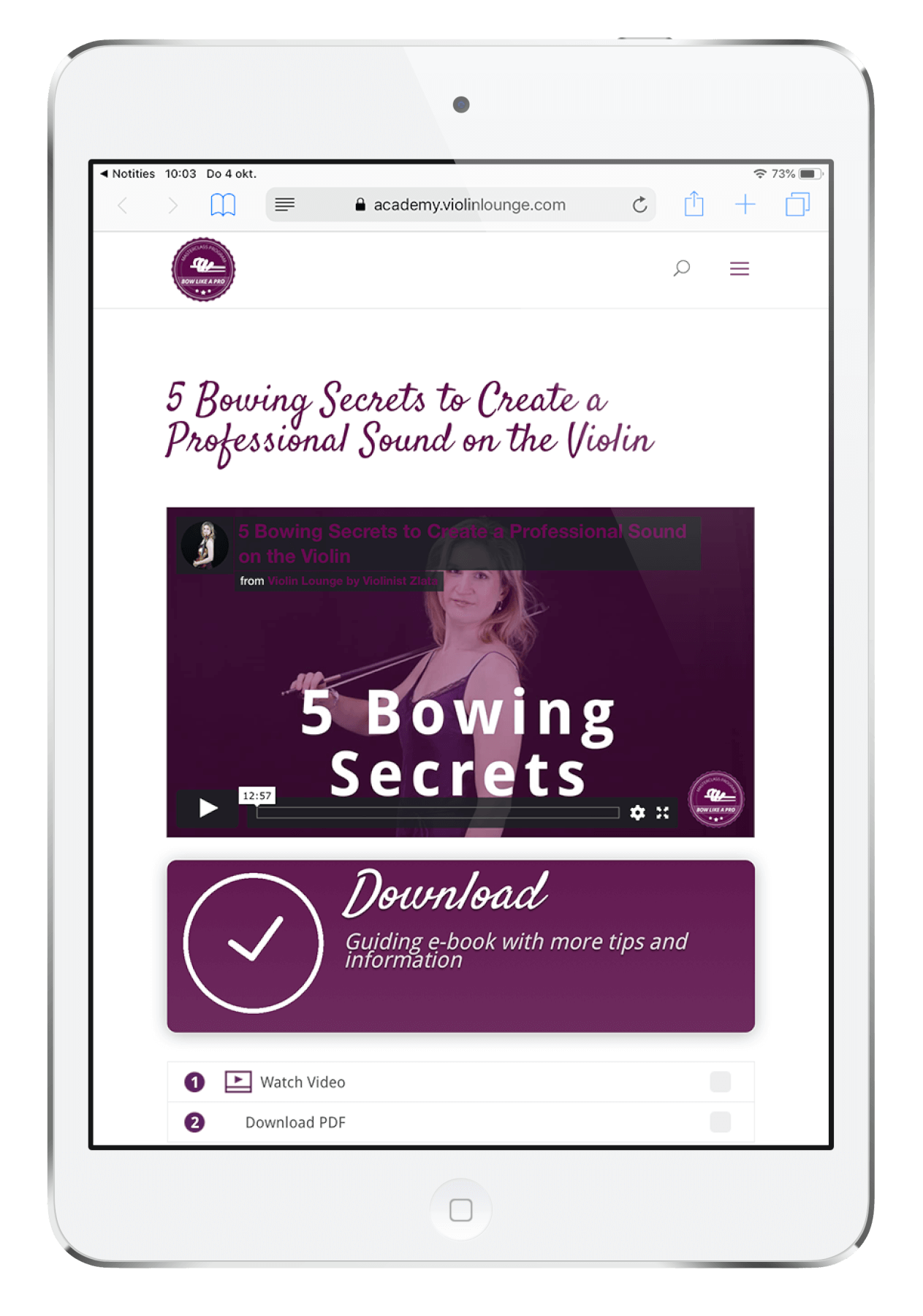 Enjoy my FREE mini Masterclass 5 Bowing Secrets to Create a Professional Sound on the Violin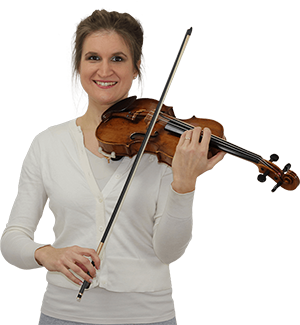 Hi! I'm Zlata
Classical violinist helping you overcome technical struggles and play with feeling by improving your bow technique.
Have you already found your tone production problem? Or the key to making your sound even more beautiful than it already is?
Summary of the 5 factors that you need to balance for a great sound on the violin:
Weight: you transfer from your arm through your index finger to the bow using the bow and string as a spring system
Speed: the speed in which you move the bow over the string
Hair: whether you tilt the bow or not
Place: where on the bow you play something
Contact point: place on the string
How to apply all this stuff?
A prerequisite to all of this is that you have a flexible bow hold and the right finger action. Watch my video on bowing smoothly
right here
!
That's, then?
Eeehm, nope… sorry!
Your bow! Yup, besides the technique the material matters.
A good bow can make your violin sound so much better and makes bow technique a lot easier.
Also make sure you're not using too much or too little rosin
Clean your bow hair
on a regular basis and wipe the rosin off of your strings each time you play.
Overwhelmed? Start with these TWO things:
If you have surface noise, first check your bow speed and weight. Are you playing with too much bow? And are you wiping the bow over the string or do you use weight?
Let me know in the comments what you're going to change in YOUR playing!