How To Play 'I WISH YOU A MERRY CHRISTMAS' on the Violin?
Merry Christmas and a Happy and Violinistic 2014!
I wish you a merry Christmas on the violin
This is a special episode of Violin Lounge TV in which you will learn to play 'I wish you a merry Christmas' on the violin. I will walk you through it and show you how to do it, it is quite simple I think if you are playing for just some time and you are using all fingers then you can perfectly play this.
The first part you can do with jumpy bowing and then you go to a more legato kind of bowing. The third part is actually the same as the first part, but you can speed up the tempo a bit. 
I hope it works, if something is unclear, please let me know in the comments. Please also let me know if you like it to learn a piece in the video, then I could perhaps do it more often. 
So I hope you find it nice to play around the holidays and I wish you a merry Christmas!
Love,
Zlata
 PS: Do you want to see YOUR question answered in a Violin Lounge TV episode? Post a comment below!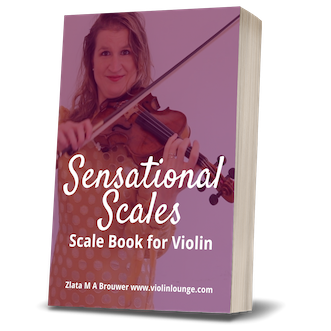 Sensational Scales is a 85 page violin scale book that goes from simple beginner scales with finger charts all the way to all three octave scales and arpeggios