How To Make Your Personal Practice Schedule?
Practice make perfect!
Yes, it certainly does, but only if you practice a lot in an efficient and effective way.
Practice makes perfect: how to create your personal practice schedule
When practicing to play the violin or viola, you may find yourself struggling to stick to an organised schedule or you may not book the results you want in the time you had planned.
You can make your practice routine more efficient and rewarding! In this video I explain what your practice package must consist of to maximize the results from your practice time.
There are two main components to consider when thinking of a practice schedule: technique and pieces.
Technique
Practicing technique in general is never a bad idea, but adjusting the technique you practice to the piece that you are playing at the moment, will make your practice a lot more satisfying.
You will find yourself feeling more rewarded if the you can hear the result of your practice in the pieces that you are playing!
The technique you choose to improve depends on your current goal in violin playing. Based on the piece you are playing, choose a technique you want to improve and focus on this during your practice.
You can choose to practice one or several skills at the same time.
Pieces
There are three types of pieces you should keep in mind when creating a practice schedule.
Pieces under your level: these types of pieces should be rather easy for you and you can use them to implement new techniques and skills. If you are asked to perform a piece, these are the pieces you can play easily and with confidence!
Pieces on your level: the difficulty of these pieces should really match your current level. They should not be too easy or too difficult. When practicing these kind of pieces, you can usually hear results fast! Study and practice these pieces to improve your playing and general technique.
Pieces above your level: these pieces should be challenging for you. Practicing them will take some time and acquires dedication. These are the pieces that will take your playing to the next level! You might struggle practicing these type of pieces, but in the end this will really improve your playing skills.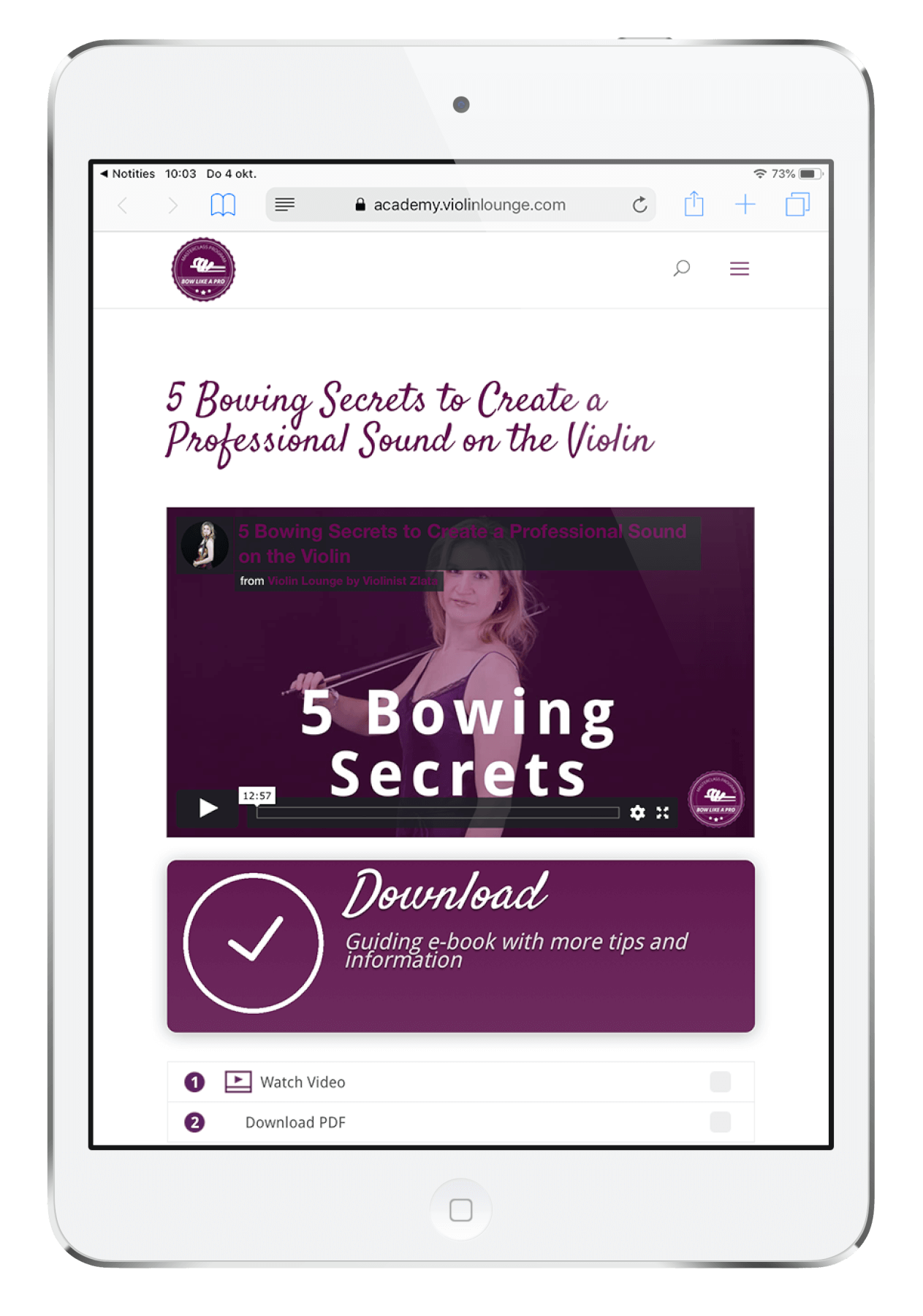 Enjoy my FREE mini Masterclass 5 Bowing Secrets to Create a Professional Sound on the Violin