Top 6 Adult Beginner Violin Progress Channels on YouTube
You are NOT too old to learn violin!
Get inspired by these adult beginner violinists who are rocking it on YouTube with their progress on the violin
As long as you put in the work and are open to learn, it's possible for adults to learn to play the violin beautifully from scratch.
#1 Marijke Plays
The most active and versatile adult violin progress channel!
Marijke makes wonderful progress on the violin inspiring hundreds of thousand aspiring violin players world wide
You can see her progress over the years, recordings of her first concerts conquering her stage fright, her playing as a one girl string quartet, playing in festivals and at pick nicks. She certainly shows how versatile the violin is and the beautiful things you can do when you start playing the violin.
Here's the interview I've done with her in my violin shop in which she shares her experiences as an adult beginner.
#2 Violin Noobie
The most popular adult violin progress channel!
Her most popular video hits 11 million views changing lives all over the world
Who doesn't know this cute girl from Norway who picked up the violin and worked her buns off to learn to play?
It's by far the most popular channel and there are a lot of interest practice videos, violin covers and much more, but there are not much new videos coming out on a regular basis. Let's hope she's too busy practicing ;).
#3 The Fiddling Violin
Yes, you can rock it on your fiddle as an adult beginner!
Interested in becoming a fiddler? Get inspired by all the tunes this girl plays. The channel is very active and certainly worth a subscribe:
#4 MsPolkaDotz
Active channel with interesting 'practice violin with me' videos
In the few years she's been playing the violin, this girl makes awesome progress in classical music and can be a great inspiration to you.
#5 My Violin Journey
Daphne makes beautiful vlogs and does a great job learning to play the violin by herself
#6 Mariko Barra
Inspiring channel with progress videos on etudes, movie tunes, classical pieces and much more
This girl also makes great progress, I believe without a teacher as she doesn't have access to one.
Unfortunately now she's taking a break from the violin because of wrist tendonitis and she's sharing how she's looking to recover. I wish her well and hope she'll play without pain very soon!
#Bonus: Violineest
See the long term progress of an adult violin beginner
This is a very active channel featuring a lot of pieces you learn as you play the violin. As she's already been playing for six years, it's very interesting to get an idea of what you can expect when you start playing the violin.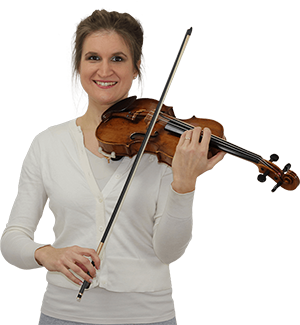 Hi! I'm Zlata
Classical violinist helping you overcome technical struggles and play with feeling by improving your bow technique.
More inspiring adult beginner violinists
Also watch these progress videos by grownups just like you who start the violin and get great results because of their hard work:
There you go! No more excuses NOT to start the violin 😉
Share in the comments below who has inspired YOU to pick up the violin recently or a long time ago!
I'm convinced, Zlata, where should I start?
Get my free 10 lesson violin beginner course right here!