Best Violin Case: 2022 Buying Guide
What's the best violin case?
There is no hard and fast answer to this question. The best violin case is the one that works best for you and fits your needs, preferences, and lifestyle. In this article, you'll understand the types of violin cases, their pros and cons, and how to decide which case is right for you.
What types of violin cases are there?
Hard cases vs. soft cases
Hard violin cases have a hard, shell-like exterior, while soft cases are usually made out of fabric and conform to the shape of your instrument. I strongly recommend going with a hard case simply because it offers much more protection than a soft case. They may be a bit heavier, but there are a plethora of great lightweight hard case options available.
I know that for guitar soft cases are far more popular than for violin. This is because the violin has a bridge that is fragile and can break and damage the instrument when it breaks or falls down. Because of the construction of the violin, a soft case or bag is not safe.
Shaped cases vs oblong cases
Shaped cases mimic the shape of the violin on the outside. They are often smaller and more lightweight than oblong cases, which look like a simple rectangles on the outside. Oblong cases are generally more spacious and usually dote a sheet music pouch on the outside.
Wood vs. fiberglass cases
What is a violin case made of and what's best?
Wood is the best material for protecting your instrument from the elements. However, this does not mean that all wood cases are amazing! Cheaper wood cases tend to be less protective and much heavier than fiberglass or carbon fiber cases. Even the more expensive wood violin cases are relatively heavy.
Fiberglass cases offer solid protection, but they do have a higher heat conductivity compared to wood, meaning that they get hotter much faster, which may not be ideal if you live in a hotter climate.
Thermoplastic is a great material that is very strong yet light and isolates well against the elements. ABS is also a good option. The downside is that these cases are usually relatively expensive. If you have a precious violin and travel a lot, the safety and convenience are quite worth it though.
Cheap hard violin cases have a foam shell. For light use, say you walk to your violin lesson weekly or just use it at home, this is fine. Just don't drive over it with your car… well, let's not try that with other cases as well.
Attached or detached bow cases
The great majority of cases include a spot for the bow on the inside, however, there are some that include a detachable bow case. This could be ideal for those looking to save space within their case.
Do you need to wrap your instrument in silk?
You may have seen your favorite violinist wrap their violin in silk, or even come across ads for silk bags on Facebook. In years past, when cases were exclusively made out of wood, silk wrappings were necessary to keep the violin clean from any excess wood shavings. Nowadays, while beautiful silk bags can be aesthetically pleasing, they are not completely necessary, however, they can keep your case nice and clean from rosin. I only have one because all of my friends in high school had one, so I needed one too 😉
What is that tube in the violin case for?
In some luxury violin cases you will notice a plastic tube. That is for an extra set of strings. Many players simply leave the strings in their packaging and place them in the pocket of their case, but some choose to unfurl them and place them in that tube.
Which violin case is right for me?
There are several factors that will determine which kind of violin case will be right for you.
Size. Are you someone who keeps a lot of extra things in your case (like me?!) Things like extra strings, rosins, pencils, nail clippers, etc. If so, you will need a case with an inside pocket, which is more likely to be larger and oblong-shaped. Additionally, do you want an outside pocket where you can keep your music, or are you okay with carrying an additional bag for your music?
Weight. In my opinion, the lighter the better! Weight is especially important if you travel with your violin quite frequently. If you're a gigging musician, you'll most likely need a very light case, but if you are someone who only travels with your violin once a week for your lesson, you could potentially be open to a slightly heavier case.
Transportation. As mentioned above, the lighter the better, especially when it comes to transportation! Additionally, do you want your case to have backpack straps for easy carrying? Do you fly with your violin a lot and therefore need the case to be rather small so that it can fit in the overhead compartment (never check your violin!!!)
Durability. Your violin case needs to not only be able to stand up to the weather but also daily use. Violin cases are almost never replaced because the shell cracked, but often because the zipper broke or the lock stopped working. I know what you might be thinking- how can you tell if a case is durable? Your best bet is going to be choosing a trusted brand like the ones listed below. These brands have built a reputation for a reason.
Equipment. Some cases come with hygrometers, which measure humidity levels, and humidifiers, which correct dryness. These may be extremely important if you live in a particularly humid climate.
Design. The majority of violin cases have a sleek, plain design, but there are some companies that produce more uniquely designed cases. In my opinion, functionality comes first!
Budget. Usually the more options, the firmer, the lighter, the more high tech and the more luxury finish, the more expensive. Choose what fits your budget and what makes sense for your instrument. There are already great violin cases around 100 USD and there are professional luxury cases that cost thousands.
What violin case do professionals use?
Each player has their own preferences, but the majority of professional violinists stick to the top four brands: Bam, Gewa, Bobelock, and Negri.
Bam is a company based out of France (and therefore all of their cases are made in France) which has been operating for over 40 years and is still one of the most highly regarded companies today (My case is a Bam). Bam violin cases are extremely lightweight, come with extremely durable equipment (such as zippers and locks) and are used by many professionals.
Gewa is a company based in the United Kingdom founded in 1925. These cases are known for being some of the most protective cases in the world. Gewa cases feature a specially developed energy-absorbing shell that is extremely strong yet lightweight.
Bobelock case company prides itself on providing the best value for the customer. They import high-quality materials sourced from local businesses all over the world to create protective and affordable cases.
Negri is a German-based company that has been around for over 50 years. Negri cases are extremely high quality and have housed the violins of Yehudi Menuhin, Vadim Repin, and Maxim Vengerov, to name a few.
2022 Violin Case Buying Guide
Now that you know what violin cases there are on the market and what to look out for when buying a violin case, I will point out some great violin cases for you to consider for each budget.
How much does a violin case cost?
There are excellent cases available starting at around 100 USD, and cases with a lot of bells and whistles that go up into the thousands. If you have a budget between 200 to 500 USD, you already have some very nice cases to choose from. 
Best violin case < $ 100
Gewa Bio-S Shaped Violin Case
Gewa is a fantastic brand for violin cases. I'm happy they introduced this light and affordable Bio-S violin case.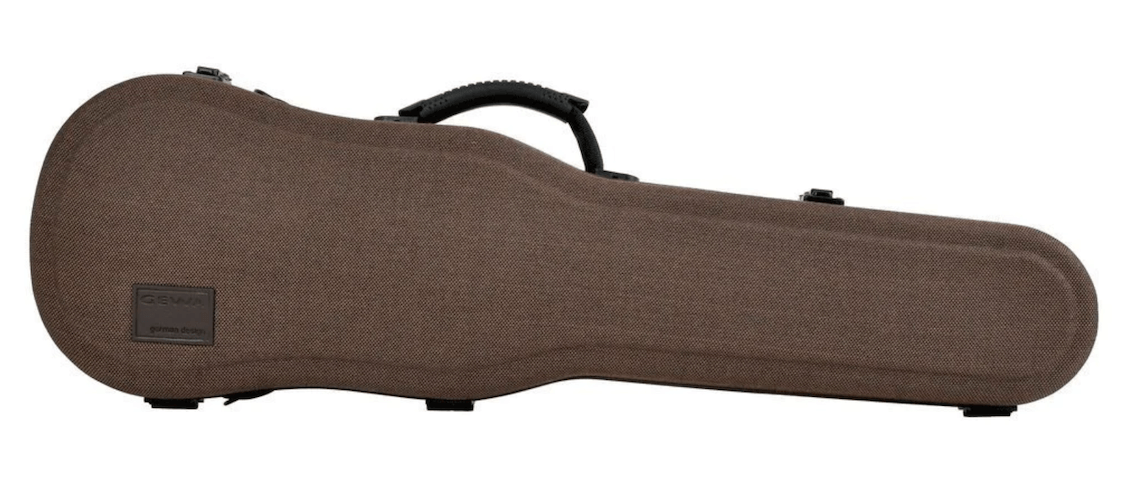 Pros
Affordable
Organic
Light
Available shaped as well as oblong
Cons
Simple case, not much features
Not suitable for a lot of travel
Not so protective against the elements
Pros
Very protective

Velvet interior

Comes in a variety of colors
Cons
Heavier case-weighs 9 pounds

Comes with only one shoulder strap
Most Beautiful Violin Case
Gewa Air 1.7 Shaped Violin Case
I love the design of the Gewa Air violin case. It's very strong and light. The finishing is beautiful. I personally own a glossy black one for years and it's so durable. Another good option is the Gewa Air Prestige, which is the same case with a slightly different design and a beautiful layer of leather on top of the outside shell.

Pros
Strong thermoplastic shell, temperature resistant
Light weight: 1.7 kg or 3.52 LBS
Extremely durable
Numerical locks

Gewa's patented swivel bow holders, which are very durable

Removable accessory pouch

Several beautiful colors and finishes available
Firm padded shoulder straps with safety rings
Cons
Velcro rings for the shoulder rest (takes some getting used to, in fact I have my violin in a silk bag and just place the shoulder rest beside it without the velcro rings)
No sheet music compartment. For the oblong version you can buy a separate sheet music pouch to place on the outside of the violin case.
With a price of around $ 500 it will not be within everybody's budget, however compared to BAM cases it's still a reasonable price.
Pros
Luxurious finishing
Spacious
Functional
Choose from four interior colors
Cons
Relatively heavy compared to for example thermoplastic cases: 8LBS
A little over $ 400 will not be within everybody's budget, but in the end it's a luxury case
Best Violin Case of All
Bam Hightech Oblong Violin Case With Pocket
Ultralight weight and strong violin case that sort of has it all: it's light, all you need fits in and it's very practical. At the same time it's very safe for your instrument in terms of the strength of the shell and protection against the elements.
It can easily compete with premium cases by Negri or Musafia, but it's lighter and cheaper. But yes, a thousand dollars is still a lot of cash.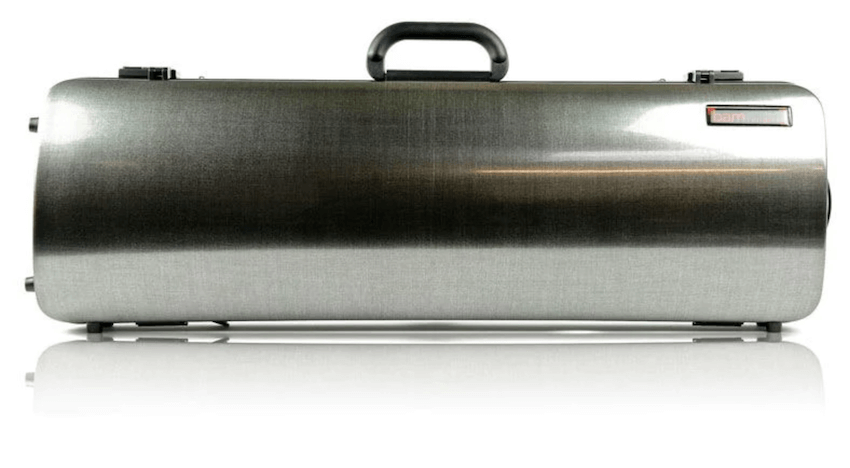 Pros
Extremely lightweight
Extremely durable
Numerical locks
Temperature resistant
Padded shoulder straps
Several colors available
Enough space to store
Cons
A thousand dollars for a violin case isn't cheap. As an alternative you could consider the Gewa Air 2.1
Double Violin and Viola Cases
A multi-instrument case can be a great option if you travel lot with two or more instruments: a violin and a viola, a violin and an electric violin or two different violins. Cases for four and more violins are mostly used by violin sellers only. Most popular are double violin and viola cases like this one: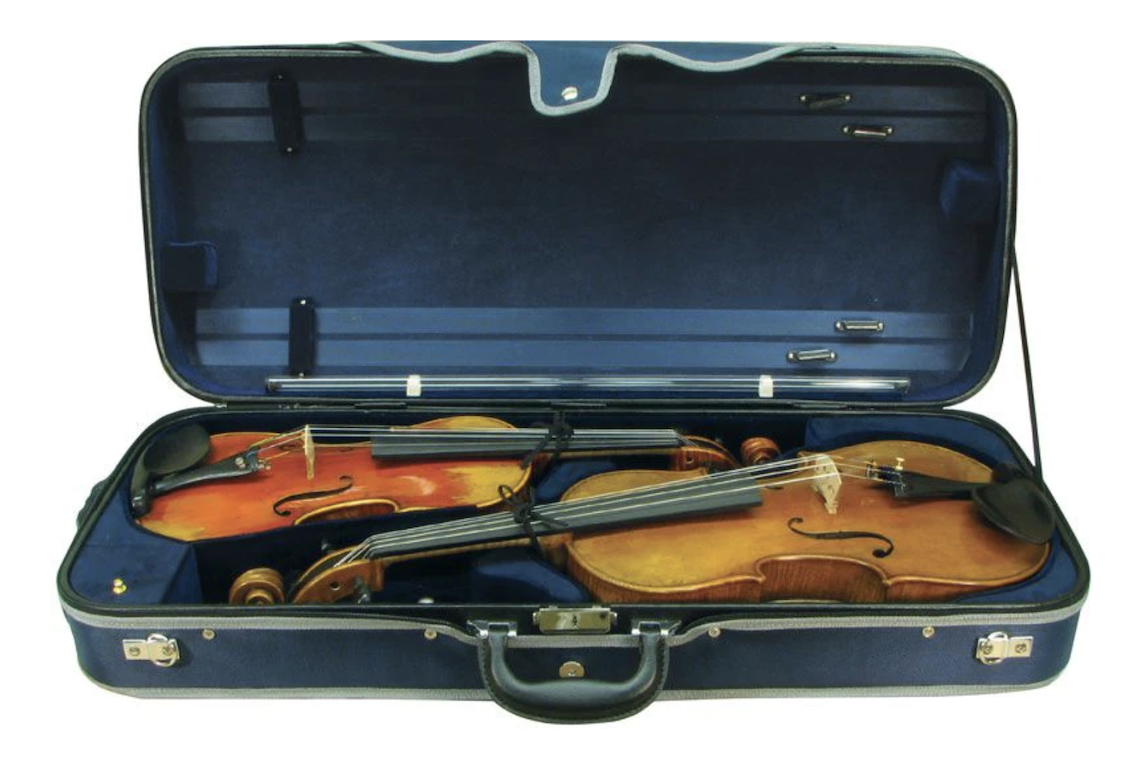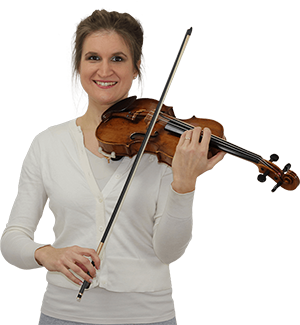 Hi! I'm Zlata
Classical violinist helping you overcome technical struggles and play with feeling by improving your bow technique.
What violin case will you buy?
Are you out there buying a violin case? Or are you just interested in the violin cases that are for sale today?
I personally have glossy black Gewa Air 1.7. I always carry a sheet music bag and find it no problem that I can't put my sheet music in my violin case. First I had a classic wood shell Gewa case. That's very handy to put all your stuff in, protects your violin well and looks great, but I found it too heavy when traveling around. I went for light and small and am so much happier with my current case.
Let me know what violin case you have in the comments below
I'd love to read it.