9 Tips to Stop Violin Bow Shakes or Unwanted Bounces | Violin Lounge TV #349
Learn how to stop your bow from bouncing or shaking when you don't want it, so you can control your violin bow during a performance when you're nervous
You've practiced very hard on a piece and at home it goes all right, but stage your bow suddenly starts shaking and your violin makes a strange noise
These 9 tips help you to get control over your violin bow in a concert, so you can enjoy your performance without being afraid
#1 Practice performance
Just as we practice everything on the violin, performing is another skill to practice. In the video I tell you about the shock therapy I gave myself in the conservatory by giving free concert in homes for the elderly.
Learn how to handle you body when you're nervous. Don't pray to stop getting nervous. Just learn to play violin while being nervous. That makes you invincible.
Play for a bunch of friends or imagine playing for an audience.
A good bow technique in general gives you control over your bow
Here are some technical tips to stop unwanted bow bounces and a shaky bow.
#2 Bow hold with curved pinky and thumb
With a relaxed and flexible bow hold your bow won't shake that quickly. Also you can easily transfer weight into the bow, which fixes the bow shakes. In the video I show you what I mean.
#3 Finger action in bowing
At the frog you can either lift your wrist or curve your pinky. Lifting your wrist puts weight off the bow and the bow may start shaking. With an active pinky you can prevent a shaky bow.
#4 Weight in the bow
Don't press the bow into the string. Transfer the weight of your arm through your index finger into the bow. If you make a superficial tone, you'll quickly have shakes and bounces.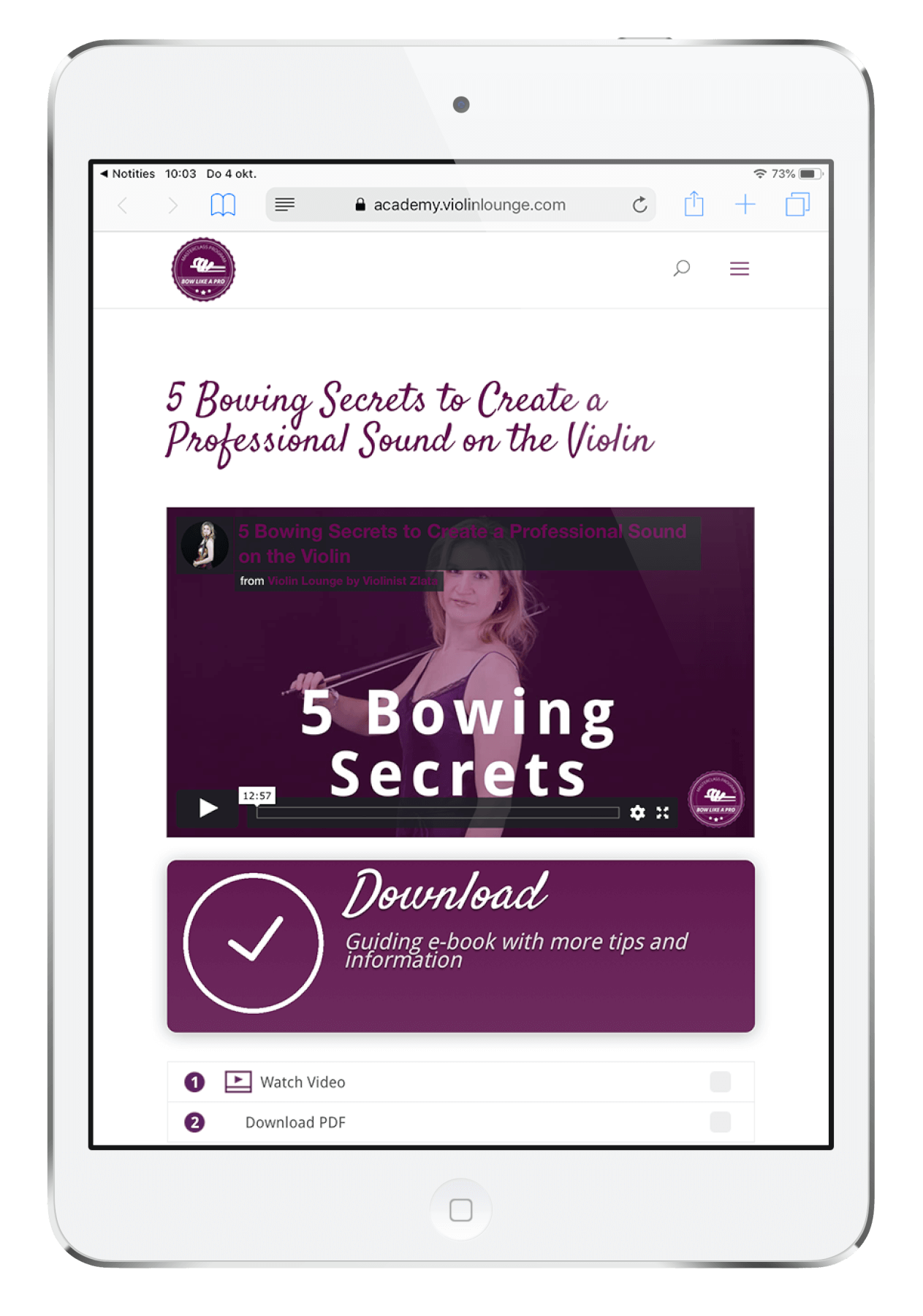 Enjoy my FREE mini Masterclass 5 Bowing Secrets to Create a Professional Sound on the Violin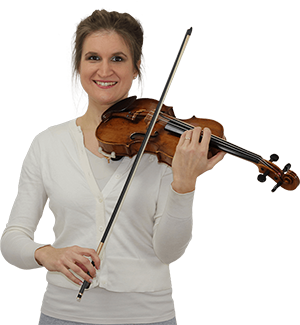 Hi! I'm Zlata
Classical violinist helping you overcome technical struggles and play with feeling by improving your bow technique.
#5 Tilt the bow a bit
When the stick is above the hair, your bow has most jumping qualities. By tilting the bow a bit in the direction of the scroll of the violin, it will not jump as quickly. However, don't make this a habit and learn to control the bow when the stick is above the hair anyway.
Don't tilt the bow when playing forte as you need all the hair to make a large tone.
Identity for your bow what's the spot where the bow jumps easily and tilt the bow when you bow on that spot or divide your bow in a different manner.
#6 Relax your body with special attention to your right shoulder
When teaching adult beginners, I discovered that if they experience bow shakes often this is caused by tension in the right shoulder. I know that sounds weird, but it helps them tremendously to keep the right shoulder low and relaxed.
Especially be aware of your right shoulder when performing.
#7 Jump on purpose!
Practice sautillé and spiccato to get to know your bow
By learning jumping bowing techniques like sautillé and spiccato you learn how your bow responds and how to control it.
#8 Learn to switch between bow techniques
In Sevcik's 40 variations you learn to switch between bow techniques, for example in variations 8 and 10. When you know how to switch from a jumping bow technique like spiccato to a bow technique like detaché, you are in control!
#9 Avoid coffee, cigarettes and drugs in general 😉
They might make you a bit shaky and that's not handy when you go on stage.
Let me know in the comment what tip helps you most!
… or share other tips that have been useful to you!