12 Tips to Play in Tune on the Violin or Viola (9 to 12)
This video is the third and last of three videos about playing in tune on the violin or viola. In these three videos I give you the 12 most important tips to play in tune.
One could probably write books for of information about this topic and create loads of DVD boxes. In these three videos I present the tip of the iceberg.
Playing in tune, also called 'intonation', is one of the most difficult topics of violin and viola technique. In the beginning the fingerboard can look like a great unknown universe. 
Besides that we have to adjust continuously to our musical environment. Intonation is different when you play with a pianist, in a piano trio, in a string quartet or in an orchestra.
Watch tips 1 to 4 right here. Watch tips 5 to 8 right here.
Here are the last four tips in this short video series:
9) Have a lot of patience!
It takes a lot of time to have progress on the violin and viola. They are beautiful instruments and you've made a very good choice to play (one of) them. Please don't be demotivated by this. It's all worth it, but it just takes a lot of time.
You are not the only one. It takes everybody a lot of time and that's ok. Be happy with the smallest progress you make. All these small progresses together will make a big progress.
The result will come eventually, just enjoy the journey that leads you to it. It's fun to play the violin or viola even if you don't play exactly how you want to play.
When you have reached your goal, there will be a new goal for sure. It never ends.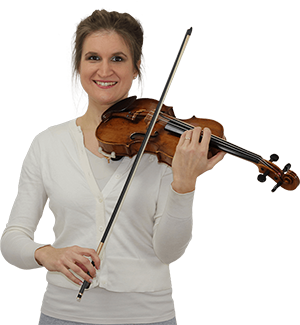 Hi! I'm Zlata
Classical violinist helping you overcome technical struggles and play with feeling by improving your bow technique.
Every level has a new devil.
It's all good and part of the process.
10) NEVER put stickers on your fingerboard.
There are people who claim it makes everything easy. Nevertheless… please, in my opinion, don't do it!
This is why I am completely against stickers on the fingerboard on any level: Watching the stickers is like pushing a stand by button on your ears.
To look means to stop listening. We humans are very visual. We are focussed on what we see and a big part of our attention goes away through our eyes. Learn to listen.
I know… it can be extremely tempting to place stickers on the fingerboard. Yes, it can get you good results on short term, but on long term it will ruin a lot for you. On the long run you don't save time. Using stickers will only lengthen your journey.
Stickers will not automate your motor skills. Playing the violin or viola is not just training motor skills.
Your ear commands and your hand follows.
Playing in tune by using your ears will get you faster progress and you won't hit 'the wall'… a plateau from where it's really hard to progress.
Once you play without listening it's very hard to start listening later on. It will take you forever and will take you nowhere.
By the way: stickers are NEVER accurate. There are no frets on a violin or viola for a reason. A piano and guitar are always a little out of tune. When you would play on a violin or viola with that intonation, it sounds terribly out of tune.
Little mistakes in intonation are far more hearable on a violin or viola than on a piano or guitar.
I've experienced this when recording a CD with a singer songwriter and my string trio (two violins and a cello). There was some time pressure and we had to record our parts separately. We had no chance to listen to each other and adjust on that. The recording appeared a little out of tune (hey, nobody's perfect!). The 'audio guy' had an idea… let's use autotune! Well… that was done and it sounded even worse… it sounded awfully out of tune. Since than I know… well tempered tuning doesn't work for strings.
A good alternative to stickers may be this device (click here).
11) Continuously adjust based on what you hear.
Never think: I can play in tune and now everything is ok. Especially when you are playing together, always keep listening and adjusting. 
When you play in a string quartet and one of the instruments goes out of tune. When you all adjust to that, nobody will notice.
When you play together with a pianist and the piano is a bit out of tune, your performance can still sound good as long as you adjust to the tuning of the piano.
12) Never trust your intonation.
Continuously doubt it and check it.
The mistake I make sometimes is that I make mistakes in really simple stuff. The hard pieces are the things you study on and have analyzed. The danger is in those easy bits you think you can play without really studying them. 
Never practice of play on autopilot. Always stay awake!
Well… these are my 12 tips for you. Just to be sure, here are the other videos: Watch tips 1 to 4 right here. Watch tips 5 to 8 right here.
Do you have additional tips to play in tune? Share them in the comments below!
Is this video helpful to you? Please let me know in the comments below! If you like it, share it with your friends!
Love,
Zlata
PS: Do you have questions or struggles on violin or viola playing? Post a comment below or send an e-mail to info@violinlounge.com and I might dedicate a Violin Lounge TV episode to answering your question!