12 Tips to Play in Tune on the Violin or Viola (5 to 8)
This video is the second of three videos about playing in tune on the violin or viola. In these three videos I give you the 12 most important tips to play in tune.
One could probably write books for of information about this topic and create loads of DVD boxes. In these three videos I present the tip of the iceberg.
Playing in tune, also called 'intonation', is one of the most difficult topics of violin and viola technique. In the beginning the fingerboard can look like a great unknown universe. 
Besides that we have to adjust continuously to our musical environment. Intonation is different when you play with a pianist, in a piano trio, in a string quartet or in an orchestra.
If you haven't watched the first video with tips 1 to 4, click here. Watch tips 9 to 12 right here. 
Here are another four tips:
5) Analyze and study transitions separately. 
The most important in playing music is the difference between two notes. How do you go from one note to the other?
This is different for different pieces and different fingerings. Do you shift position or do you stay in the same position? How does it work? What are your fingers doing? Should it be slow or fast? How will you place your finger?
6) Compare a lot with open strings.
The first comparison you make with open strings is the G that you play with the third finger on the D string with the open G string. To be able to hear a clean octave, you need to bow on both strings. Doing this you will clearly hear if the note you play is out of tune or in tune.
Integrate this in your practice routine. Constantly check yourself.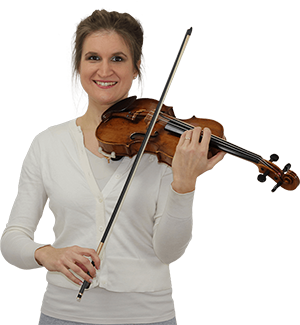 Hi! I'm Zlata
Classical violinist helping you overcome technical struggles and play with feeling by improving your bow technique.
 7) Listen to the resonance in your violin.
When you play in tune your violin will resonate better. You can see this very clearly when you play a first finger on the G string (the A). When you play an A that is in tune, the A string will start resonating. You can even hear the A string.
The open sound of a well resonating violin is very beautiful. Look for this when you are practicing.
8) Listen to yourself very critically.
After playing over twenty years I sometimes catch myself making this mistake.
Some people are so busy reading notes and improving their technique, that they forget to really listen to what they are playing. In this way the don't catch themselves making mistakes.
Be your own teacher. Most of us play a lot more outside the lesson than inside the lesson. This means that you have to be able to correct yourself to have progress.
If you haven't watched the first video with tips 1 to 4, click here. Watch tips 9 to 12 right here. 
Is this video helpful to you? Please let me know in the comments below! If you like it, share it with your friends!
Love,
Zlata
PS: Do you have questions or struggles on violin or viola playing? Post a comment below or send an e-mail to info@violinlounge.com and I might dedicate a Violin Lounge TV episode to answering your question!