Up-Bow or Down-Bow? 22 violin bowing rules | Violin Lounge TV #467
Choice of bowing influences your musical expression
The seemingly simple choice between down-bow and up-bow is the foundation of musical and rhythmical accent
Also by making the right choice between up-bow and down-bow you can perform different bowing techniques on the right spot of the bow.
22 Rules of Bow Direction:
Video Content
01:00 The note on the first beat of the measure is down-bow
01:11 The unslurred note before the bar-line is up-bow
01:21 If the note before the bar-line is slurred across the bar-line, play it down-bow
01:43 An odd number of notes before a bar-line starts up-bow
01:51 An even number of notes before a bar-line starts down-bow
02:14 On after-beats, alternate the bows down up (down on the heaviest accent)
02:46 Unslurred groups of four even notes starting on the beat start down-bow
03:14 Dotted rhythms are played hooked/linked
03:20 Dotted rhythms are not linked when they are too fast, too soft or when loud choppy effects are desired
03:47 Link quarter and eight patterns patterns in six-eight time
04:03 Chords are played down-bow
04:08 A little short note before a chord is played up-bow
04:21 In four-four time, an accented half-note on the second beat of the measure is played down-bow
04:34 In fast continuous unslurred string crossings, play the upper note up-bow
04:49 When the bowing doesn't come out, the accommodation is made up-bow
05:00 In forte, when a longer note on the beat is followed by a series of sixteenth notes, the first of those fast notes is also played down-bow
05:28 When the bowing doesn't come out and the adjustment can't be made at the end of the measure, it's made at the beginning of the next measure
05:54 If a long note requiring much bow is followed by a short note, link them
06:17 The last note (or several notes slurred notes) of a crescendo is played up-bow and the climax note down-bow
06:37 Whole note trills are given two bows: down and up, so the climax note after it is played down-bow
06:57 Long notes or slurred phrases that require lots of tone are played with several bow strokes
07:41 Sforzati in forte passages are played down-bow
Download my Bowing Rules cheat sheet
One page printable PDF to keep on your music stand. Always have the 22 rules of bowing at hand: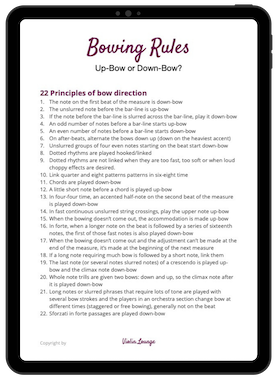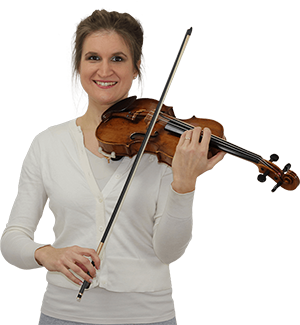 Hi! I'm Zlata
Classical violinist helping you overcome technical struggles and play with feeling by improving your bow technique.
You'll love this too:
Buy the book Orchestral Bowings and Routines by Elizabeth Green. She goes more in depth in these 22 rules of bowing with more examples and exceptions.
Do you want to learn all about violin bowing technique? Check out my video with over 102 bow techniques and terms right here.
Watch all my videos on violin bowing technique right here.