How to Transcribe Violin Sheet Music for the Viola | Violin Lounge TV #227
This is the episode a lot of violists have been waiting for!
Do you annoy yourself on the fact that so much beautiful music is available for the violin and that you can buy every song in sheet music, but for the viola you can't find it?
This video explains exactly how you can transcribe violin sheet music for the viola in 4 easy steps.
Step 1: You need to have software in which you can write sheet music. The software I use in the video is PreSonus Notion, what I use in my violin studio. A free alternative would be MuseScore. This same instruction can be followed in several other notation software programs.
Step 2: The violin sheet music must be inside your software. There are ways to import files, but if you are working with a PDF or with a printed paper, you have to write the notes in the software yourself.
Step 3: Change the clef from violin to viola. It's possible in most software, but it can look a little different. In the video I explain it for Notion. Now you have the same pitches, but in the viola clef. Of course the notes now can be too high to play on your viola. If you can play it like this, you can skip the next step. If the pitch is too high, go to the next step.
Step 4: Transpose the sheet music one fifth down. If you have to play together with people and have to stick to the original key, transpose an octave down if that's easier to play. If you play solo or it's ok to change the key, you can go one fifth lower.
Well… not so difficult, is it? When you can do this, you can make the viola repertoire just as vast as the violin repertoire.
Of course you can use this skill to transcribe it from other instruments to other instruments than the violin and the viola.
Now I would like to hear from you! Have you transcribed a piece successfully? Be so kind to post it below and share it with other violists. In this way you can enjoy each other's work and don't have to do double work.
Is this video helpful to you? Please let me know in the comments below! If you like it, share it with your friends!
Love,
Zlata
PS: Do you have questions or struggles on violin or viola playing? Post a comment below or send an e-mail to info@violinlounge.com and I might dedicate a Violin Lounge TV episode to answering your question!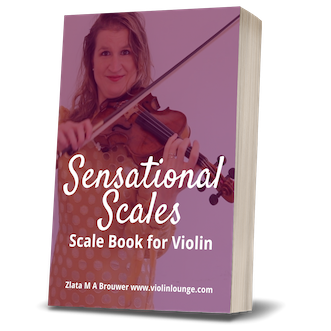 Sensational Scales is a 85 page violin scale book that goes from simple beginner scales with finger charts all the way to all three octave scales and arpeggios