CodaBow Diamond NX vs Zlata Carbon Violin Bow Review | Violin Lounge TV #289
Comparison of two violin bows in the $ 300 price class
Carbon fiber makes it possible to get a very decent bow for this price
In this video I demonstrate the sound and how the bows behave in different bowing techniques:
When you are playing the violin for a while, it's very interesting to upgrade the bow that 'came with your violin'. You'll discover new possibilities in sound and easy of bowing. Also a good bow makes learning new bowing techniques easier.​​
When you're looking to upgrade your bow and want to spend around $ 300, you'll get a better deal in playability and sound choosing for carbon fiber than for a wooden bow.
Weight and feel
Both bows are around 60 grams, which makes them lighter than most wooden bows. Although the weight is nearly the same, the Zlata bow feels lighter, playful and lively. The CodaBow is more stable, which will offer beginner players more security. With the CodaBow it's a little more difficult to play advanced bowing techniques like spiccato and sautillé. You have to do a little more effort with it as it's a bit heavier at the tip. With CodaBow you would have to upgrade to a Diamond SX or GX to get a more agile feeling. I reviewed the CodaBow Prodigy earlier and if you want to go with CodaBow, the Diamond NX offers a fuller sound and more possibilities in advanced bowing techniques for just a little extra money.
Sound
Of course judge yourself watching the video above ;). Here I demonstrate different pieces and bowing techniques to give you an idea of the sound and how the bows behave. I think the CodaBow sounds a bit warmer and fuller, while the Zlata bow sounds more bright. Let me know in the comments what sound you like best.
Looks
The Prodigy looks a bit more like a traditional wooden bow with the dark brown stick and black frog, while the Zlata bow jumps out more with the weaved grey stick and the brown snakewood frog with pearl.
Conclusion
It's for you to decide what sound you like best and what bow fits you best in this stage of your violin playing. The CodaBow is a bit more stable with a full and warm sound, while the Zlata bow feels lighter and playful with a bright sound.
Click here to buy the Zlata carbon violin bow.
Click here to buy the CodaBow Diamond NX violin bow.
Zlata personally plays with the round Arcus S9 violin bow. Click here to read more and why she chose it.
Which violin bow do you prefer?
Let me know in the comments below which one you like best or tell me a bit more about the bow you currently have. I'm looking forward reading about your preferences and experiences.
Weight and feel

Sound

Look
Weight and feel

Sound

Look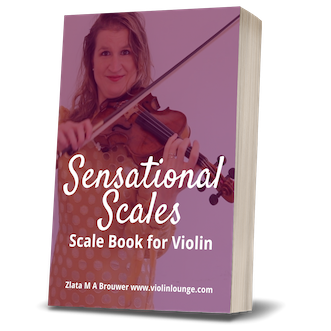 Sensational Scales is a 85 page violin scale book that goes from simple beginner scales with finger charts all the way to all three octave scales and arpeggios