Performed by violinist Zlata and pianist Mari
J S Bach – Erbarme Dich, Mein Gott | St Matthew Passion (violin and piano)
Play along with Mari and me!
Inspired to play this yourself? Sign up here:
You'll receive:
Violin sheet music with my fingering and bowing notes
Sheet music for voice, violin and piano
An accompaniment track by Mari and I, where I play the violin solo and YOU can play the melody of this beautiful piece!
I was inspired to play this beautiful violin solo and wanted to record it with pianist Mari. As we worked on it we had the idea to also play the vocal part on the violin.
This aria describes Peter's lament after having denied knowing Jesus three times. The text is adapted from the Gospel of St Matthew.
Aria – "Erbarme dich mein gott"
from the St Matthew Passion (Matthäus-Passion, BWV 244)
composed by Johann Sebastian Bach
Erbarme dich, mein Gott,
Um meiner Zähren Willen!
Schaue hier, Herz und Auge
Weint vor dir bitterlich.
Erbarme dich, erbarme dich!
English translation:
Have mercy, my God,
for the sake of my tears!
Look here, heart and eyes
weep bitterly before You.
Have mercy, have mercy!
Here's my recommendation on a full performance of Bach's St Matthew Passion that you might not have heard:
I love the expressive style of this old recording.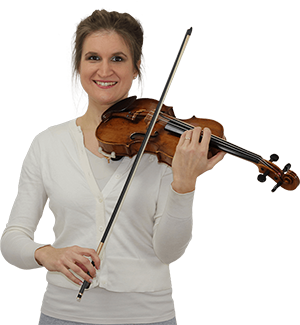 Hi! I'm Zlata
Classical violinist helping you overcome technical struggles and play with feeling by improving your bow technique.