How my Intonation Improved when I Stopped Practicing Scales | Violin Lounge TV #263
I play the violin for over twenty years, but my intonation improved most in the two years I didn't practice scales…
The thing is… There's a time and place for scales
I had always been playing scales on the side and it intensified during my conservatory study where I practiced around two hours of scales a day… that was the warming up, After that around three hours of etudes and repertoire.
One Summer I reached a plateau in my playing. I practiced and practiced… it was really hot weather, but my playing didn't got better… it just got worse. My teacher made me feel terrible about that and I started to think I didn't had the talent to ever graduate. I even thought about quitting.
In the end I decided to change teacher… my new teacher just gave me a lot of difficult repertoire… concerts, caprices… al stuff above my level… way more difficult stuff my previous teacher was giving me as she was giving me stuff below my level.
The difficult repertoire pulled me to the next level
Suddenly I broke through the plateau, could play things I couldn't even dream of and two years later I graduated successfully. In those two years of fast progress however… I didn't practice ANY scales.
Ok, there's to put it in perspective… of course I could only make this progress because I had studied a lot of scales and technical studies before those two years of progress.
However… there is a time and place for scales.
There are things that are more important than scale practice…
First of all your basic technique must be on a very high level.
If you are doing things wrong in the way you place your fingers, have balance in your violin hold or the basic way you bow… you can practice as many scales as you like, but your playing will plateau until you solve these issues.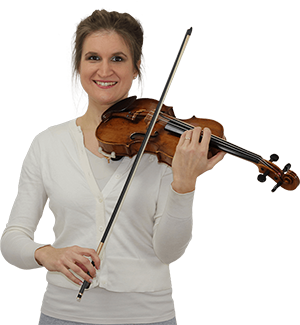 Hi! I'm Zlata
Classical violinist helping you overcome technical struggles and play with feeling by improving your bow technique.
Secondly you should have hyperfocus, attention and high quality practice.
People who practice for long hours, but also people who practice after a busy day at work… might not do high quality practice. You might not stop and correct every mistake you make. You might think to clean little mistakes up later.
It's very dangerous to play routine scales (or something else) for hours and hours.
This makes you lose your focus. You might think about other things while practicing. You practice in a mechanical way and at the end of the day you think: hey, I've practiced for so many hours… I did a good job. Nope, those hours can be an absolute waste of time!
The technique of practicing is more important than the practicing of technique.
Thirdly there are a lot of things you can't practice in scales.
Strange jumps and harmonically difficult stuff are not things you learn in scales, but you need to learn them by playing a lot of repertoire.
So… there are things you learn from scales and things you learn from playing a lot of pieces and etudes.
Some people might focus a bit too much on technique, while you should also have a place where you can apply this technique.
I hope this video is inspirational to you and will make you think about deliberate practice.
What is your experience with practicing scales? Or do you have a question about this episode of Violin Lounge TV? Share it in the comments below!
Love,
Zlata