6 Best Violin Scale Books
Improve your violin technique with scales!
Practicing scales is great to improve your confidence on the fingerboard, intonation, bowing technique and violin playing in general
Like Itzhak Perlman points out in his masterclass I followed, scales should be part of your daily practice routine to get to know the fingerboard and play in tune confidently. When Heifetz tested him at the age of fourteen, he had to play scales to really test his violin technique.
Music is made out of scales
If you have scales, arpeggios and double stops in your fingers, it will take so much less time to practice a new piece of music. You can focus on expression and musicality much earlier without getting lost in the technique.
What scales should you practice?
According to Itzhak Perlman's practice schedule, you spend around a third of your practice time on scales.
Each day you can:
Practice a different scale each day to maintain and improve your technique in general.
Pick a particular exercise, like scales in octaves, and play them in each key.
Do various exercises in the key that matches the piece you're currently playing.
Apply different bowing techniques to (for example) a three octave scale.
This all depends on your level of playing and what you want to improve on right now. Never practice scales mindlessly. Always have a clear goal in mind and correct yourself like you're your own teacher standing in the room.
Advanced Complete Violin Scale Books
(scroll down for beginner scale books)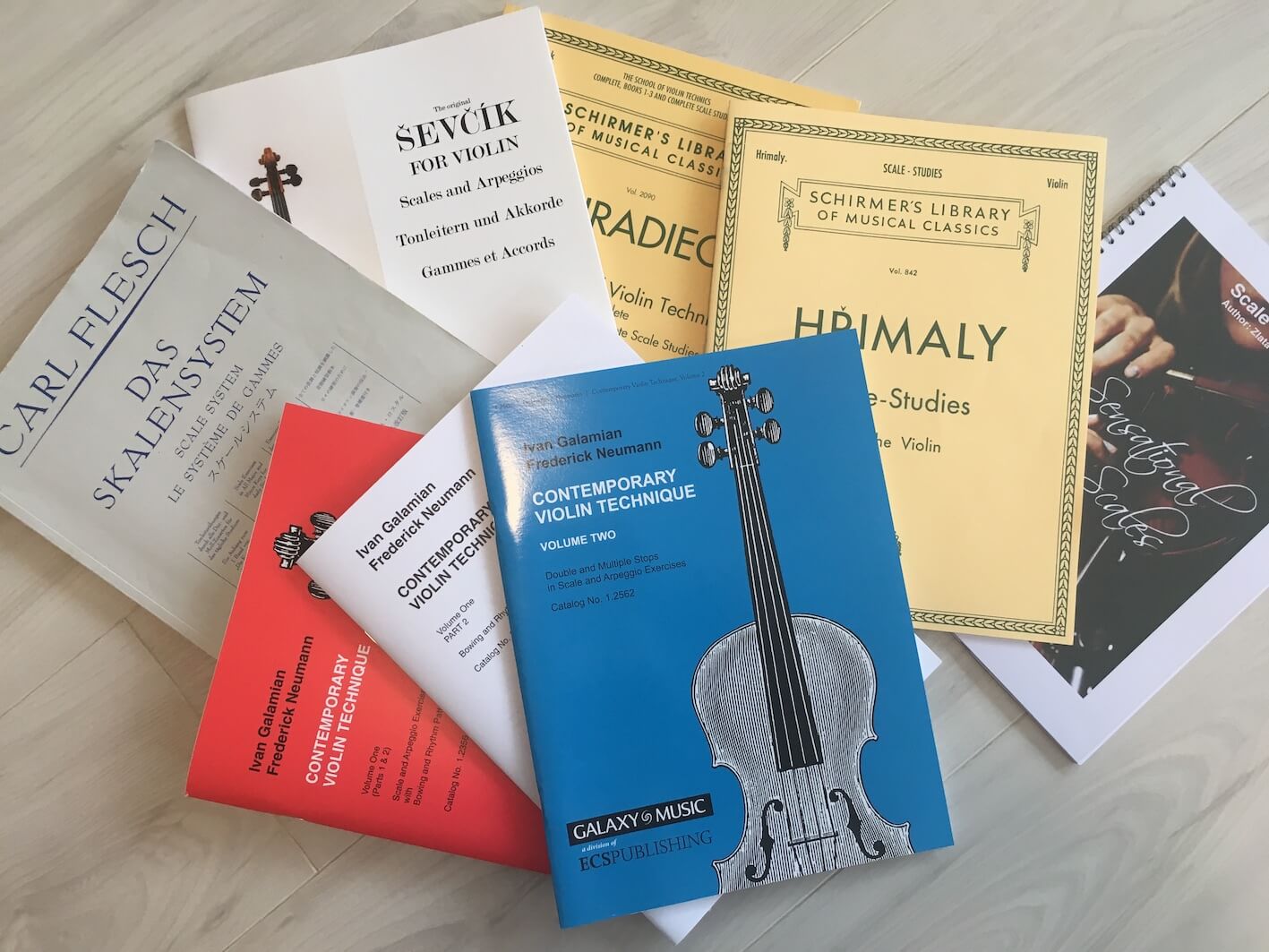 When you've worked through your first scale book and know how to play in different keys and positions, it's time to get yourself a complete violin scale book.
For the rest of your life you'll have a love-hate relationship with this book.
Flesch – Scale System
This is the book I grew up with. It's very complete and organized per key. You can pick for example the key of the piece you play and do all kinds of scale exercises in it.
It starts with one octave scales, arpeggios and broken thirds in one octave on one string. After that the same in three octaves on multiple strings (I love the fingering), thirds, sixths, octaves, fingered octaves, tenth's, harmonics and double stops in harmonics.
The only downside might be that there are not much bowing and rhythm variations, but I was always used that my teacher gave me assignments about this.
Click here to buy the Flesch violin scale book in the edition I recommend.
Galamian – Contemporary Violin Technique
A very complete scale method that I can warmly recommend!
Volume 1 includes scales organized per exercise. So each exercise (like scales on one string) is given in each key. Flesch is organized per key and gives all exercises in that key. It depends on your practice strategy what you like best. Of course it's handy to have both variations, so you can do both.
Good thing is that this book also includes the four octave scales!
The book includes an insert with bowing and rhythm patterns that you can apply to the scales. Very useful!
Volume 2 is focussed on double and multiple stops in scale and arpeggio exercises.
I recommend buying both volumes including the bowing and rhythm patterns. Click here to buy volume 1 and here to buy volume 2.
Sevcik – Scales and arpeggios
Just as Galamian this book is organized per exercise and gives this exercise in all keys. It walks you through the positions with specific scale exercises for each position. Sevcik includes bowing patterns throughout the exercises, so you don't have to look them up separately.
I know a lot of accomplished violinists who grew up with Sevcik instead of Flesch. This can differ per country. I'd say you play the same things in both, but the difference is that you can either do all exercises in one key (Flesch) or do one exercises in all keys (Sevcik).
Sevcik is organized in a clear way and you can easily find the exercise or position you're looking for.
Click here to buy the Sevcik violin scale book.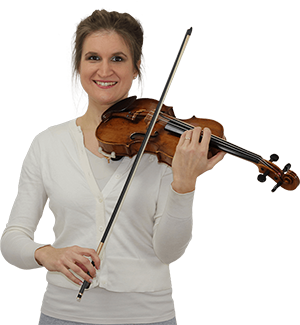 Hi! I'm Zlata
Classical violinist helping you overcome technical struggles and play with feeling by improving your bow technique.
Schradieck – School of Violin Technics
This is a great bundle of the three violin technique books by Schradieck and his scale studies book.
Book one gives dexterity exercises in various postions, which are great to improve the confidence, speed and flexibility of your left hand. Really helpful!
Book two gives exercises in double stops. Practicing double stops is so great for your intonation and left hand technique in general.
Book three is all about bowing exercises.
The three books total 100 pages of great violin technique exercises. You might want to get these in addition to one of the above scale books.
After the three books you'll find a full scale book. It's good, but not so comprehensive as the three books mentioned above.
With this bundle you'll have a complete encyclopedia of violin technique. As the scale book is a bit limited I recommend getting this bundle as an addition to one of the three books mentioned above.
Click here to buy the Schradieck bundle.
Beginner to Intermediate Violin Scale Books
The complete scale books I mention above might be not so accessible to beginners or intermediate violin players. You might want to start with something easier and move to a more advanced and complete scale book later.
Sensational Scales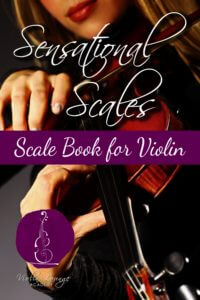 Please forgive me for tooting my own horn. With my students I've always missed a book that takes them from first scales in the first position to all three octave scales.
I wrote a scale book that is based on sequence of finger patterns you learn in the first years of violin playing
In this way the scales will match the method book you're working from and will feel logical to you.
In the book I've included fingerboard maps for each scale that show you exactly where to find the notes in the violin
In that way you never have to guess if it's a large or small distance.
After this book you can move up to a complete scale method like the ones described below.
Buy Sensational Scales for just $ 4.99 right here or enroll in the Violin Lounge Academy for $ 19 and get instructional videos that walk you through the scale book inluding the bowing variations.
Hrimaly – Scale-Studies for the Violin
This is also an accessible scale book to start out with. It's categorized per exercise and shows them in all keys. In this way it's different from Sensational Scales, which works from the finger pattern sequence you learn.
This book teaches you up to three octave major scales and prepares you very well for these throughout the book. I also like the great number of bowing variations this book offers.
The downside of this book is that it starts with very simple exercises, but it gives them in all keys. As a beginner you must be able to judge which keys you can play with the finger patterns you've learned. Also you don't know for sure if you're playing the right notes, as there are no fingerboard maps.
This is a great book if you're working with a private teacher and he/she can guide you by pointing out the scales you should practice and correct you along the way.
Click here to get the Hrimaly violin scale book.
What violin scale book do you use?
Do you practice scales on a daily basis? Let me know in the comments below what book you use and what your scale practice strategy is at the moment.
Being grown up with Flesch and used to practicing lots of things in one keys a day, now I'm using Sevcik to become more flexible in changing between keys. There were times I practiced scales for almost two hours a day, but to be fair those days are gone, haha! I use scales a (almost) daily warm up at the moment.