How to Play Schubert's Ave Maria on the Violin | Violin & Viola TV #216
In this video I teach you how to play Schubert's Ave Maria on the violin.
I use the first and the third position. If you can't play the third position yet, it's possible to play everything in the first position.
Watch this video and I will walk you through this piece and tell you all about the fingering, bowing en rhythm:
Some general tips I give in the video:
Always keep the accompaniment in your mind while playing the solo.
Practice the rhythm very solid first. After that you can take more freedom.
Play it very smoothly.
Listen to singers performing this piece and play it like you would sing it.
Did you like learning to play this piece? Is this video helpful to you? Please let me know in the comments below! If you like it, share it with your friends!
Love,
Zlata
PS: Do you have questions or struggles on violin or viola playing? Post a comment below or send an e-mail to info@violinlounge.com and I might dedicate a Violin & Viola TV episode to answering your question!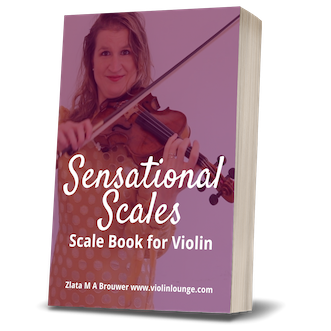 Sensational Scales is a 85 page violin scale book that goes from simple beginner scales with finger charts all the way to all three octave scales and arpeggios