How to Play Meditation from Thaïs by Massenet on the Violin | Violin Lounge TV #320
Add this beautiful piece, the violin solo Meditation from the opera Thaïs by Jules Massenet, to your repertoire. I hope you enjoy playing it just as I do!
Learn to play this beautiful violin solo piece
There are a lot of elements in this piece. Don't make the mistake of playing too softly or too modest. You want to maintain a full tone, even in piano you're still the soloist, and be sure you aren't using too little bow.
You want an airy sound and to achieve that you'll want to use just a little bit of pressure. The trick is not to go too fast and to be in control of your bow at all times to ensure you keep a sound with core. Give the notes exactly the bow they need by balancing lightness and fullness.
Practicing is key!
There are a lot of rhythmical figures, so you must be very disciplined. Rhythmic structure can disappear if you play too freely from the get go. Start slow and practice rhythmically. After that you can take your freedom. Also, be sure not to rush through the sixteenth notes as you want to maintain the serene atmosphere.
Let's talk about vibrato
Use a very relaxed vibrato in this piece from the beginning to get that warm sound. Your goal should be to maintain the serenity of the piece.
Watch the full tutorial above to get more detailed instruction on playing this piece
(and sign up on the right if you want to receive my sheet music with fingering and bowing notes)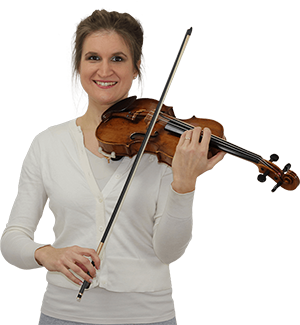 Hi! I'm Zlata
Classical violinist helping you overcome technical struggles and play with feeling by improving your bow technique.
Video content
00:32 Beginning to bar 10
10:50 Bars 11 to 39
22:31 Bars 40 to end
What do you think?
Let me know in the comments what you think about this piece and if you enjoyed practicing and playing it as much as I did!