Play SEMITONES with the PINKY in Tune on the Violin | Violin Lounge TV #411
Violin lesson about playing a semitone from the high third finger to the fourth finger in tune
I cover first position as well as high positions
Are your struggling to play a semitone in tune with your pinky on the violin?
As you place your high third finger it might seem impossible to reach the next note with your fourth finger.
In order for this semitone to be in tune, you need to take a look at the position of your left hand.
It's important that you embrace the neck of your violin with hand and slide the fourth finger over the third finger as I show in the video.
Is this helpful? Share it on Twitter: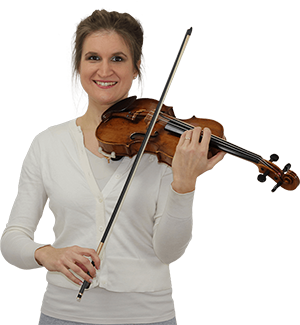 Hi! I'm Zlata
Classical violinist helping you overcome technical struggles and play with feeling by improving your bow technique.
For many violinists the pinky feels too short and weak
In most cases your pinky is just fine to play violin, but you need to find a good position of the left hand. 
As your knuckles are not too far from the neck of the violin, the pinky doesn't have to travel too far. In the right position, you can place the pinky reliably in tune.
In high positions it's even more important to embrace the violin and search for the right arm and hand hold
Your arm and hand will allow your finger tips to be close to the string. In this way you can still place them curved, have some strength and play in tune reliably.