How To (and why?) Replace the Tailpiece of Your Violin or Viola
In this weeks video I'm going to teach you how to replace the tailpiece of your violin or viola. But first…
Why should you replace the tailpiece of your violin or viola?
If your tailpiece is broken (duuuuh)
If you want a tailpiece with four integrated finetuners.
Let's go a little deeper into the second point. Why would you want a tailpiece with four integrated finetuners?
Perhaps your tailpiece is made of wood and you use loose fine tuners (not integrated). This means you can take the finetuners of the tailpiece and use none, one, two, three or four finetuners. Tuning is easier and faster when you have four finetuners.
If you put four loose metal finetuners on a wooden tailpiece, the tailpiece will become heavy. It's not good for the tone of your violin to have an heavy tailpiece.
However… we want a good tone AND four finetuners. To achieve this you should consider a tailpiece made out of composite material with four integrated finetuners. I have bad experiences with Chinese made tailpieces (they break quickly and don't tune easily), so get yourself some German quality (click here to buy what I recommend) by Wittner, a Deutsch Qualitätswerkzeug ;).
It's not so difficult to replace the tailpiece yourself. Just follow these steps and watch the video before you start.
Turn all the strings loose.
Don't remove the strings all the way.
Remove the ball of the string from the finetuner.
Remove the bridge.
Wrap the strings around the neck of the violin.
Remove the tailpiece.
Clean your fiddle carefully (now you can reach all those places you normally can't clean).
Don't shake your violin ;), so the soundpost doesn't fall.
Turn the finetuners of the new tailpiece all the way up.
Place the loop on the new tailpiece.
Measure how long the loop should be and adjust the length. Repeat this a couple of times if necessary.
The tailpiece should never touch the soundboard.
Put a cloth under the tailpiece, so it doesn't damage the soundboard.
Put one string on the tailpiece and tighten it a little.
Make sure the winding of the string around the peg remains the same. The string shouldn't cross itself and shouldn't push the peg out of the peg box.
Put the strings on the tailpiece one by one. Don't mix 'em up. Don't tighten them too much in this stage.
Put the bridge back on the violin under the strings. Make sure the position of the bridge is correct and that it stands up straight.
Tune your violin carefully.
The distance from the tailpiece to the bridge should be 1/6 of the vibrating string length. If it's different, adjust the length of the loop.
Play!
Tune regularly.
Is this useful to you? Please let me know in the comments below!
Love,
Zlata
PS: Do you have questions or struggles on violin or viola playing? Post a comment below or send an e-mail to info@violinlounge.com and I might dedicate a Violin Lounge TV episode to answering your question!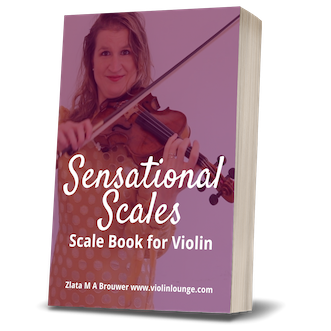 Sensational Scales is a 85 page violin scale book that goes from simple beginner scales with finger charts all the way to all three octave scales and arpeggios