Bandura Waltz – Ukrainian fiddle tune – violin lesson
Violin lesson on the Ukrainian fiddle tune Bandura Waltz including sheet music download and fingering close up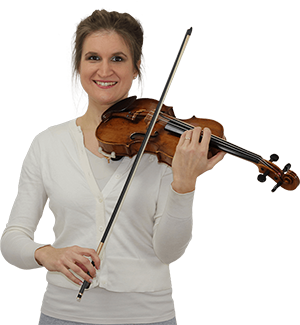 Hi! I'm Zlata
Classical violinist helping you overcome technical struggles and play with feeling by improving your bow technique.
So… my daughter called me out! (righteously)
While I was arranging this Bandura Waltz, she was holding a stuffed animal, a bird. 'Piepies, kindjes geven' (give birdy to kiddos) she said and then 'shoes on'.
Stop fiddling around, mama!
Earlier that day she and her twin brother enjoyed giving away lots of toys and stuff to our neighbors very much (our neighbors are traveling to a refugee camp in Poland). They were running up and down the street to bring as much stuffed animals as they could carry, giving away the best first. I had to quickly decide what to keep instead of what to give away. Apparently she 'forgot' to include this bird.
As a content creator I was so reluctant to make this tutorial: many influencers post Ukrainian tunes just to virtue signal or to ride the wave of a 'trending' topic and get likes.
On the other side I got lots of requests to make a tutorial and I also understand that this could create awareness: keep the subject top of our mind before we scroll and get busy buying a dress or something.
I'm still not sure if I'm doing the right thing and feel a bit ashamed sharing this. I hope it will do good in whatever way.