Top 24 Violin Composers in the Baroque, Classical, Romantic and Modern Period
Listen to the most beautiful violin music from the 24 greatest violin composers of all times
Explore the baroque, classical, romantic and modern period with some beautiful listen tips of the 24 greatest violin composers and learn what's so special about them. I've got three violin pieces per composer for you, so sit back and enjoy!
Tech notice: If you're viewing this page on mobile, please note that it might have difficulty loading because of all the embedded videos with music examples. This page performs better on desktop.
6 Greatest Violin Composers in the Baroque Period
Johann Sebastian Bach (1685-1750)
Bach's six Sonatas and Partitas for Solo Violin are some of the most important pieces in the violin repertoire and played by every major soloist. Although he is most famous for his sacred music, he wrote these while working for the prince of Köthen who anted only secular works.
Violin music by Johann Sebastian Bach:
Chaconne from Partita no 2
E Major Preludio from Partita no 3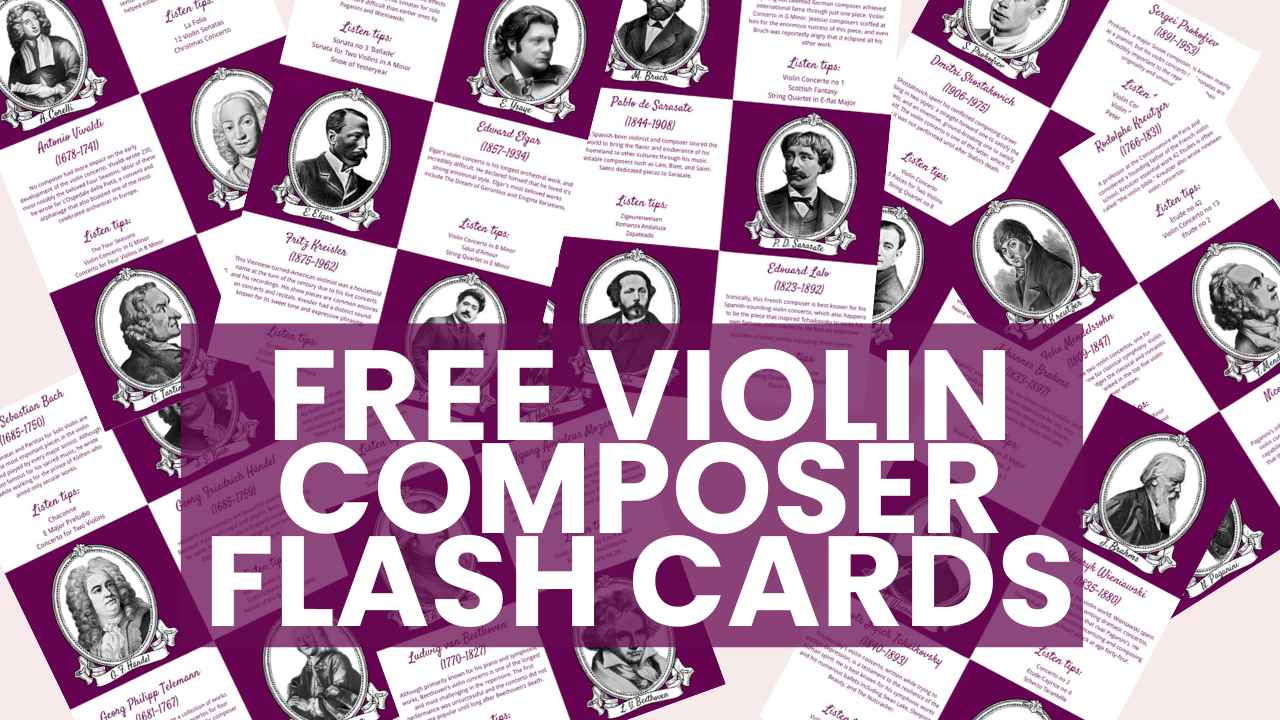 Download free violin composer flash cards
24 printable PDF flash cards
Georg Friedrich Handel (1685-1759)
Handel's violin sonatas are beautiful examples of the Baroque style, both regal and playful. Born in Germany, he spent most of his life in England working for King George I and King George II, and became famous for his operas.
Violin music by Georg Friedrich Handel:
Arrival of the Queen of Sheba
Georg Philipp Telemann (1681-1767)
Like Bach, Telemann also wrote a collection of works for solo violin, as well as several concertos for four violins. He was the most popular and prolific composer of his day, with over 3,000 finished works.
Violin music by Georg Philipp Telemann:
Concerto for Four Violins in G Major
Viola Concerto in G Major
12 Fantasias for Solo Violin
Arcangelo Corelli (1653-1713)
Corelli's violin sonatas and concerti grossi became famous throughout Europe, known for their rich textures and creative harmonies. His music also helped establish the preeminence of the violin.
Violin music by Arcangelo Corelli:
Antonio Vivaldi (1678-1741)
No composer had more impact on the early development of the violin concerto. Vivaldi wrote 230, most notably the beloved Four Seasons. Most of these he wrote for L'Ospedale della Pietà, a convent and orphanage that also boasted one of the most celebrated orchestras in Europe.
Violin music by Antonio Vivaldi:
Concerto for Four Violins in B Minor
Giuseppe Tartini (1692-1770)
Tartini is remembered for the violin sonata he wrote after purportedly having a dream where he saw the devil playing the violin. While that is his most famous work, he also wrote 135 violin concertos.
Violin music by Giuseppe Tartini:
Violin Concerto in E Minor
6 Greatest Violin Composers in the Classical Period
Joseph Haydn (1732-1809)
Haydn wrote three violin concertos that are treasured by both students and professionals for their beauty and technical challenges. In addition to his concertos and numerous string quartets, he is often called "the father of the symphony" because he wrote one hundred and six of them.
Violin music by Joseph Hayden:
Violin Concerto No. 1 in C Major
Wolfgang Amadeus Mozart (1756-1791)
Mozart wrote five violin concertos in three years, and the later three are the most celebrated examples of the mid-classical violin concerto. The first movement of his work for string quartet Eine Kleine Nachtmusik is among the most recognized classical melodies.
Violin music by Wolfgang Amadeus Mozart:
Violin Concerto No. 5 in A Major
Ludwig van Beethoven (1770-1827)
Although primarily known for his piano and symphonic works, Beethoven's violin concerto is one of the longest and most challenging in the repertoire. The first performance was unsuccessful, and the concerto did not become popular until long after Beethoven's death.
Violin music by Ludwig van Beethoven:
Violin Concerto in D Major
Violin Sonata No. 5 in F Major 'Spring'
Rodolphe Kreutzer (1766-1831)
A professor at the Conservatoire de Paris and considered a founding father of the French violin school, Kreutzer essential work 42 Etudes is often called "the violin bible." Kreutzer also wrote nineteen violin concertos.
Violin music by Rodolphe Kreutzer:
Felix Mendelssohn (1809-1847)
Mendelssohn wrote two violin concertos, one for string orchestra and one for classical symphony. Violin Concerto in E Minor bridges the classical and romantic eras and is regularly ranked in the top five violin concertos ever written.
Violin music by Felix Mendelssohn:
Violin Concerto in E Minor
Violin Concerto in D Minor
Nicolo Paganini (1782-1840)
Paganini's infamous 24 Caprices, not to mention his six violin concertos, push the limits of players' physical capabilities. Audiences were so shocked by his antics that there were rumors he had made a deal with the devil. He probably just practiced a lot.
Violin music by Nicolo Paganini: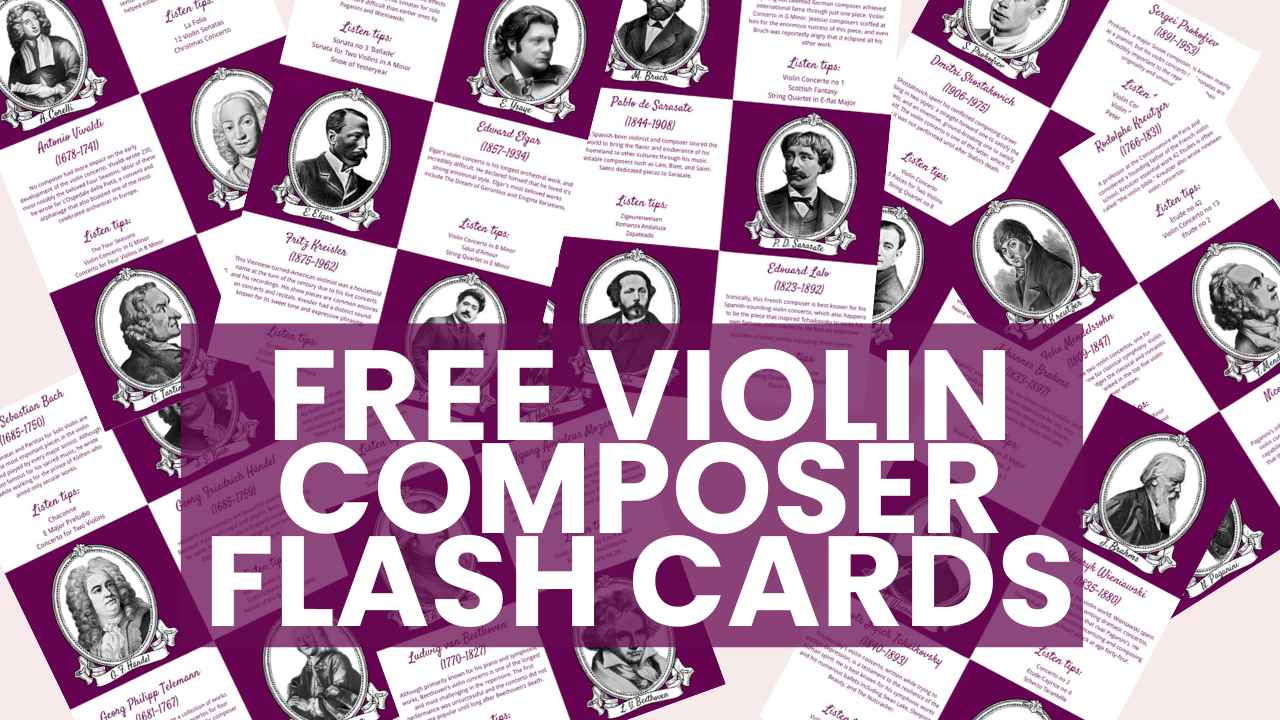 Download free violin composer flash cards
24 printable PDF flash cards
6 Greatest Violin Composers in the Romantic Period
Johannes Brahms (1833-1897)
Brahms' intense concerto, his three violin sonatas, and other solo pieces are dream-repertoire for any very serious student. If you want to delve a little deeper, check out his double concerto for violin and cello.
Violin music by Johannes Brahms:
Violin Concerto in D Major
Henryk Wieniawski (1835-1880)
 Little-known outside the violin world, Wieniawski spent his short but eventful life writing dramatic concertos, solo pieces, and caprices that rival Paganini's. He traveled all over the world concertizing and composing until he died of a heart attack at age forty-four.
Violin music by Henryk Wieniawski:
Pyotr Ilyich Tchaikovsky (1840-1893)
Tchaikovsky's violin concerto, written while trying to escape depression, is a testament to the resilience of the human spirit. He is best known for his symphonic works and his numerous ballets including Swan Lake, Sleeping Beauty, and The Nutcracker.
Violin music by Pyotr Ilyich Tchaikovsky:
Violin Concerto in D Major
Max Bruch (1838-1920)
A young but talented German composer achieved international fame through just one piece: Violin Concerto in G Minor. Jealous composers scoffed at him for the enormous success of this piece, and even Bruch was reportedly angry that it eclipsed all his other work.
Violin music by Max Bruch:
String Quintet in E-flat Major
Pablo de Sarasate (1844-1908)
This Spanish-born violinist and composer toured the world to bring the flavor and exuberance of his homeland to other cultures through his music. Notable composers such as Lalo, Bizet, and Saint-Saëns dedicated pieces to Sarasate.
Violin music by Pablo de Sarasate:
Edouard Lalo (1823-1892)
Ironically, this French composer is best-known for his Spanish-sounding violin concerto, which also happens to be the piece that inspired Tchaikovsky to write his own famous violin concerto. He had an extensive number of other works including three operas.
Violin music by Edouard Lalo:
String Quartet in E-flat Major
6 Greatest Violin Composers in the Modern Period
Eugene Ysaÿe (1858-1931)
A giant of the classical world both figuratively and literally, Ysaÿe brings modern harmonies and effects to his virtuosic compositions. His sonatas for solo violin are even more difficult than earlier ones by Paganini and Wieniawski.
Violin music by Eugene Ysaÿe:
Sonata for Two Violins in A Minor
Edward Elgar (1857-1934)
 Elgar's violin concerto is his longest orchestral work, and incredibly difficult. He declared himself that he loved its strong emotional style. Elgar's most beloved works include The Dream of Gerontius and Enigma Variations.
Violin music by Edward Elgar:
Violin Concerto in B Minor
String Quartet in E Minor
Fritz Kreisler (1875-1962)
This Viennese-turned-American violinist was a household name at the turn of the century due to his live concerts and his recordings. His show pieces are common encores on concerts and recitals. Kreisler had a distinct sound known for its sweet tone and expressive phrasing.
Violin music by Fritz Kreisler:
Sergei Prokofiev (1891-1953)
Prokofiev, a major Soviet composer, is known mainly as a pianist, but his violin concerto and sonatas are incredibly important to the repertoire for their originality and unusual beauty.
Violin music by Sergei Prokofiev:
Dmitri Shostakovich (1906-1975)
Shostakovich spent his conflicted composing career writing in two styles: a straight-forward one to satisfy the Soviets, and an inventive, ground-breaking one to satisfy himself. The violin concerto is one of the latter, which is why it was not performed until after Stalin's death.
Violin music by Dmitri Shostakovich:
Samuel Barber (1910-1981)
One of the quintessential composers of the American style, Barber's lush, nostalgic compositions include a violin concerto, his famous string quartet, and a rarely heard unfinished violin sonata. Many of his vocal songs have also been transcribed for violin.
Violin music by Samuel Barber: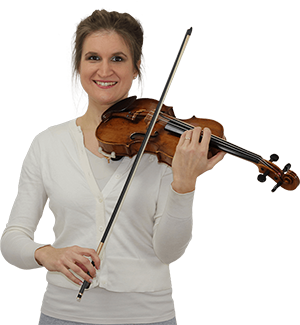 Hi! I'm Zlata
Classical violinist helping you overcome technical struggles and play with feeling by improving your bow technique.
I'll admit I've ignored so many great composers and beautiful pieces
The challenge of writing an article like this is not to find good pieces, but to select which pieces NOT to include. There's so much beautiful violin music! 
If you're comfortable listening, also explore this:
31 Violin concertos ranked by difficulty level
30 Most famous violinists of past and present
Who do you think is the greatest violin composer of all times?
Share your favorite violin music in the comments!