20 Best Violin Concertos Of All Time
Discover the most beautiful violin concertos
Over the past 400 years, violin repertoire has continually expanded and evolved. Ever since Vivaldi, concertos in particular have become increasingly elaborate and virtuosic. Several of these, such as the ones by Brahms, Beethoven, and Mendelssohn, are well-known by classical music lovers, while other concertos that are just as beautiful are only famous among violinists. Here I combine everything into my list of 20 of the greatest violin concertos. Many of these will be familiar to you, but if you're not a violinist hopefully you'll discover some exciting new gems as well.
Violin Concerto in C Major by Dimitri Kabalevsky
Kabalevsky was a Russian composer who was most famous for his piano compositions. While teaching piano in a school he realized there was a lack of material suitable for children. He then dedicated his time to writing pieces that children could both learn from and enjoy. His short violin concerto is very popular among serious young students. It has also been professionally recorded by artists such as David Oistrakh and Pinchas Zukerman. While often being considered a "student concerto" it still has some very challenging elements, such as double stops and fast arpeggios. The middle movement is beautifully ethereal and contains a chromatic section that sounds like the whispering of wind.
Concerto for Two Violins in D Minor by J.S. Bach
A Book 4 milestone for any Suzuki student, this brilliant piece can never be enjoyed too many times. Both violinists get equal chances to play the melodies, and it is a wonderful opportunity for two advanced students to play their first concerto with orchestra if there is an ensemble available. The rhythms and notes of this concerto are mostly straight-forward while presenting important challenges in shifting and accidentals.
Violin Concerto No. 1 in C Major by Joseph Haydn
This is the first and most famous of Haydn's three surviving violin concertos. Haydn wrote it in 1761 for Luigi Tomasini, who was a talented violinist and composer in his own right. This joyful concerto contains a sprightly and sophisticates solo part with room for cadenzas (i.e. opportunities for virtuosic improvising by the soloist). It is a standard in both student and professional classical repertoire
The Four Seasons by Antonio Vivaldi
Do you know how many violin concertos Vivaldi wrote? That's right, two hundred and thirty. He's credited with making the concerto form popular, and his work is still popular three hundred years later. The Four Seasons is actually a set of four complete violin concertos, each with three movements. Every movement describes a particular country scene Vivaldi would have witnessed in his native Italy as the seasons changed.
Violin Concertos by Mozart
Mozart wrote five beautiful violin concertos before the age of twenty. Only three of these are frequently performed, and the first two less so. No. 3 in G Major is the most playable and stays mostly in first through third position. Nos. 4 and 5 are more fiery and dramatic, especially the opening movements, and extend into higher positions. No. 5 is probably the most famous of them all, and it is very interesting to listen to multiple recordings to hear how different players interpret Mozart.
Symphonie Espagnole by Edouard Lalo
This one is different: violin concertos traditionally have three movements, but this has five. The first one is the most famous. This work started a period where Spanish-themed music was all the rage, and it inspired Tchaikovksy when he created his violin concerto.
Violin Concerto No. 1 in G Minor by Max Bruch
This concerto has long been a favorite among audiences. In fact, Bruch was envied and insulted by fellow composers during his life because of this work's popularity. His detractors were ultimately ignored, however, as it still remains a concert hall staple and mandatory repertoire for serious students.
Violin Concerto No. 3 in B Minor by Camille Saint-Saëns
Saint-Saëns dedicated this concerto (his only on still frequently performed) to the Spanish virtuoso Pablo de Sarasate. Much like his spectacular showpiece Introduction and Rondo Capriccioso, the Spanish flair is evident particularly in the third movement. This concerto is not quite as virtuosic as Saint-Saën's other two, but its challenges include unusual rhythms and sustained legato lines in the second movement, double stops, and sixteenth-note sequences that go into the highest positions.
Violin Concerto No. 1 in D Major by Niccolò Paganini
Paganini is most famous for his 24 Caprices, but he wrote many other pieces including six violin concertos. The first one is the most famous. The third movement is charming and playful but with a deceptively challenging ricochet theme. This concerto is often performed with a cadenza by Sauret, which is considered probably the most difficult cadenza ever written. Even the top soloists will often opt for a different cadenza! This recording however does use the Sauret.
Violin Concerto by Samuel Barber
American composer Samuel Barber wrote this gorgeous concerto in 1939, and the piece reflects the uncertainty of the times. The lush, romantic first two movements are filled with nostalgia and unanswered questions. The frantic third movement, which Barber added later, is an incredible challenge to both soloist and orchestra. Listen to it here played by Anne Akiko-Meyers, who has performed it over 1,000 times.
Violin Concerto No. 2 in D Minor by Henryk Wieniawski
His music is timeless, but the story of Polish native Henryk Wieniawski is brief and tragic. He entered the Paris Conservatoire at only eight years old. He began touring after graduation and became internationally famous, performing his own extensive compositions. Audiences loved his brilliant performances, but the stress of constant travel and work eventually wore him down. He died of a heart attack while touring Russia in 1880. 
Wieniawski wrote two violin concertos that are both standard repertoire. The second is performed more regularly in part because of its easier key signature (D minor is much easier than F# minor) and is an excellent piece for college music school students. 
Violin Concerto in B Minor by Edward Elgar
The famous 20th century violinist Fritz Kreisler considered Elgar his time's greatest living composer, and so asked him to write a violin concerto. Elgar and Kreisler originally planned to record the concerto together, but that fell through and elgar eventually recorded it with a young Yehudi Menuhin instead. Kreisler hailed Elgar's sense of harmony, grandeur, and orchestration as equal to that of Beethoven or Brahms, and his violin concerto (though of course stylistically different) proves that. Tumultuous and elegant by turns, it has some similarities in style to the Barber concerto, but it fits more into the Romantic Era than into the American 20th-century movement.
Violin Concerto in A Minor by Alexander Glazunov
An interesting fact about this concerto is that there are no labeled divisions into movements. Musicologists have divided it into three or four movements in various ways. It appears that the second movement is actually inserted into the middle of the first movement. IT is also unusual that Glazunov actually wrote the cadenza, since most cadenzas are written by famous performers after the fact.
Violin Concerto in E Minor by Felix Mendelssohn
Classical music lovers can debate endlessly about what the four greatest violin concertos are, but you can be sure Mendelssohn's will be on the list. Written in 1844, it incorporates the best of both traditional classical styles and Mendelssohn's budding romanticism. And in case you were wondering, Mendelssohn also wrote a little-known Violin Concerto in D Minor earlier in his life that is also worth a listen.
Violin Concerto in D Minor by Jean Sibelius
When Sibelius premiered the original version of this piece in his native Finland in 1904, he had just finished writing it. Although Sibelius had enough time, unfortunately the violinist performing it didn't, and the debut was a disaster. Sibelius revised the concerto to make it "easier," and this new version was performed much more successfully in 1905. It is still one of the most difficult concertos, which is perhaps why it requires special permission from the Sibelius family to play the original harder version.
Violin Concerto in D Major by Peter Tchaikovsky
Okay, I know you're wondering at this point why so many violin concertos are in the key of D, but maybe that's a subject for another article. Tchaikovsky wrote this concerto while trying to recover from depression, and it is heart-on-your-sleeve, alternating between deep reflection and unrestrained joy.
#17 Violin Concerto in D Major by Johannes Brahms
Like the Beethoven Concerto, the opening of this piece sounds as though Brahms started writing a symphony and then suddenly remembered he was supposed to be writing a violin concerto. When the soloist finally does come in, he does it in style with some fiery runs and perfectly tuned double-stops (playing more than one string at once). It may not be as melodic or violin-centered as Beethoven's but the sheer amount of energy in the work is breathtaking.
Violin Concerto in D Major by Ludwig van Beethoven
Clocking in at a cool 45 minutes long, the Beethoven Concerto is considered one of the most challenging in the repertoire, and a major accomplishment for anyone who learns it. In the beginning, the orchestra plays an intro lasting over two minutes, which gives the soloist plenty of time to stand there in front of the audience wondering if his or her entrance will sound good. In this recording by violin super-star Hilary Hahn, however, you probably won't notice her worrying. After you watch this recording, check out her Germany debut where she played the same piece at the age of fifteen (!).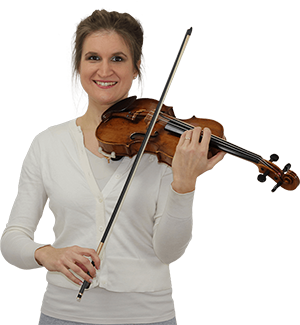 Hi! I'm Zlata
Classical violinist helping you overcome technical struggles and play with feeling by improving your bow technique.
How difficult are these violin concertos to play?
The 'big' violin concertos on this page are generally on the more difficult side and to be played by advanced or even virtuoso violinist.
… but there are also easy violin concertos for beginner violinists
Even beginners can play violin concertos by Küchler and Rieding for example. You can find them in my free violin beginner course.
Violin concertos for intermediate violinists
Violin concertos exist on all levels. Check out my list right here with 107 (!) intermediate violin concertos including free sheet music.
What's your favorite violin concerto?
Leave a comment below this article.