3 Essential Improvisation Tips especially for Violin Viola and Cello players
Are you playing violin, viola or cello? Would you like to improvise?
Do you want to improvise on a violin,viola or cello but don't know where to start? Or would you like to learn how to improvise without knowing everything about chords?
In this article I'll share with you my 3 most essential tips on how to improvise on a viola, cello or violin which you can try straight away! Even if your end goal is not to improvise or compose your own music, these tips will help you to play more freely (also when playing by sheets!).
TIP 1: Start with melodic lines
While most articles you read on the internet about improvisation are meant for harmonic instruments such as a piano or guitar, learning how to improvise on a viola, violin or cello looks at it from a different point of view.
While piano players look at music from a vertical perspective, with chords, we as cellist, viola or violin players are used to look at melodies from a horizontal angle. Since we are not used to playing, thinking and looking at music in chords, it is  very difficult to start learning how to improvise over chords.
Therefore, don't start out improvising with chord schemes that you may not understand. When I started improvising myself, I had studied and analyzed chords and harmonies for years at a conservatory to understand their underlying structure. For this reason, I was able to learn improvisation in my lessons where we started with chords. If you do not have a professional background in music, which counts for a large number of players, start with some melodic lines rather than with reading complex chord schemes.
This will help you to play more freely while practicing your improvising skills at the same time. Once you your improvisation practices are going more smooth and freely, of course you can step up your game and start reading chords if you like!
TIP 2: Improvise over an existing piece of sheet music
If you don't know where to start or if you are scared to have no reference for your improvisation skills, start improvising on a music piece that you already know very well!
Just take the sheets as a reference point with notes that are already there (or take sheets from a new piece you want to learn) and decide your own tempo or dynamics! Besides practicing your improvisation skills, this also helps you to create your own idea about the piece and to really understand it well before you start practicing a new one.
TIP 3: Write your own cadenza
If you are playing violin, viola or cello concertos, why not learn and write your own cadenza to it?
You can play around with the theme that you're known to as you have studied the concerto already. This way, you have ultimate freedom, but also still have some reference to figures, themes and messages of the concerto.
If you have some experience in one or more of these tips, you could consider moving on to chords schemes to learn how that works, and also improvise with other people!
Just go for it!
Improvisation is very fun to do and good for your musical development, so hopefully these 3 tips help you to become a better improviser and to get your practice started straight away!
Don't forgot to share your thoughts and experiences (or your own cadenza if you wrote one!), below. Enjoy your practice!
Love,
Zlata
PS: Do you want to see YOUR question answered in a Violin Lounge TV episode? Post a comment below!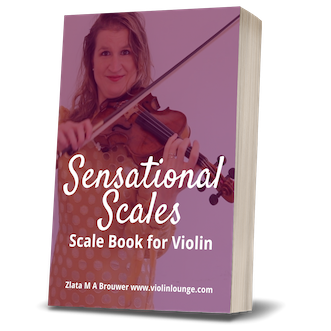 Sensational Scales is a 85 page violin scale book that goes from simple beginner scales with finger charts all the way to all three octave scales and arpeggios