24 Different VIOLIN BOWING Techniques | Violin Lounge TV #353
In this video I explain and show 24 different bow strokes on the violin
with examples from the best concert violinists and the most beautiful violin repertoire in classical music
The more you learn, understand and know about bow technique, the more free you are to express yourself in music on the violin
Your bowing technique is the most important tool of expression in violin playing. It's like the breath, mouth and voice of a singer or the brush of a painter.
Before we dive into the hard core violin bow technique, here's a big fat disclaimer:
Always remember violin playing is a form of art. Don't see these bowing techniques black and white. You can do everything in between. Search for the mood you want to express with the music you play. These techniques are means to a musical end, bottles of paint to combine into beautiful shades and ingredients to make a meal that's delicious for the ear.
24 Different Violin Bowing Techniques: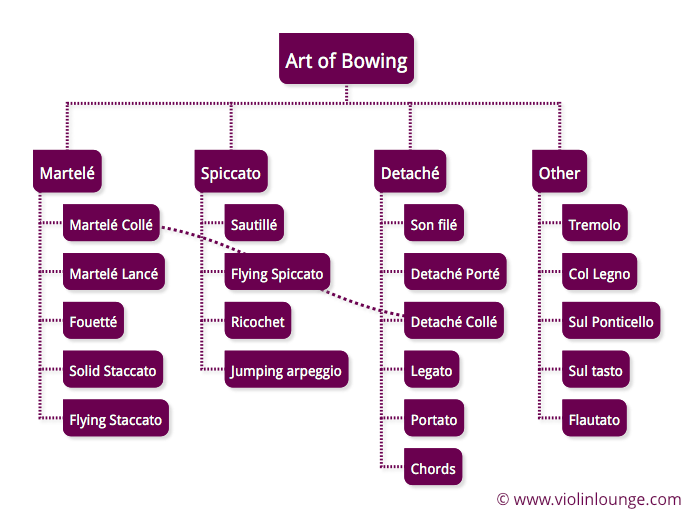 3 Categories of violin bow technique
You'll notice in the overview above that I grouped the bow strokes in different categories.
In detaché your bow stays on the string and you play the notes in their full length, except for detaché collé. You have full control over the bow.
In martelé your bow also stays on the string and you have full control, but you don't play the notes in their full length. There is 'air' in between the notes. It sounds more staccato.
In spiccato your bow leaves the string and you make use of the natural jumping quality of your bow. This makes spiccato a semi-passive bowing technique. Because there is time where the bow is above the string, the notes aren't played in their full length.
'Free bowing' sounds cool. Why isn't that in the overview?
Well, usually it's detaché bowing and the violinists in an orchestra section do the bow changes on different moments within a very long note. This creates a full consistent sound for the entire duration of that note. If they would do their bow changes all at the same time, you would hear separated bow strokes. Normally bow strokes in an orchestra are synchronized. Free bowing is the exception.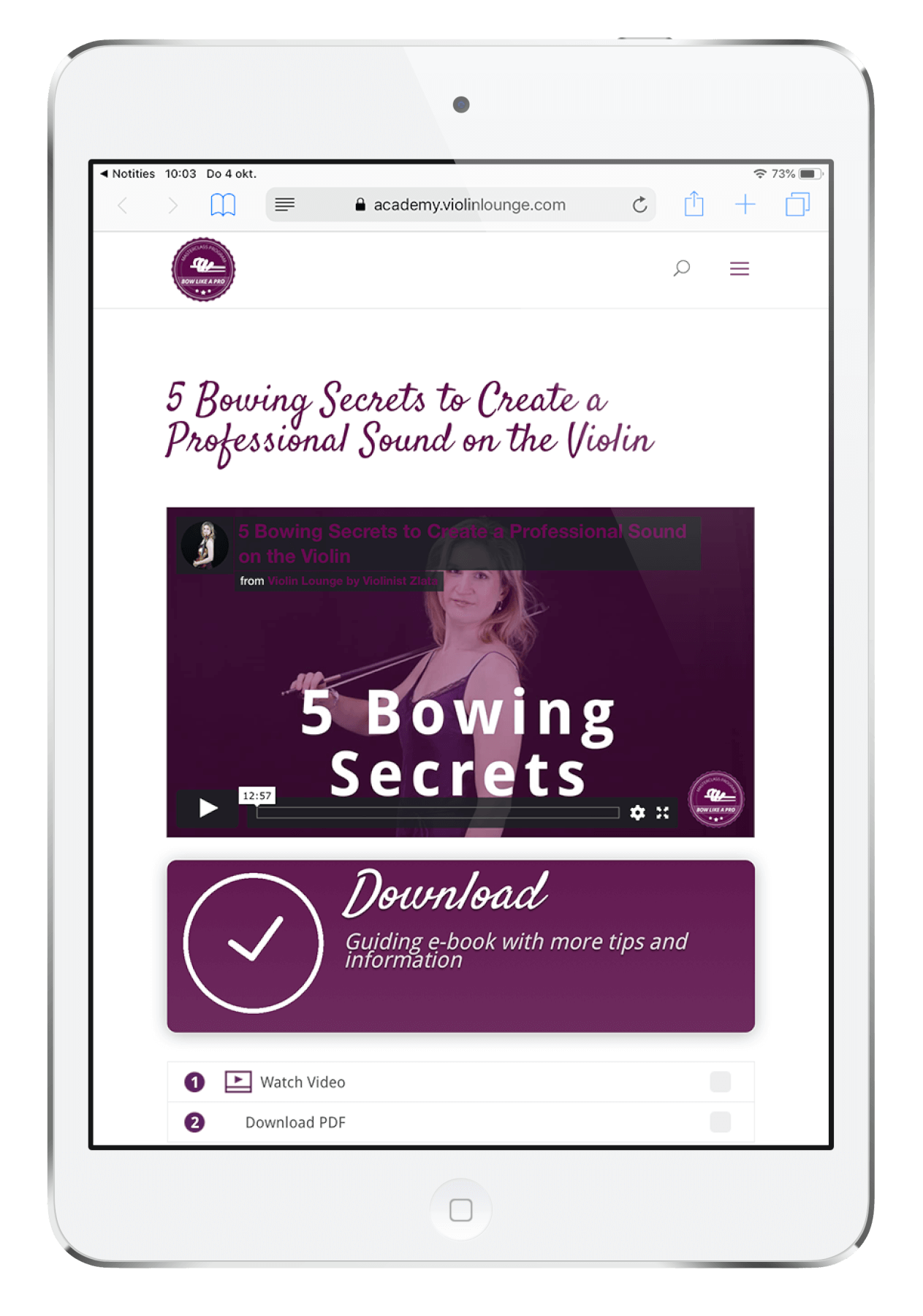 Enjoy my FREE mini Masterclass 5 Bowing Secrets to Create a Professional Sound on the Violin
Detaché
Detaché is 'normal bowing': the bow remains on the string and you play the notes in their full length with a seamless bow change and perhaps a small accent at the beginning of every bow stroke, like in Bach's partita in E major or Paganini's 16th caprice in the video above.
Besides the normal detaché bowing there are two other types:
Detaché collé
In detaché collé you do a 'slow motion' or 'put down' spiccato: you lift the bow at the bow changes. This is a great preparational exercise for spiccato.
Detaché porté
In detaché porté you emphasize the beginning of each bow stroke using a higher bow speed (no pressure accent). Don't confuse it with martelé, that has a clear bite to it. Read more about martelé below or watch the video above.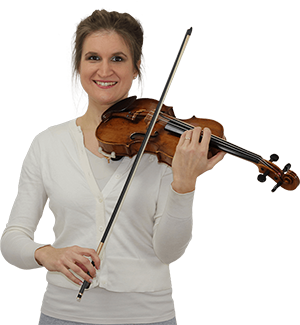 Hi! I'm Zlata
Classical violinist helping you overcome technical struggles and play with feeling by improving your bow technique.
Son filé
Son filé is a bowing technique in which you make a deep and full tone, like in the opening of the Bruch violin concerto.
A weird, but effective, practice tip: while you create a full sound, imagine the back of your violin resonating. Your tone will be deeper.
Legato
In legato you play multiple notes on one bow stroke. You hear fluent transitions between the notes. In sheet music you see a slur above the notes, like in the Tschaikovsky violin concerto excerpt I you can see and hear in the video above.
Fluent bow changes are very important in legato. You want the transitions between notes on one bow strokes sound the same as the transitions with a bow change in between. In this video I teach a little secret about silent bow changes.
Here you can find a video by concert violinist Vivien Hoffman explaining how to practice legato.
Portato
'Opjes met stopjes' I call this in Dutch when teaching my young private students: up bows with stops. It is a little similar to legato as you play multiple notes on one bow stroke, but you stop your bow between the notes without adding accents. It sounds a bit similar to detaché, like in the Mendelssohn violin concerto excerpt I show in the video above.