[Video] 15 Tips to Stop your Shoulder Rest from Slipping
"Hi Zlata, I have got a question as a violin teacher!
Why do Kun and Wolf shoulder rests fall off the violin so often?
Which tip could I give my students to solve this problem lots of violinists have?
Love, Suzanne"
I would love to help you end this frustration for you and your students.
I will not give you 1 tip, but 15 tips to stop your shoulder rest from slipping off your violin!
Grab a pen and a piece of paper… here they come!
Check if the rubber of the feet isn't dried out… replace the rubber by new ones, don't replace your entire shoulder rest!
Check if the feet are not bent to the outside, so they don't hold the violin or viola… the feet should be bent a little to the inside.
Try different kinds of feet in shoulder rests, for example a Menuhin rest that holds the violin in a different way.
Check the rubber band that prevents the feet from turning on a Wolf rest.
Check the parallelity of the feet.
Put a rubber band around the foot and corner of the violin to avoid on side of the shoulder rest from slipping.
Try different shoulder rests before buying one and see which meets your specific needs.
Don't buy a shoulder rest online if you don't know for sure wich one is best for you and (the rim of!) your violin or viola.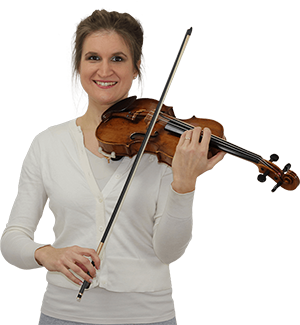 Hi! I'm Zlata
Classical violinist helping you overcome technical struggles and play with feeling by improving your bow technique.
9. Put the shoulder rest firmly on the violin or viola by sliding it down a little
10. Adjust the shoulder rest in a proper way, so it doesn't press itself off your violin in a strange corner.
11. Check if your shoulder rest is not too wide and falls off. Make sure to buy a shoulder rest that you can adjust as narrow as necessary.
12. Check the combination with your chin rest. Not all problems can be solved by just the shoulder rest. Your chin rest needs fit perfectly as well.
13. Have a relaxed violin hold with rest that fits well. Don't play with too much tension, which causes a lot of pressure on the shoulder rest and forces it off the violin.
14. Make or adjust a shoulder rest yourself or have it made by an expert if the standard shoulder rests don't meet your needs.
15. There are alternatives for shoulder rests: for example a shoulder pad (bought or self made) or nothing at all.
Please apply all of them and let me know if it works!
Do you have more tips to stop your shoulder rest for slipping? Please don't keep them for yourself, but share them with other violinists and violists in the comments below!
Thank you for watching Violin Lounge TV!
Love,
Zlata
PS: Do you have questions for me on violin or viola playing? Post a comment below or send an e-mail to info@violinlounge.com