Travel vlog to Leipzig and Bohemian Paradise with my 3 (or 5?) kids | Violin Lounge TV #491
Join me and my family in our trip to the Bach Museum in Leipzig Germany and the beautiful nature in the Bohemian Paradise Czechia:
I hope you've had a wonderful Summer!
In this travel vlog I will take you along my holiday to Leipzig (Germany) and the Bohemian Paradise in Czechia with my husband and three (or five?) kids under three.
We left the Netherlands, early in the morning with three sleepy kids still in their pajamas. Around breakfast time we stopped to taste some German sausage and let the kids play.
From Huizen it's a six hour drive to Leipzig. Leipzig is the city of JS Bach with the the famous Thomaskirche, where Bach composed his most famous works. We stayed two nights in the Adina hotel, which has apartment-hotel rooms that are very comfortable and ideal for families. The kids watched some TV and mommy enjoyed some coffee.
The next day it was time to introduce my children to an old friend: Johann Sebastian Bach. I have to admit I was a tiny bit proud when the kids shouted 'Bach, Bach' as they ran towards his statue. In the Thomaskirche an organ player was practicing and I imagined what it was like to see der Meister sit there compose his monumental music.
The Bach museum is small, but very interesting and also entertaining for kids
They loved seeing the various baroque instruments and were mostly impressed by the violone, or 'big violin' as my son called it. We could listen to various baroque instruments by pushing buttons.
After the visit it was time to relax with some delicious German cake and do a little shopping. In the museum shop we bought a book with famous melodies by Bach. The kids were swinging on Bach's music for the rest of the evening.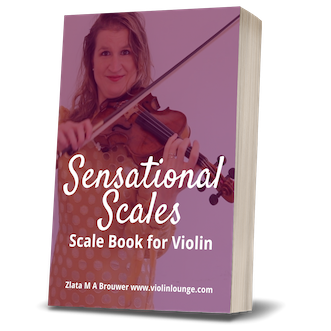 Sensational Scales is a 85 page violin scale book that goes from simple beginner scales with finger charts all the way to all three octave scales and arpeggios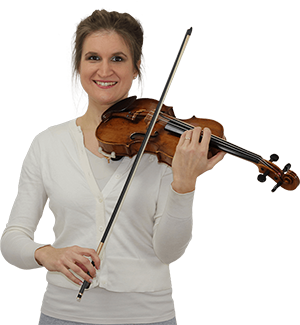 Hi! I'm Zlata
Classical violinist helping you overcome technical struggles and play with feeling by improving your bow technique.
The breakfast in the hotel was delicious and there even was a corner for the kids to play. With our full bellies we traveled to Czechia, where my family lives.
Czechia is a musical country and famous for composers like Dvorak, Smetana, Janacek, Martinu and many more
They even have a violin on their 2000 crown bill. My family lives in the Bohemian Paradise known for it's beautiful nature of rocks, forests and ponds.
We stayed in the village of Zeleznice. The apartment was very comfortable. We often do a little shopping in the near city of Jicin, where you can buy beautiful Bohemian crystal.
Just after our arrival in Czechia we celebrated the third birthday of my twins Louise and Victor.
But… soon they won't be the only twins in our house. As I publish this video I'm 17 weeks pregnant of another set of twins. That means I'll soon have five kids under four. Woo!
At 16 weeks babies in the womb can already listen to and emotionally react to music, so who knows what they thought about the baroque instruments in the Bach museum.
Usually Czechia has warm summers, but this holiday we also had quite a few rainy days. We stayed inside reading, drawing, crafting, singing, dancing and… As a business owner, my work never stops and in small increments of time I grab my laptop. I did take a break from practicing violin though and didn't regret it.
I hope you enjoyed this travel vlog. Let me know in the comments how you spent this Summer.