Right vs Wrong Violin VIBRATO | Violin Lounge TV #311
Did you try hard to get the lush vibrato sound you desire? Do you still struggle to create an expressive vibrato?
In this episode I'm going to talk about right and wrong vibrato.
By right and wrong, I don't mean by the book or something different that you might like. I mean that the wrong vibrato is vibrato doesn't sound like you would want it to and doesn't express the emotions that you want to share with your music.
The right vibrato is vibrato that you can adjust to the music you make and to the sound you want to create.
Examples of the wrong vibrato
An example of the wrong vibrato is when you just lift your finger so the string gets loose from the fingerboard and then you put it down again, only using the only using the vertical motion of your finger. As you will hear in the video, you can't really create the sound that you want. So you don't want to do it that way.
You can also do vibrato by sliding your finger off of the string but again that doesn't really create a sound that you want either.
Some people try vibrato and shake their arm or shake their violin in a way but that doesn't really work in a romantic piece.
Example of the right vibrato
What you do want to do in vibrato is roll your fingertip over the string which is the movement that causes the vibrato sound that you like. Most of the time this is a combination of finger, wrist, and arm vibrato. Some people think they are really separate but they actually aren't. It sounds very easy to roll your finger over the string but it's really coming from a combination of subtle movements that you need to learn step by step. You need to start with the larger movement, get back to the smaller movement, and then come to vibrato. You can see this demonstrated in the video.
There are some exercises you can do to loosen up your wrist and to do vibrato in a regular way, as well as rhythmically. If you perform vibrato the right way but it's not rhythmically it sounds very strange. You may think you are doing something wrong but sometimes you're doing it right, it's just not in the right tempo and not regular.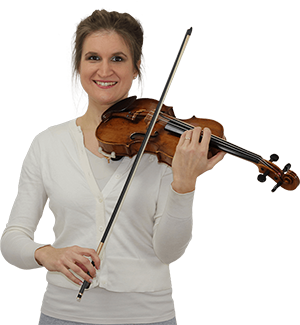 Hi! I'm Zlata
Classical violinist helping you overcome technical struggles and play with feeling by improving your bow technique.
I hope you found this video lesson useful for you.
If you're interested in learning a beautiful vibrato, I'd like to invite you to my FREE mini masterclass where you'll learn the four steps to a beautiful expressive vibrato and also the four mistakes you must really avoid. This is a video workshop that is a bit more extensive than this one and you'll also receive an eBook! Subscribe at violinlounge.com/vibrato 
Let me know in the comments below if you really like your vibrato or if you have made one of the mistakes I mentioned and if you are going to work to improve now to get to that beautiful expressive vibrato!