Get More Out of Your Violin Playing (book review)
Technique is a topic that most amateur violin or viola players do not really like.
Is all your motivation and self esteem down the drain when your teacher puts a giant scale book (like Carl Flesch's, which is very good and helpful, but big) on your music stand?
How can you improve your technique without feeling overwhelmed by complex books?
In this video I will give you a peek into the book 'Get more out of your violin playing' by Daniël Otten. See if it's something for you!
However, it is more efficient and more fun to practice technique isolated than to bump it into a piece and practice a passage over and over and over again. So it is very important to also play technical stuff. I have been looking a long time for something that does not scare my students but at the same time offers them a great foundation of technique.
You might be familiar with the Carl Flesch scale system. But if I put this on the music stand of a student, they feel the weight of the book and they see how thick it is, their motivation flies out of the window. Therefore I looked at other methods and found the book Get more out of your violin playing by Daniël Otten.
Get more out of your violin playing by Daniël Otten
I like this book very much because it really looks clean and simple but it also contains lots of things. It is not complete, but it goes through scales in different kinds of ways through the whole circle of fifths with one octave scales in different tonalities, chromatic scales, etc. There are more topics in Flesch than in Otten but I think it gives you a great resource to maintain your technique and to train your technique. I would really recommend this book to you. If you are not playing scales yet, it might be very rewarding to look into it! This is a book that looks very simple and comprehendible and not overwhelming. It is a great recommendation for a scale book.
Let me know if you like a scale book or technique book that offered you a lot or that you like. Just post a comment below and let other people know what your book tips are! I do not know everything and I would also like to hear some tips 🙂
Is this video useful to you? Please let me know in the comments!
Love,
Zlata
PS: Do you want to see YOUR question answered in a Violin Lounge TV episode? Post a comment below!
Specifications of the cheap violin in this video:
1. Brand: Glarry
2. Model: None
3. Size: 4/4. but available in all sizes
4. Back/Side/Face Material: Matte Spruce Wood
5. Top/Violin Bridge Material: Maple Wood
6. Violin Bow Material: Arbor
7. Tailpiece Material: Aluminum Alloy
8. Fingerboard Material: Ebony
9. Chin Rest/Tuning Peg/End Pin Material: Dark Wood
10. Violin Color: Dark Goldenrod
11. String Material: Steel String
A contemporary and logical approach to classical violin technique.
Soutable for all levels

Usefulness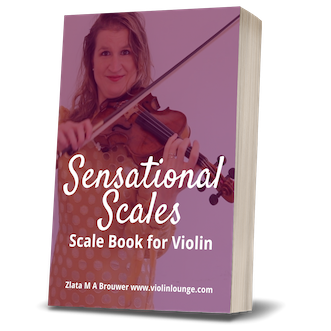 Sensational Scales is a 85 page violin scale book that goes from simple beginner scales with finger charts all the way to all three octave scales and arpeggios