Book Tip: Master Your Stage Fright by Bohdan Warchal
This episode of Violin Lounge TV is all about stage fright and the solutions. It's about playing confidently.
Some time ago I did a survey amongst my viewers and the word 'confidence' appeared lots of times. Among the responders there were very different levels of playing and very different struggles, so there was a wide variety of answers to my questions. The word 'confidence' stood out as something violinists of all levels struggle with and came back in many answers.
'I just want to play confidently', many answers said. This can mean to play confidently together with others, playing for friends and family or even playing an important audition or concert.
It surprised me that confidence in playing the violin or viola is the nr 1 struggle for most players. I decided to make some videos around the topic of stage fright. This is one of them.
In this episode I review the book 'Master your stage fright' by Bohdan Warchal. He is an experienced concert violinist who now makes beautiful strings (Warchal strings).
I've personally suffered from stage fright (certainly during recitals, exams and solo play) and this book has been very useful to me. That's why I would like to share it with you.
It's a very personal book in which Bohdan Warchal shares a lot of experiences from his performances all the way from his childhood to adulthood. In this book he also shares some anecdotes of other concert violinists. Besides these stories there are lots of very practical tips in this book.
The book describes the different causes of stage fright, how you can cure the different types of stage fright, what exactly happens to you when you have stage fright, how you can deal with it and how you can use it in your advantage.
Yes, nerves can be used to improve your performance instead of destroy it. This book explains how!
Also this books covers a lot about practicing and preventing stage fright by practicing in a good way.
A very nice quote is this one: 'There is no official definition of music, but there IS a definition of practicing.'
When you prepare for a concert, you can prevent suffering from stage fright. This book describes what to do on the day of the concert, whether you should play through the piece you have to play in your concert or not, what you should let go, what you should have in your head, what's a good warming up etc. Also it gives some tips about what you can do during the concert while you are playing. The books covers visualization too.
A fun section is 'practicing exhibitionism in daily life'. 
Available drugs and medicines are also covered in the book… including tips on whether to use them.
Developing general musicianship skills is also part of the book.
Weaved through all these topics and practical tips are inspiring personal stories and anecdotes about performances.
When you suffer from performance anxiety or stage fright performing for thousands or just your cat, I can highly recommend to buy (and read!) this book. Click here to buy the book! 
Is this useful to you? Please let me know in the comments below!
Love,
Zlata
PS: Do you have questions or struggles on violin or viola playing? Post a comment below or send an e-mail to info@violinlounge.com and I might dedicate a Violin Lounge TV episode to answering your question!
Specifications of the cheap violin in this video:
1. Brand: Glarry
2. Model: None
3. Size: 4/4. but available in all sizes
4. Back/Side/Face Material: Matte Spruce Wood
5. Top/Violin Bridge Material: Maple Wood
6. Violin Bow Material: Arbor
7. Tailpiece Material: Aluminum Alloy
8. Fingerboard Material: Ebony
9. Chin Rest/Tuning Peg/End Pin Material: Dark Wood
10. Violin Color: Dark Goldenrod
11. String Material: Steel String
Why do we suffer from stage fright? Can we beat it? Or even use it to our benefit? In this new book, author Bohdan Warchal contemplates the reasons for and origins of stage fright. But above all, he offers a specific strategy that can help us understand stage fright, learn to live with it and even use it to our advantage. Do you want to be free of the stage fright you feel during public performances? Don't depend on medication. In this book, you'll find out how to prepare for public performances and how to warm up just before a concert, as well as how to think when you're actually on stage. Warchal's writing is based on long years of experience as a performer and pedagogue. The book is written from the point of view of a violinist, but is also equally useful for other musicians who want to feel only joy on stage.
Practicality

Entertaining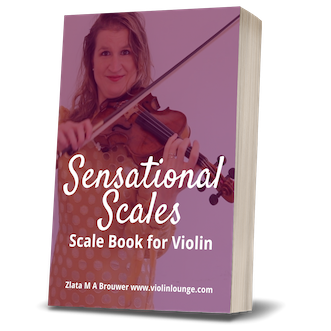 Sensational Scales is a 85 page violin scale book that goes from simple beginner scales with finger charts all the way to all three octave scales and arpeggios