How to 'Twist' Your Arm around the Violin Without Pain
This episode of Violin Lounge TV is about the pain your can experience when you 'twist' your arm around the violin. People try to twist their arm to reach the positions on the string with your fingers.
I've received a very vulnerable e-mail from Dot. I admire her courage of sending me this very personal message and allowing me to share it with the Violin Lounge community.
Hi Zlata,

I wonder if you could maybe help me with a problem I have? My left shoulder is getting increasingly painful due to twisting my left arm around to press the violin strings. It's getting pretty bad – I am considering giving up playing unless you can help?

Please do help me! My father just died, and I would love to take out my grief in music. After all, music is the best way to say what's in your soul that there is no words for.

Feel free to use any of my personal info you like – I will feel most wonderful if you can use any part of my pain to help others avoid or cope with it!

Thanks for any suggestions you may have!

Sincerely,
Dot
As I personally lost my father at a young age, I know what you are going through. I hope that I can be of little help to you in these hard times by making this video and helping you out.
If you are going through hard tines and are stressed out, music can be of great comfort and I would like to encourage you to play.
Please be careful for your body. In stressed times, your body is already stressed out and playing the violin can invite injury even more. The music must help you, not hurt you.
Try this exercise to prevent pain while playing:
Stand in front of a mirror.
Stand up straight.
Push your shoulders down, so they are really low and you don't tense up to hold your shoulder up.
Do absolutely nothing (this is hard for lots of people). Be relaxed.
Have someone else lay the violin on your shoulder. Do nothing. Let the violin come to you and not the other way around.
Make sure that your violin is not too far on your shoulder and not too far to the left.
Let the violin hang: a little lower and more to the front than you are used to perhaps.
When you hold the violin, have your elbow point straight to the floor. That's enough. Don't pull your elbow further on the violin. Imagine a weight hanging on your elbow that pulls it down in a relaxed way.
Make sure that the flat of your hand is almost facing the violin strings. Don't do the whole twist from your arm, but let your hand position help you.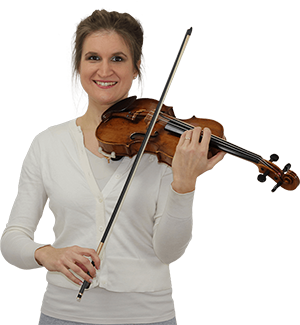 Hi! I'm Zlata
Classical violinist helping you overcome technical struggles and play with feeling by improving your bow technique.
Some additional tips:
Have a relaxed violin hold.
Let the violin come to you and not the other way around. Don't make strange twists in your body to fold yourself around the violin.
Don't pull up your left shoulder (not up and not to the front). Your shoulder must be low and relaxed. Otherwise you will get pain in your neck and shoulders.
Have a chinrest and shoulder rest or pad that are adjusted to your body. There is no one-stop-solution to chinrests and shoulder rests (or none). You must find out what's best for YOU.
Don't practice hours and hours in one go. Take breaks. Try to practice in chunks of 10 to 20 minutes. A break can be as short as 1 minute: just get a glass of water or something. This prevents injury and helps your subconscious and muscle memory to process what you are practicing. Your results will be better.
I hope this video is helpful to you.
Is this useful to you? Please let me know in the comments below!
Love,
Zlata
PS: Do you have questions or struggles on violin or viola playing? Post a comment below or send an e-mail to info@violinlounge.com and I might dedicate a Violin Lounge TV episode to answering your question!