CLOSE UP Violin Vibrato with Do's and Don'ts | Violin Lounge TV #297
In this video I show you exactly how to do vibrato on the violin and how YOU can learn and improve
With close up and slow motion footage I share do's and don'ts
Do: Learn vibrato step by step starting with large movements
By practicing large movements, like the big siren, you loosen up your arm, wrist and fingers. Larger movements are easier to learn and prepare you for the more subtle vibrato movements.
Do: Practice daily
A lush and expressive vibrato on the violin is a skill everybody can learn. It's not talent or magic. However, you need to know the exact steps and you need to practice daily.
I've been teaching private lessons for over a decade. I've never seen a student who practiced consistently with a good variation of exercises and didn't learn vibrato.
If you get stuck with vibrato, make sure to do the right exercises daily
Do: Make the right movement and roll over your fingertip
Vibrato is not sliding, pinching or shaking. You roll over your fingertip fluently and regurarly. 
The movement is initiated in your elbow
Your elbow is the motor of your vibrato. Your arm, wrist and fingers follow.
Flexibility in your fingers is really important
In the end the vibrato sound is created by shortening and lengthening the string by rolling over your fingertip. You can do all the right things with your wrist and arm, but when your fingers are stiff the vibrato won't work.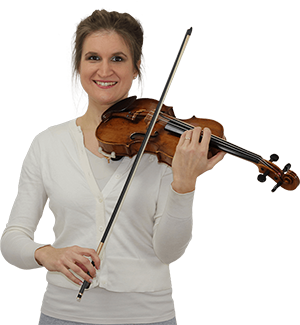 Hi! I'm Zlata
Classical violinist helping you overcome technical struggles and play with feeling by improving your bow technique.
Do: Be in control over the vibrato tempo
The tempo can make the difference between a vibrato sound and a donkey sound ;). Make sure you are in control over the tempo and you move in a regular way. Depending on the string, position, dynamics and desired sound, you do a slower or faster vibrato. You can even speed up or slow down your vibrato within one note.
Don't: Focus on arm, wrist OR finger vibrato
The best vibrato is a combination of the three. For some it's mainly arm and for others is mainly wrist. If you focus for example on arm vibrato, you might tense up your wrist and ruin your left hand technique. This can have a negative influence on your intonation, articulation and playing speed.
Do: Combine arm, wrist AND finger vibrato
This gives you a larger variety in sound and a relaxed vibrato. In higher positions you might do more arm vibrato and in lower positions more wrist vibrato.
Don't: Use the same vibrato all the time
Vibrato is the most important tool of expression on the violin. It CAN give you a palette of sounds and enhance your creativity. Besides that you use a different vibrato playing music from different era's.
Don't practice vibrato until you have ONE vibrato. Practice vibrato until you can vary in your vibrato. This can take one to two years of daily vibrato practice. In the video above I give you some examples.
Let me know in the comments below which do or don't was a light bulb moment for you!