What size violin does my child need?
A comprehensive guide by Kennedy Violins
Choosing the right size violin for your child is not just a matter of aesthetics or comfort; it is crucial for their learning experience. An ill-fitting violin can make the learning process difficult, leading to a lack of enthusiasm or even physical discomfort.
At Kennedy Violins, we understand the importance of this decision, and we're here to guide you through the process. This article will walk you through the various factors to consider when choosing a violin size suitable for your child.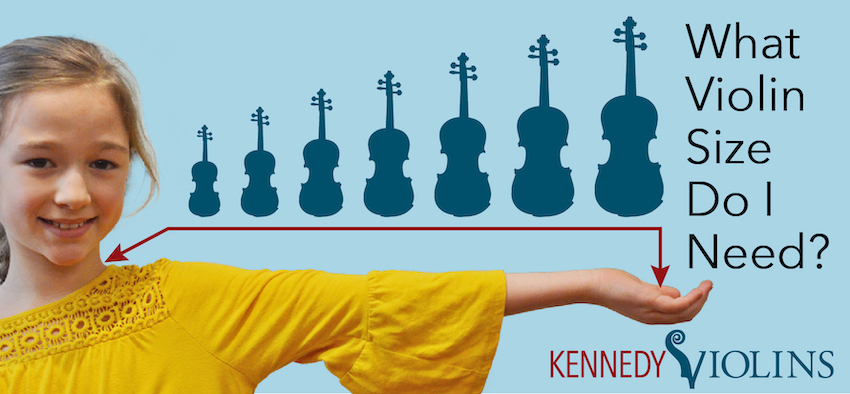 Why Violin Size Matters for Children
Physical Comfort
An oversized violin can be cumbersome for a child, causing strain on their neck, arms, and hands. Similarly, an undersized violin may be uncomfortable and limit the quality of sound that the player can produce.
Playability
The right size violin ensures that a child can easily access all finger positions. It also aids in achieving the correct posture, which is crucial for effective playing and learning.
Sound Quality
A properly sized violin will produce a better sound, which can be motivating for young learners. An ill-fitting instrument can compromise tone and pitch, diminishing the overall learning experience. As a general rule, the larger the instrument, the better sound. However, if the student is attempting to play on an instrument that's too big, it could cause tension issues and bad technique.
Standard Violin Sizes
Violins come in various sizes, generally ranging from 1/16 to 4/4 (full-size). The ideal size depends on the child's individual measurements. Some kids are bigger or smaller for their age. Here are some general guidelines of age ranges in the standard sizes:
● 1/16: Suitable for ages 2 to 5
● 1/10: Suitable for ages 3 to 5
● 1/8: Suitable for ages 3 to 5
● 1/4: Suitable for ages 4 to 7
● 1/2: Suitable for ages 6 to 10
● 3/4: Suitable for ages 9 to 11
● 4/4: Suitable for ages 12 and above
The size of the bow, case and shoulder rest should correspond with the violin size. Most of the times a violin comes in a set or outfit.
How to Measure Your Child for a Violin
Arm Length Method
Have your child extend their left arm straight out, perpendicular to their body.
Measure from the base of the neck to the center of the palm. For help with the measurements for violin and other orchestral instruments you can refer to Kennedy Violins Sizing Guide.
Violin Sizing Chart
14″–15″ arm length: 1/16th-size violin
15″–16″ arm length: 1/10 size violin
16"–18″ arm length: 1/8 size violin
18″–20″ arm length: 1/4 size violin
20"–22" arm length: 1/2 size violin
22″–23″ arm length: 3/4 size violin
23″ and above: 4/4 size violin
For more specific measurements, check out my own violin size chart right here.
Consult With a Teacher or Professional
If possible, consult your child's music teacher or a professional violinist to validate your measurements and suggestions.
When to Upsize your Child's Violin?
Growth Spurts
Children grow, and their violin should grow with them. Keep an eye out for sudden growth spurts, as this is often the time to consider upsizing.
Signs of Discomfort
If your child is showing signs of discomfort or complaining about difficulty in reaching the fingerboard, it may be time to upsize. An easy way to check this, is to look at their 4th finger in 1st position. If they are not able to reach the proper place on the fingerboard, and play in tune, there's a good chance the instrument is a bit too big for them. Of course, this is dependent on them having proper left hand technique as well, so the advice from a professional is often very helpful.
Professional Guidance
Regular checks with a music teacher can help you determine when it's time to move on to a larger violin. Usually a qualified violin teacher will tell you in the lesson when it's time to upsize your child's violin.
Conclusion
Choosing the correct size violin for your child is an important step in their musical journey. With the right fit, not only will the learning process be more comfortable, but it will also be more enjoyable. At Kennedy Violins, we are committed to helping you make this critical choice and are always available for consultations and advice. With easy returns and exchanges, we make it very easy to find the perfect violin for every student.
We hope this guide helps you in choosing the right violin size for your child. For more personalized guidance, feel free to reach out to us at Kennedy Violins. Happy playing!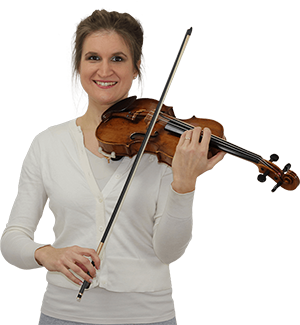 Hi! I'm Zlata
Classical violinist helping you overcome technical struggles and play with feeling by improving your bow technique.
Closing note by Zlata
Thanks to Kennedy Violins for writing this article. I'm publishing it, because they are an amazing violin shop that sells quality violins with a professional set up at very reasonable prices. Here are some of my personal recommendations as a violin teacher: