Insights on Teaching Toddlers Violin from a Violin Teacher and Mom of 5
by Laura Carr, creator of Stringosaurus
The great thing about the violin is that one can learn from a very young age
As a parent or teacher, introducing toddlers to the world of music can be a rewarding and challenging experience
While teaching toddlers how to play the violin may seem like an overwhelming task, it's possible with the right balance of educational tools and approaches
One approach that has proven successful for many early childhood art teachers is a process-inspired approach.
This approach focuses on the journey of learning, rather than the end result, and emphasises exploration, creativity, and play.
Though many violin teachers may use this approach without realizing, I think it's certainly less talked about. Hence why I want everyone to know about it!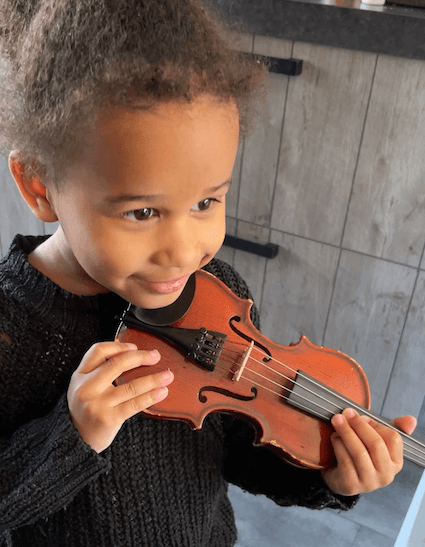 So what is process-inspired learning?
Unlike traditional teaching methods that focus on the end result (i.e., playing a specific piece), a process-inspired approach prioritizes the journey of learning itself. It's all about breaking down each step of the learning process into manageable, engaging activities that build skills and foster a love of music along the way.
The benefits of this approach are many: it can help students stay motivated, build a strong foundation of skills, and even improve their overall cognitive development. And best of all, it's fun and engaging for both you and your students!
I have been in awe of a friend, violin teaching colleague, and Teachosaurus of mine, who has been (until recently, unknowingly) embracing process-inspired learning with her own gorgeous children! She was delighted to discover that there's been a 'method to her madness'!
This amazing person actually asked me to write a blog to help early childhood violin teachers gain a better understanding of a process-inspired approach. Instead, I had a better idea. I mischievously surprised her by sending her a set of interview questions!
To help us understand more about teaching violin to toddlers, I interviewed Zlata Ihou-Brouwer, teacher extraordinaire and Creator of the Violin Lounge, usually for adult violin learners.
In this blog post, Zlata has generously shared her insights and tips on how she teaches her own toddlers to play the violin:
How many children do you have? Tell us a little bit about them.
I have five kids under four years old: 3 year old twins Louise and Victor, 2 year old Tristan and 6 weeks old twins Isabella and Catharina.
How did you first become interested in teaching your children violin and how have you approached this?
From the age of eight I wanted to become a violin teacher, but in conservatory, you're trained to teach children from about six years old. For earlier ages one would do more general music education like baby and toddler music classes.
At one year old, my twins eagerly wanted to join my violin practice, so much so that I couldn't get away with just playful, general musical activities and in the end, I caved in and bought little violins for them: first toy violins and quite quickly after that, real 1/32 and 1/16 violins.
Can you describe what a typical process-inspired violin lesson with your children looks like?
I combine the Stringosaurus Resources Hub library with the method Music Play and some stuff I make up on my own. At this age I offer them informal music/violin lessons on a daily basis, but participating is on a voluntary basis.
Some days the kids don't want anything to do with the violins and other days they are focussed for nearly an hour. It also differs which kids I teach violin on a day.
I try to do music play activities daily and sing with them. This always involves singing and movement with some props like scarves and a parachute.
The violin part is playing songs to them, which they can join in with on open strings, doing exercises like harmonics, landing the bow and following along with the songs in the Stringosaurus Resources Hub library.
At this age my main focus is to develop their music vocabulary and the violin is more of a prop. The focus might shift more to instrumental teaching at a later age and when it truly appears that this is their instrument (or whether it's a different instrument).
With the three year olds, I now discover that I can truly teach them techniques on the violin.
Two year old Tristan learns a little bit, like how to hold the violin and hold the bow. He does some bowing, but doesn't respond much yet to instruction.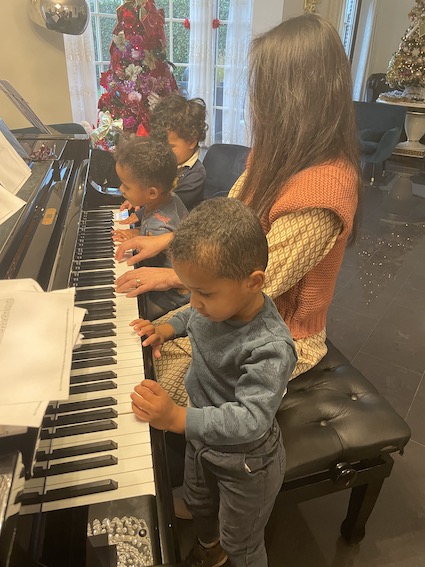 How has your own experience as a musician influenced your teaching approach and philosophy?
I'm very traditionally taught, which means I was told by the teacher what to practice and did exactly that. There was not much room for creativity and initiative.
During my teacher training I got to know the music learning theory by Gordon, (similar to Kodaly, which is better known), which treats music as a language that you not only imitate and recite, but in which you can tell your own story with the vocabulary and grammar you know.
While I had quality violin lessons, my own musicianship skills were underdeveloped making it feel impossible for me to do things such as improvising and composing.
For my own students and my own children I really want them to KNOW and express their individual inner music.
In what ways have you seen your children benefit from process-inspired violin learning, both in terms of their musical abilities and other aspects of their development?
It's been hard for me not to focus on a certain outcome and focus on the process, but I noticed that the outcome often surprises me.
My kids know a lot of songs, can learn new music quickly and can sing different arpeggios in tune. Their breathing and movement is in flow and effortless congruent with the music. They quickly recognize songs if they have the same melody, but a different text. They focus on melody and not words.
They engage creatively in music: make up their own songs, even do duets with each other, make up different text to existing songs or mix up songs to a new song. Also they sing almost all day long and do other activities like crafting or making a puzzle.
In terms of violin they bow straight, know the strings, recognize their songs and have a very relaxed and natural posture.
Often I get the compliment that my kids sing so well, even the preschool teacher says they sing all the time. That's what makes me happy. These are skills they can use on any instrument and in any music listening experience. Plus they enjoy it.
What are some of the challenges you've encountered while teaching your children violin using a process-inspired approach, and how have you addressed them?
The main challenge is to let go of the outcome and the fact that you do not always see the outcome. For example, a kid might not seem serious and only be giggling when a new song is introduced. Then the next day they suddenly sing that song perfectly while playing independently.
And more extreme: after lots of attempts teaching them Silent night in December they didn't want to sing it, but suddenly in February out of the blue they could suddenly sing it!
What advice would you give to other parents/teachers who are interested in exploring process-inspired learning approaches for their children, particularly in the context of music education?
Accept that the outcome can come at a different time and might not look exactly like you intended. Certainly for A type parents and teachers (or teaching parents) this can be hard.
Looking to the future, what are your goals for your children's musical education and how do you plan to continue incorporating process-inspired learning into their violin lessons?
My goals are that they develop their music aptitude and learn a variety of music styles and periods. This can end up in playing an instrument (professionally or not), being a fervent classical concert visitor, singing in the shower or discovering a music style they really love.
What saddens me is that today, when I enthusiastically tell someone that I've created a course on Vivaldi Four Seasons, Bach's Sonatas and Partitas or Paganini technique, people don't even have an idea who Vivaldi, Bach or Paganini were. They don't have to like it, but I want my kids (or all kids) to have the opportunity to know these exist, how their music sounds and decide if they like it or not (and that's ok too).
On behalf of all of us, thank you Zlata for sharing with us your musical journey so far with your little ones. It certainly sounds like your beautiful family keeps you busy!
We look forward to seeing and hearing more as they grow.
If you're interested in learning more about how a process-inspired approach can transform your teaching, I encourage you to check out the resources available at Stringosaurus.
Our hub offers a wealth of tools and materials designed specifically for early childhood violin teachers, including 80 amazing resources to help you build engaging, effective lesson plans.
And be sure to mark your calendar for April 1st, when we'll be launching our newest resource: a process-inspired mini course for early childhood violin teachers.
This course is designed to help you deepen your understanding of the process-inspired approach and incorporate it into your teaching practice.
Don't miss out on this exciting opportunity to take your teaching to the next level!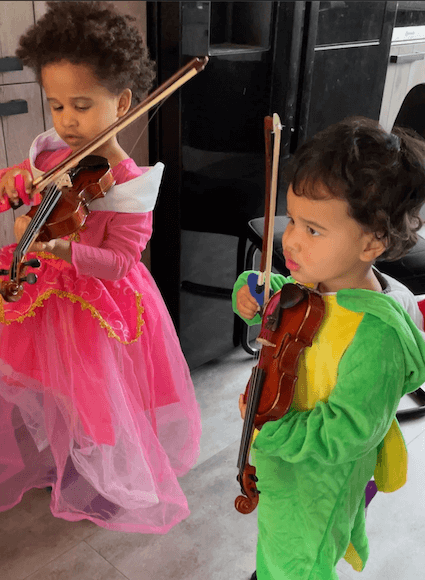 Teaching violin to toddlers can be a challenging but rewarding experience, and a process-inspired approach can be a great way to make the journey of learning more engaging and enjoyable for both you and your students.
By incorporating imaginative play, exploration, and creativity into your lessons, you can help your students develop a lifelong love of music and a deep appreciation for the journey of learning.
Sign up for any subscription today and receive a MASSIVE $49 OFF! Just use coupon code EARLYBIRD49, but do it straightaway, it's only valid until 1/4/23
Click here to read more and register. See you in the Stringosaurus Hub!