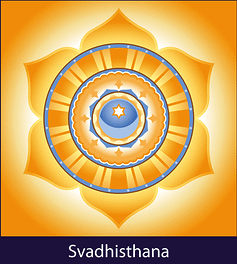 This is my composition based on improvisations inspired by the first chakra: Muladhara, the root chakra. 
Read here my woo woo story
 about how I got into the chakra energy stuff and why I composed the seven solo
violin
pieces inspired by the seven chakra's.
Svadhistana (click here to download the free sheet music
Just some general Wiki info about this chakra, which can give you an idea about what should be the mood of the piece:
"Swadhisthana, Svadisthana, or adhishthana is symbolised by a white lotus within which is a crescent moon, with six vermilion, or orange petals. The seed mantra is Vam, and the presiding deity is Brahma, with the Shakti being Rakini (or Chakini). The animal associated is the crocodile of Varuna.

This Chakra is located in the sacrum and is considered to correspond to the testes or the ovaries that produce the various sex hormones involved in the reproductive cycle. Swadisthana is also considered to be related to, more generally, the genitourinary system and the adrenals. The key issues involving Swadisthana are relationships, violence, addictions, basic emotional needs, and pleasure. Physically, Swadisthana governs reproduction, mentally it governs creativity, emotionally it governs joy, and spiritually it governs enthusiasm.[41]"
Did you play this piece and did special things happen to you? Please share all the juicy details in the comments below.
Love,
Zlata
PS: Do you have questions for me on violin or viola playing? Post a comment below or send an e-mail to info@violinlounge.com
[et_pb_cpt_featured_image2 _builder_version="3.19″][/et_pb_cpt_featured_image2][et_pb_cpt_title _builder_version="3.19″][/et_pb_cpt_title][et_pb_cpt_text _builder_version="3.19″][/et_pb_cpt_text]