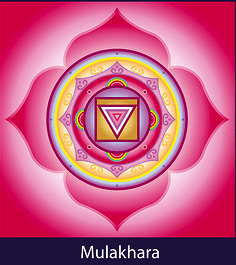 This is my composition based on improvisations inspired by the first chakra: Muladhara, the root chakra. Read here my woo woo story about how I got into the chakra energy stuff and why I composed the seven solo violin pieces inspired by the seven chakra's.
Muladhara (click here to download the free sheet music)
Just some general Wiki info about this chakra, which can give you an idea about what should be the mood of the piece:
"Muladhara or root chakra is symbolised by a lotus with four petals and the color red. This center is located at the base of the spine in the coccygeal region. It is said to relate to the gonads and the adrenal medulla, responsible for the fight-or-flight response when survival is under threat.

Muladhara is related to instinct, security, survival and also to basic human potentiality. Physically, Muladhara governs sexuality, mentally it governs stability, emotionally it governs sensuality, and spiritually it governs a sense of security.[42] Muladhara has a relation to the sense of smell.[43]

This chakra is where the three main nadis separate and begin their upward movement. Dormant Kundalini rests here, wrapped three and a half times around the black Svayambhu linga, the lowest of three obstructions to her full rising (also known as knots or granthis).[44] It is the seat of the red bindu, the female drop (which in Tibetan vajrayana is located at the navel chakra).[clarification needed]

The seed syllable is Lam (pronounced lum), the deity is Ganesh,[citation needed] and the Shakti is Dakini.[45] The associated animal is the elephant."
Did you play this piece and did special things happen to you? Please share all the juicy details in the comments below.
Love,
Zlata
PS: Do you have questions for me on violin or viola playing? Post a comment below or send an e-mail to info@violinlounge.com